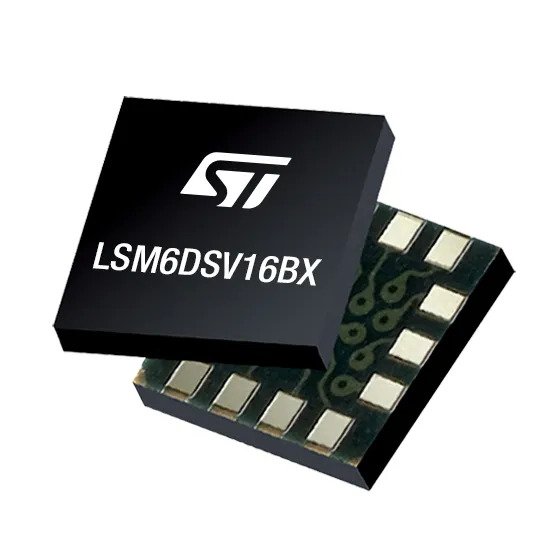 STMicroelectronics launched LSM6DSV16BX – an integrated sensor
STMicroelectronics has introduced the LSM6DSV16BX, a highly integrated sensor that integrates a 6-axis inertial measurement unit (IMU) to detect head movements and activities and an audio accelerometer that identifies voice using bone conduction in a frequency range surpassing 1KHz. This single chip is specifically created to save significant space in wearable devices, including earbuds for sports and general use.
Besides the 6-axis IMU and audio accelerometer, the LSM6DSV16BX sensor integrates ST's Qvar charge-variation detection technology to facilitate user-interface controls, such as swiping and touching. The sensor is particularly suited for applications like TWS headphones and headsets used in augmented, virtual, and mixed reality.
The LSM6DSV16BX brings superior capabilities to ear-based devices by integrating ST's Sensor Fusion Low Power (SFLP) technology, which is designed explicitly for head tracking and 3D sound, along with in-edge processing resources found in ST's third-generation MEMS sensors.
These include the Finite State Machine (FSM) for gesture recognition, the Machine-Learning Core (MLC) for activity recognition and voice detection, and adaptive self-configuration (ASC), which automatically optimizes performance and efficiency.
These features help reduce system latency while saving overall power and offloading the host processor. STMicroelectronics claims that the advanced integration and in-edge processing technologies save up to 70 percent of the system's power consumption and 45 percent of PCB area.
The LSM6DSV16BX includes various software examples accessible on ST MEMS GitHub FSM and MLC Model Zoo. These examples comprise of pick-up gesture detection to enable automatic activation of services on some devices, TWS headsets' in-ear and out-of-ear detection, and 3D sound head gestures in headphones, among others. To save developers time, pre-integrated application examples are also available in the X-CUBE-MEMS1 package.
The LSM6DSV16BX is available in a VFLGA package measuring 2.5mm x 3.0mm x 0.74mm and is available for purchase at a starting price of $3.95 for a minimum order of 1000 pieces. STMicroelectronics has provided software samples for the FSM and MLC cores on GitHub, and additional information can be found on the company's website. Those who are interested can also request a free sample.
Join 97,426 other subscribers

Archives