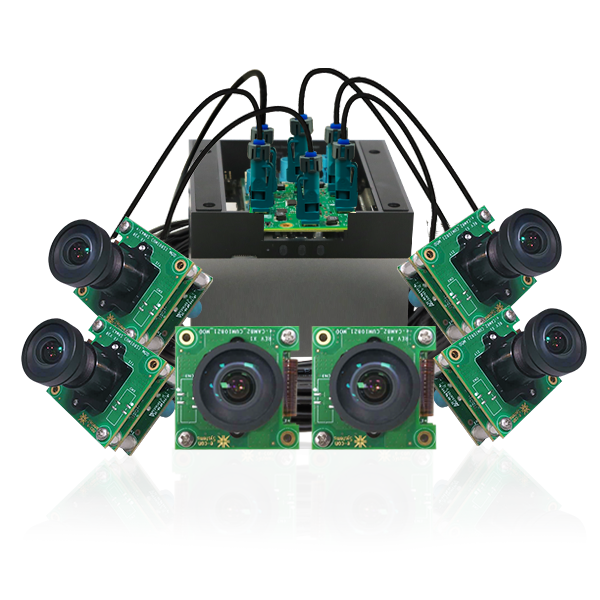 e-con Systems launches AR0821 based 4K HDR GMSL2 multi-camera for NVIDIA Jetson AGX Orin™
onsemi AR0821 | 4K resolution | HDR | GMSL2 | Multi-camera | NVIDIA Jetson AGX Orin™
e-con Systems™, a leading embedded camera company, launches NileCAM81_CUOAGX, a 4K HDR GMSL2 multi-camera solution for NVIDIA Jetson AGX Orin™ / AGX Xavier™ based on the half-inch AR0821 sensor from onsemi ™.
NileCAM81_CUOAGX is based on the half-inch AR0821 sensor from onsemi. It comes with a pixel size of 2.1µm x 2.1µm, thereby offering high sensitivity. This in combination with its high resolution of 4K helps to capture images with great details even in extremely low lighting conditions.
NileCAM81_CUOAGX is also an HDR camera that uses multiple exposures in a single frame to bring out details in the brightest as well as darkest areas of the same scene in high-contrast lighting conditions.
Further, NileCAM81_CUOAGX is a multi-camera solution. Hence, it has multiple camera pipelines that transfer high-resolution images and videos. Owing to this, it is designed to be compatible with high-performance host platforms like NVIDIA Jetson AGX Orin™ and NVIDIA Jetson AGX Xavier™.
With these features, this 4K multi-camera solution is suitable for applications such as Surround-view systems, autonomous mobile robots, smart trolleys, smart checkout systems, smart traffic management, sports broadcasting & analytics, and agricultural robots & tractors.
"NVIDIA Jetson ORIN and AGX Xavier, are the most powerful energy efficient processors for autonomous machines. Such machines require superior quality video feed for object detection, recognition and characterization. 4K video feed and HDR performance are essential for such operations. NileCAM81_CUOAGX is a perfect fit for such applications. The NileCAM81_CUOAGX is based on 1/2inch 4K sensor AR0821 with High dynamic range (HDR – up to 140dB.). The built in ISP allow the user to get the best in class performance with zero processing on the host. NileCAM81 comes with automotive grade GMSL2 interface to withstand high vibration which makes the camera ideal for various different kinds of robots", said Gomathi Sankar, BU Head – Industrial cameras at e-con Systems™.
Key features of NileCAM81_CUOAGX
AR0821 sensor – Captures 4K images with great details even in low lighting conditions.
High Dynamic Range – Helps to capture image data in challenging outdoor lighting conditions without any detail loss.
GMSL2 – Can connect up to 6 cameras to the host platform and reliably transmit video data up to a distance of 15m with very low latency.
NVIDIA Jetson AGX Orin™ / AGX Xavier ™ compatibility – Delivers high-quality images to leverage Jetson AGX Orin's server-class AI performance at the edge. This in turn helps product developers build next-generation intelligent machines with end-to-end autonomous capabilities.
Image Signal Processor – Helps in providing the best possible output by leveraging HDR processing, auto white balance, auto gain control, and auto exposure functions.
Have a look at the introduction video of NileCAM81_CUOAGX to learn more about the features and applications of the camera.
Video
Availability
Customers interested in evaluating NileCAM81_CUOAGX can purchase the product from e-con Systems' online store. Please visit the NileCAM81_CUOAGX product page and click the buy now button to navigate to the webstore for purchasing the product.
Customization and integration support
With a proper understanding of customers' pain points, e-con Systems™ also offers customization services for NileCAM81_CUOAGX that reduce your efforts on prototyping, product integration, and product deployment. Please write to us at camerasolutions@e-consystems.com if you are looking for any customization or integration support.
About e-con Systems™
Established in 2003, e-con Systems has grown into a leading OEM camera solution provider with a wide global footprint. We provide end-to-end camera solutions like MIPI camera modules, GMSL cameras, USB 3.1 Gen 1 cameras, stereo cameras, and more. Over the years, we have reimagined how they are used in applications such as retail, medical, industrial, agriculture, smart city, etc.
We are also powered by a strong partner ecosystem including sensor partners, ISP partners, carrier board partners, etc. This enables us to offer end-to-end vision solutions. So far, we have built 250+ product solutions – shipping over 2 million cameras across 90+ countries around the globe.
For more information, please contact:
Mr. Harishankkar
VP – Business Development
e-con Systems™ Inc., +1 408 766 7503
e-con Systems™ India Pvt. Ltd., +91 44 40105522
Website: www.e-consystems.com
Note: References to corporate, product, or other names may be trademarks or registered trademarks of their respective owners.
Join 97,426 other subscribers

Archives