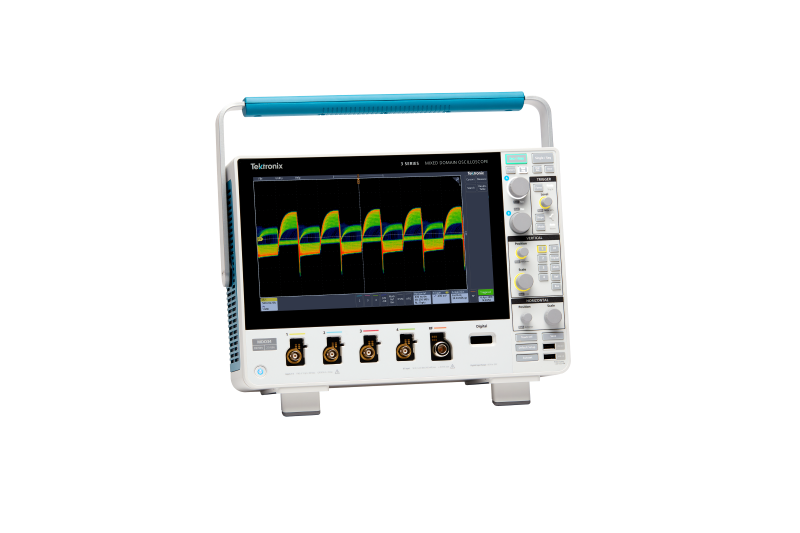 Tektronix 3 Series MDO and 4 Series MSO Oscilloscopes
Two oscilloscopes launched by Tektronix on June 4 are now in stock at Farnell. After intensive research amongst users Tektronix developed the new 3 Series MDO and 4 Series MSO. The oscilloscopes are built upon the user experience introduced in the 5 and 6 series MSOs.
They both feature a highly intuitive touchscreen user interface incorporating the touch interactions familiar from phones and tablets, the largest and highest resolution display in their class and modern industrial design.
Typical applications including embedded design and IoT, Power design, Education, Manufacturing Test and Troubleshooting and Service Installation and Maintenance.
The 3 Series MDO is intended to be a compact, versatile test instrument that can sit on the desk of every engineer, taking up just six inches of depth on the bench whilst delivering an intuitive user interface and similar set of knobs and buttons to other models.
The instrument features an 11.6in. display with 1920 x 1080 HD resolution capacitive touch display, bandwidth ranging from 100MHz to 1GHz and an option to add spectrum analyser hardware at 1GHz or 3GHz; arbitrary function generator, digital channels and Serial Bus Decode, Triggering and Search.
It also offers a DVM/frequency counter added at no cost following product registration and it is future proofed with fully upgradable bandwidths and options.
The 4 Series MSO has been built to meet a diverse range of application requirements alongside enhanced user experience.
Features include a 13.3in. (1920 x 1080 HD resolution) capacitive touch display which has a stacked display mode automatically adding and removing additional horizontal waveform 'slices' (additional graticules) as waveforms are created and removed, reducing tradeoffs between accuracy and visibility.
Bandwidths range from 200MHz to 1.5GHz. Vertical resolution is enabled through 12-bit ADCs providing 16 times the vertical resolution of traditional 8-bit ADCs, enabling users to capture the signals of interest while minimising the effects of unwanted noise.
The instrument offers six input channels avoiding the introduction of a second scope for complex applications such as embedded systems or power supply design and includes FlexChannel technology enabling any input channel to be converted from an analog to eight digital channels simply by connecting a logic probe.
An eight-digit trigger frequency counter is added at no cost following product registration
Bandwidth and options are all field upgradeable.
The Tektronix 3 Series MDO and 4 Series MSO are available from Farnell in EMEA, Newark in North America and element14 in APAC for €3,570 – €4,260
For more models of the NEW 3 Series MDO and 4 Series MSO check on www.tek.com
Join 97,426 other subscribers

Archives