Tiny1284P is Based on ATmega1284P microcontroller and Uses USB Type-C for Power and Programming
Hayri Uygur is set to launch his new product: a tiny, breadboard-friendly and open-source Arduino-compatible development board, aptly-named Tiny1284P.
The Tiny1284P development board is built around the high-performance low cost ATmega1284P-AU 8-bit microcontroller that combines 16KB of static RAM, 4KB EEPROM, 128KB in-system self-programmable flash memory with read-while-write capabilities, and a 20 MIPS throughput at up to 20 MHz.
The Tiny1284P development board is smaller but yet more powerful than comparative ATmega328 development boards. The Tiny1284P, according to the Bulgarian electronics specialist, is
"a huge upgrade from other similarly-sized boards that use the ATmega328, with 4 times more flash, 8 times more RAM and 4 times more EEPROM."
This means the Tiny1284P can easily be used for projects that the ATmega328 is probably too small for, even within the same form factor. The presence of the USB Type-C in the Tiny1284P also implies better connectivity for those working on Atmega328-based boards.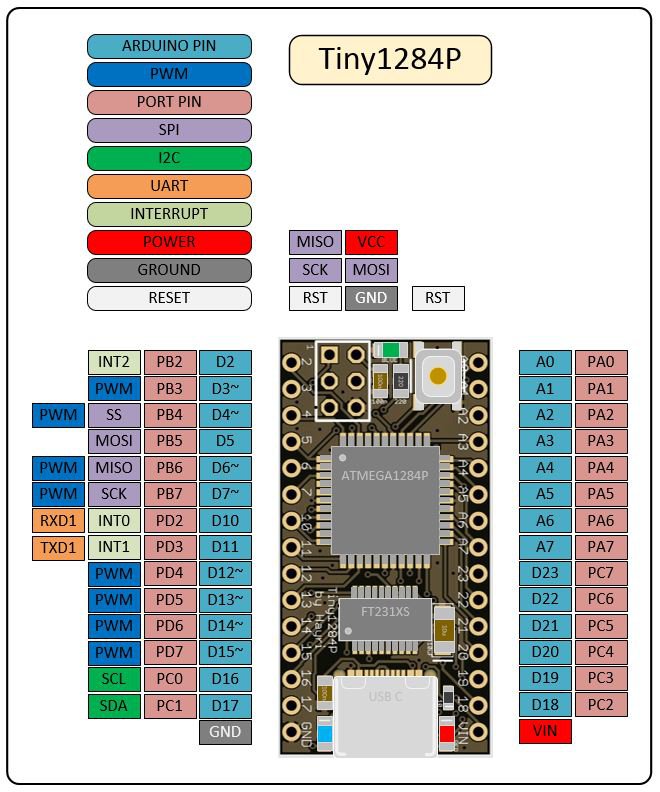 Key features and specifications of the Tiny1284P development board include:
ATmega1284P-AU 8-bit AVR microcontroller running at 16 Mhz in a default 5V mode or 8 Mhz at 3V.
128KB of flash memory
4KB EEPROM
16KB of Static RAM (SRAM)
USB Type-C connector for programming as well as power delivery
USB 2.0 full UART transceiver
JTAG interface (IEEE std 1149.1 compliant)
6-pin ISP header
Breadboard-friendly GPIO covering 2x UART, 3x SPI, 6x PWM and 1x I²C bus capabilities
Reset switch, onboard LED, RX/TX LEDs, and
External 5V power supply input.
Even though the Tiny1284P has a lot in common with other ATmega1284P development boards, the Tiny1284P seems to be a step ahead of the rest because of its ease of use.
"It is based on the popular Arduino UNO platform and will integrate seamlessly into it. It is made with 0805 SMD parts on purpose because they are easily hand soldered without the need for a reflow oven."
says the developer.
However, like most ATmega boards, the Tiny1284P development board is the software compatible with MightyCore, one of the strongest and the most versatile Arduino Core.
The Tiny1284P dev board is already part of Microchip's Get Launched design program and has most of its details on Crowd Supply. The board is yet to be launched on the Crowdfunding page but you can sign up to get updates and notifications on the board when the campaign finally goes live.