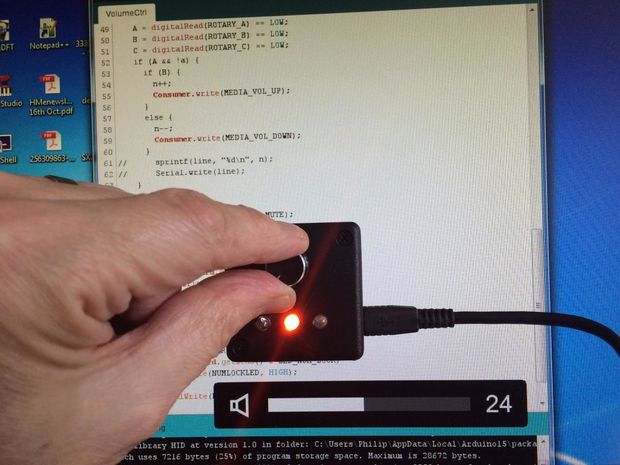 p_leriche @ instructables.com build a USB volume control which is simple, cheap and extensible. Check it out:
I'm not the first person to publish an Instructable for a USB volume control, but I think this one is about as simple and cheap as it gets, and at the same time can be extended at minimal cost to various other functions such as:

Mute, Play, Pause and various other media buttons
Keyboard LEDs such as Caps Lock, Scroll Lock and Num Lock (a kana LED is also defined for Japanese users)
Application launch buttons such as browser, email, calculator etc
Browser navigation and other application control buttons
Gamepad buttons
System buttons for functions such as Sleep, Hibernate, Wake, Power down
Mouse buttons and movement

and many more, subject to support being provided by your operating system. Mine implements the volume and mute functions (mute by pressing the knob) and the 3 main keyboard LEDs.
USB Volume Control and Caps Lock LED – [Link]
Join 97,426 other subscribers

Archives