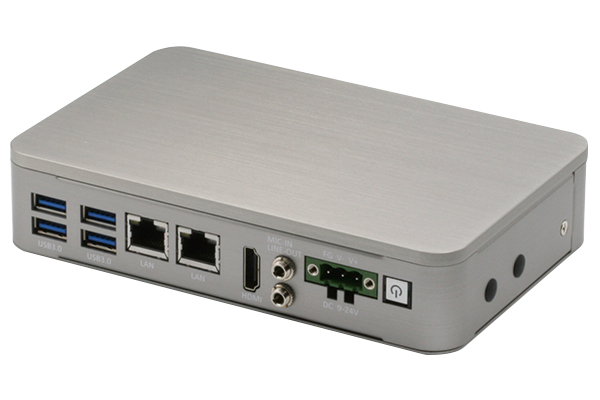 Work Faster, Work Smarter, Work Safer with the BOXER-6405 Edge AI Smart Factory System
AAEON, a leading developer of IoT solutions, releases the BOXER-6405, an ultra-compact edge AI system for smart factory applications. Fitted with four USB3.0 ports and three COM ports, this versatile device can easily be connected to a range of factory equipment.
Measuring just 166mm x 106.6mm x 37mm, the BOXER-6405 can be deployed in the tightest of spaces. Despite its modest dimensions, it can be connected to multiple industrial cameras, PLCs, sensors, and motion devices. The slim PC can also be fitted with AAEON's AI Core – a mini-PCIe module powered by Intel® Movidius™ Myriad™ 2 technology.
The deep learning module enables the BOXER-6405 to serve as a powerful edge AI device, and the AI Core's advanced VPU enhances the system's already formidable machine vision capabilities. Because the AI Core operates on the edge without a connection to a network or the cloud, issues relating to latency, reliability, and security are eliminated.
The low-power-consumption BOXER-6405 features a 6W TDP, and it can also serve as an effective IoT gateway device, as WiFi and 4G modules can be installed via the machine's two mini card slots.
AAEON has ensured the BOXER-6405 is robust enough to handle harsh industrial environments. The fanless system has an IP40 rating, an operational temperature range of -20oC to 60oC, and a DC power input range of 9V to 24V. The next-generation box PC also features a cable-free, modular internal design that makes it resistant to vibrations and allows users to easily replace the DRAM or HDD.
The BOXER-6405 is compact, energy efficient, and capable of handling the latest AI technology," said AAEON system platform division product manager Ethan Chiu. "As an edge device, it will also work faster, cost less, and provide a greater level of security than standard AI systems.
Join 97,426 other subscribers

Archives