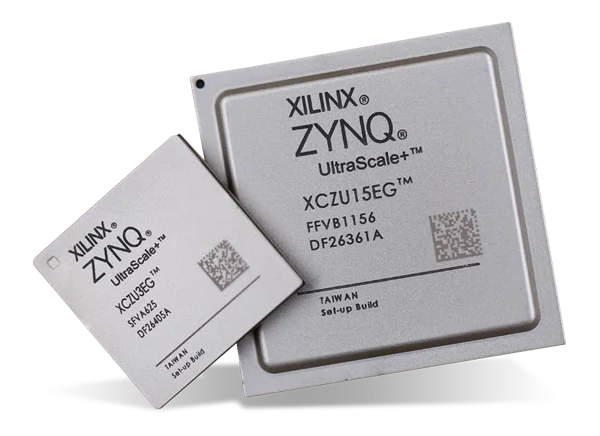 Xilinx Zynq® UltraScale+ MPSoCs Multiprocessors
Xilinx Zynq® UltraScale+ MPSoCs Multiprocessors feature 64-bit processor scalability that combines real-time control with soft and hard engines for graphics, video, waveform, and packet processing. The multiprocessor systems-on-chip devices are built on a common real-time processor and programmable logic-equipped platform. UltraScale+ MPSoC Multiprocessors consist of three distinct variants (dual-core, quad-core, and video code-c). Dual-core application processor-equipped (CG) devices are optimal for industrial motor control and sensor fusion. Quad-core application processor-equipped (EG) devices excel in wired and wireless infrastructure, data center, and Aerospace and Defense applications. Video codec-equipped (EV) devices are ideal for multimedia, Automotive ADAS, and surveillance applications.
Features
Quad- or dual-core ARM Cortex A53 application processing unit
Dual-core ARM Cortex-R5 real-time processing unit
ARM Mali-400 MP2 graphics processing unit
Video codec unit
Xen Hypervisor enables multiple concurrent operating systems on the Cortex-A53 APU
Xilinx OpenAMP communicates and manages independent processors and software stacks
ARM-trusted firmware guarantees secure access and protect key system resources
Boot loaders manage system from power-on-reset with many advanced features including decryption and authentication
Dynamic power management
High-speed connectivity
Advanced security, safety, and reliability
Low-power 16nm FinFET+ FPGA Fabric from TSMC
Breakthrough interconnect bandwidth
Massive memory interface bandwidth
Enhanced DSP slices for diverse applications
Massive I/O bandwidth and protocol/optimized
Open-source operating systems
Development environment
QEMU emulation platform
Ecosystem support
To learn more about the Xilinx Zynq UltraScale+ MPSoCs, visit www.mouser.com/xilinx-zynq-ultrascale-mpsocs.
Join 97,426 other subscribers

Archives