6 Channel RF Remote Controller Using CC2500 RF Modules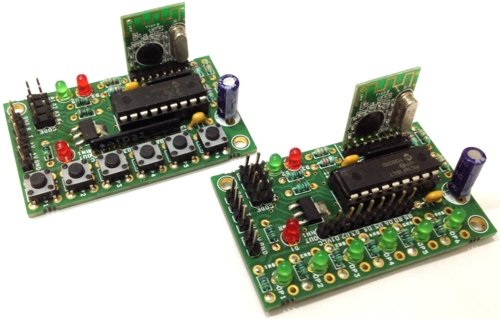 The 6 Channel RF Remote Controller designed using CC2500 RF Transceiver modules and PIC16F1847 micro-controller from microchip. Transmitter provided with 6 tact switch, 4 Address Jumpers to pair multiple unit so they don't interfere with each other. Board provided with power LED, valid transmission LED. Project works with 5 V DC, On board LM1117-3.3V regulator for CC2500 Module.  Two in one PCB can be used as Transmitter & Receiver.
Receiver works with 5V DC. 4 Jumper to paring RX& TX units, valid signal LED, power LED, and 9 Pin connector for outputs.  Same PCB is used as transmitter and receiver.  All outputs are Latch Type and TTL 5V Signal for easy interface with other devices like Relay Boards, Solid State Relays.
6 Channel RF Remote Controller Using CC2500 RF Modules – [Link]