Carbon Introduces SpeedCell System & Bigger 3D Printers
Since 2013, the additive manufacturing startup Carbon had altered the 3D printing industry. Carbon produced its industry-changing M1 3D printer and CLIP 3D printing technology, bringing never-before-seen printing speed and end-use-quality polymer parts to the market.
Today Carbon is on a mission to help manufacturers and designers cut their costs, waste less energy and materials while speeding up the time it takes to get from concept to product on the market. The company released its 'SpeedCell' system, a new service aimed at contract manufacturers, and other high volume manufacturing businesses.
SpeedCell is a system of securely connected products designed to upend traditional methods of manufacturing. The first components of the SpeedCell include two new products that provide a powerful solution for additive manufacturing at scale: The M2 3D printer, and the Smart Part Washer.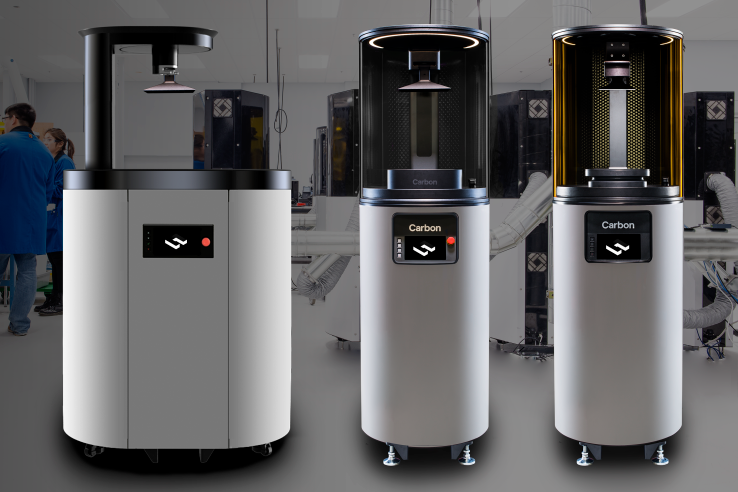 The Carbon M2, with a build volume of 190 x 118 x 326 mm, is twice the size of the M1,  and it enables the printing of larger parts or more parts per build with the same 75 µm resolution and isotropic quality as Carbon's pioneering M1 printer.
The Smart Part Washer is a novel machine that automatically cleans parts in a fast, repeatable, environmentally friendly and part-specific manner.
The SpeedCell was developed as a response to the needs of Carbon's customers and strategic partners, including BMW Group and General Electric. Fast Radius, in partnership with UPS, are new Carbon customers and are among Carbon's SpeedCell launch partners. Additional launch partners include Dinsmore and Associates, Sculpteo, Primary Manufacturing, and The Technology House.
SpeedCell is offered in two configurations:
Design SpeedCell: couples one M Series printer with a Smart Part Washer, allowing product designers and engineers to iterate on product concepts with the confidence that their product can be turned into real parts at any volume.
Production SpeedCell: specifically designed for industrial manufacturing applications, pairs multiple production floor compatible M2 printers with a Smart Part Washer.
For our customers, this means that their product development cycles no longer need to include the antiquated traditional manufacturing process steps of designing, prototyping, tooling, and then production. Instead, products can be designed and engineered on a platform that is also the means of production, eliminating prototyping and tooling steps. This dis-intermediation is at the core of Carbon's role in accelerating the much-anticipated digital revolution in manufacturing.

~ Said Dr. Joseph DeSimone, co-founder and CEO of Carbon.
According to Carbon, the combination of CLIP technology and the SpeedCell system allows for the production of previously impossible designs, such as complex assemblies combined into a single part, or lattices that can't be produced by milling or molding. It also minimizes the tooling and prototyping stages of the design process and enables manufacturers to go directly to end-stage production.
SpeedCell is being marketed with the same subscription model that Carbon used for the M1, with prices as following for 3 years minimum term:
M1: $40,000 per year
M2: $50,000 per year
Smart Part Washer: $10,000 per year
SpeedCell Bundle (available until the end of 2017): Includes a free Smart Part Washer with three or more M Series printers
Carbon displayedthe SpeedCell at the Additive Manufacturing Users Group (AMUG) conference that took place in Chicago from March 19 to 23.
For further information, visit the official blog of launching the SpeedCell. You can also view an interview with Dr. Joseph DeSimone, co-founder and CEO of Carbon, about the new system at 3dprint.com.