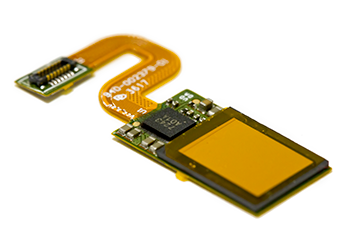 In-display fingerprint sensors to be integrated under glass cover
Synaptics has announced the mass production of its Clear ID FS9500 family of optical in-display fingerprint sensors, designed for smartphones with infinity displays. By Julien Happich @ eenewseurope.com:
The Clear ID in-display fingerprint sensors activate in the display only when needed, offering a one-touch/one-step biometric authentication directly in the touchscreen display area of smartphones. The sensor offers one-touch high-resolution scanning through a full cover glass for sleek, button-free, bezel-free infinity displays, while being naturally protected against wet, dry and cold fingers.
In-display fingerprint sensors to be integrated under glass cover – [Link]