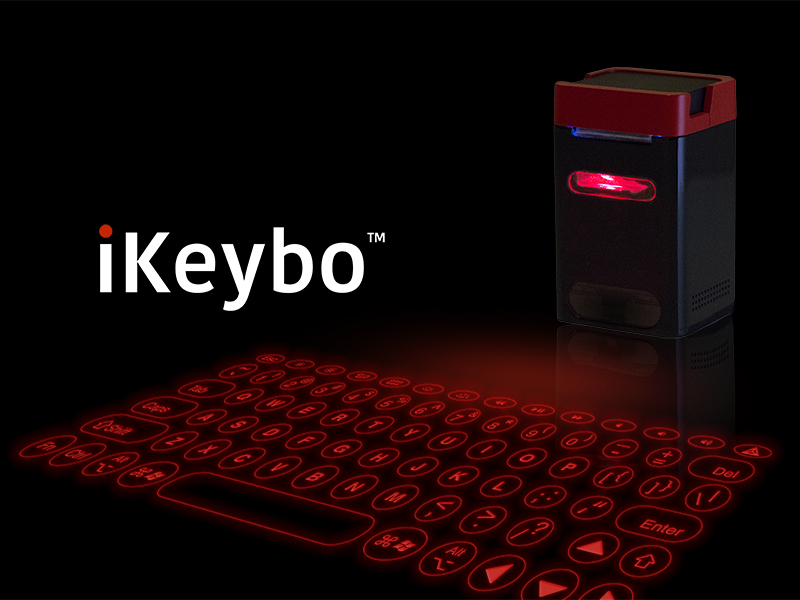 Serafim is a company of some talents and experts in optoelectronics industry, and it aims to offer affordable, useful, and cool consumer electronics for a better computing experience. The latest amazing product by Serafim is: iKeybo!
iKeybo is a virtual projection multilingual keyboard that can turn any flat surface into a keyboard. iKeybo can work as a piano too.
Check this video to see iKeybo in action:
iKeybo uses a non-contact technology and has 90Hz frame rate. It turns your 5 inch display into 12 in a surface since the projection surface is 268*105mm. The keyboard consists of 78 keys where other competitors only have 66. It has a instant reaction around 11.11ms what makes it more convenient while using.You can use iKeybo with you PC, mobile devices and tablets since it works via Bluetooth and USB.
For developers, a SDK for iOS and Android is available! It supports all functions of touch screen which include single tap, double tap, rotate, press and drag, press and hold. Install the framework and make connections with your apps.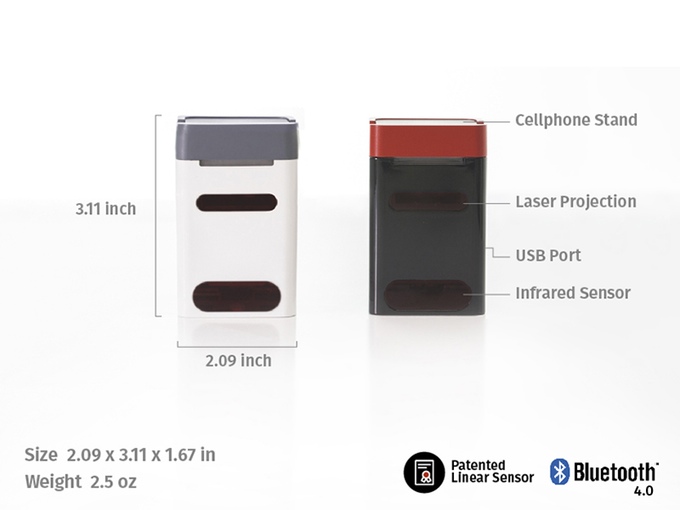 It differentiates from other laser projection keyboard because it implements a new patented technology that uses camera sensor and double linear sensors for faster calculation speed and less energy.
"What distinguish iKeybo from traditional projection keyboards is that it is the world's first laser projection "piano" that allows users to create music instantly with piano, guitar, bass, or drums. When not in use, iKeybo can also serves as an external charger to power up devices with 10 hours of battery life. Its cellphone stand design is also perfect for desk or table to watch movies or start live streaming." – iKeybo team
iKeybo Features
4 Language Layouts you can choose from 4 different languages keyboard layouts (English, Spanish, Arabic, and Chinese) to type the language special characters that you need. You can't add more language layouts to your iKeybo because each layout projection needs a different optical lens. Once you select a language edition or a bilingual one it will be fixed.
4 Musical Instruments with iKeybo you can play piano, guitar, bass and drums! Check this piano demo video:
Round Key Designs a special design to make it easier for typing. Other competitors use square keys with no space in between that make it possible to do a lot of typos.
Portable Charger & Cell Phone Stand  iKeybo also serves as an external charger to power up your devices with 10 hours of battery life. You can also use it as your cellphone stand to turn your mobile device into a computer within just a second.
iKeybo is not the first optoelectronics product by parent company Serafim. Check this page to know more about its products.
iKeybo is now live on a Kickstarter campaign and still has 10 days to go! You can pre-order your iKeybo with one language layout and piano for $89 and also you can get a bilingual iKeybo for $99. More information are available at the campaign page.