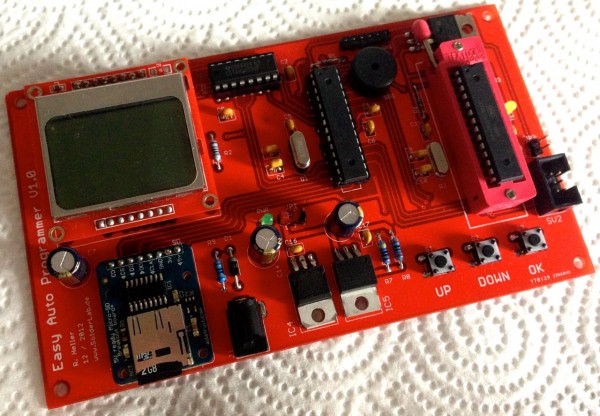 An autonomous AVR ISP programming device with SD-Card, Nokia display, ZIF socket and standard 6-pin ISP interface:
From project to project the number of hex files on our PC was increasing. Many people send us their virgin ATMegas to get them flashed. And last not least distributing PCB's and pre-flahed chips via agile-hardware forced us to burn many, many AVRs. In principle this is a work an ape should do but reality was different. So we spend munch time in this boring job. To much time …

Thus it was just consequent to think about a device that would do the job for us. Here is the result, the SolderLab Easy Auto Programmer V1.0. An All-in-one AVR programmer with SD-card, Nokia Display, a ZIF-Socket and a 6-pin ISP interface. With this device the programming of an AVR is done in seconds including the setting of fuse bits (before AND after flashing), flashing the chip, verifying the flash. And all this without any connection to the PC and by pressing just one single button. You just have to put all your hex files into a folder called "hex" on a standard FAT32 formatted SD card, put the card into the programmer an supply it with some voltage (7-20V). That's it the rest is done by the "ape".
Stand Alone AVR Programmer – [Link]