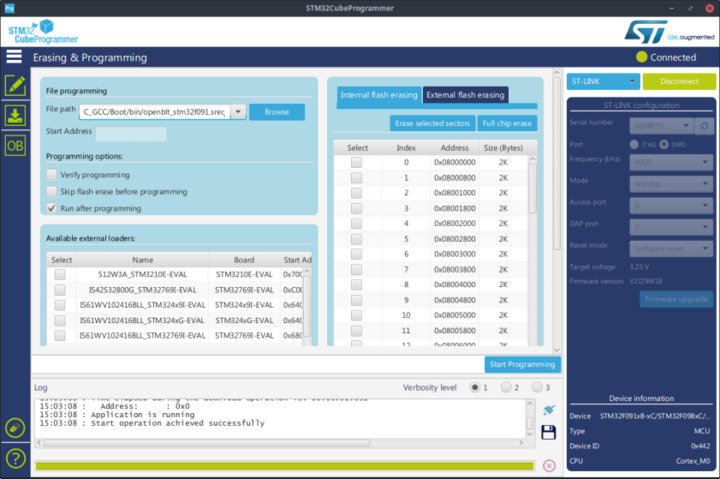 STM32CubeProgrammer – New version compatible with the latest STM32 MCUs & MPUs
STMicroelectronics is pleased to inform us that the latest version of our all-in-one multi-OS software tool STM32CubeProgrammer is available. [Download now]
This new release:
Allows developers to seamlessly program STM32L5 and STM32WB50 (expected Q4 2019) internal and external memories, as well as the STM32MP1 series' external flash memories.
Supports the STLINK-V3SET and STLINK-V3MINI debugging and programming probes.
Includes Over-The-Air firmware upgrade for STM32WB5x wireless MCUs.
Enables Secure Firmware Installation (SFI) on STM32L4, L5, H7 eligible products:

Includes the Trusted Package Creator software tool to perform firmware IP encryption using AES-GCM key.
Manages authentication and licensing with the STM32HSM companion hardware security module to allow OEMs to restrict the number of devices that can be programmed.
The STM32CubeProgrammer release 2.2 comes in Graphical User Interface (GUI) and in Command-Line Interface (CLI) versions to ease programming automation through scripting.
Join 97,426 other subscribers

Archives