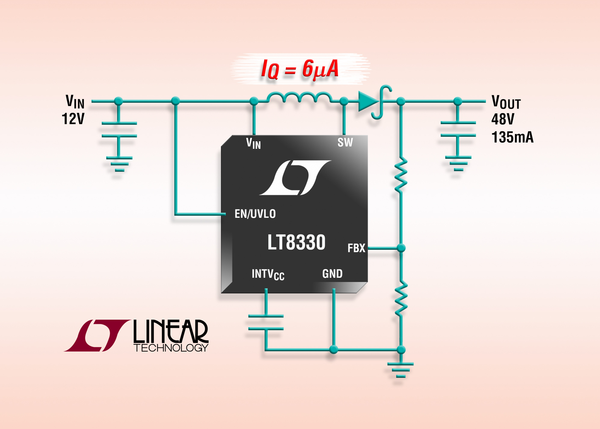 1A, 2 MHz, 60V boost/SEPIC/inverting DC/DC converter, 6µA Iq
by Graham Prophet:
LT8330 is a current mode, 2 MHz step-up DC/DC converter with an internal 1A, 60V switch. It operates from an input voltage range of 3V to 40V, making it suitable for applications with input sources ranging from a single-cell Li-Ion to automotive inputs.

The device can be configured as either a boost, SEPIC or an inverting converter. It uses a fixed 2 MHz switching frequency, enabling designers to minimise external component sizes and avoid critical frequency bands, such as AM radio. Burst Mode operation reduces quiescent current to 6 µA while keeping output ripple below 15 mVP-P. The combination of a 3 x 2 mm DFN or TSOT-23 package and tiny externals ensures a very compact footprint while minimising overall cost.
1A, 2 MHz, 60V boost/SEPIC/inverting DC/DC converter, 6µA Iq – [Link]
Join 97,426 other subscribers

Archives