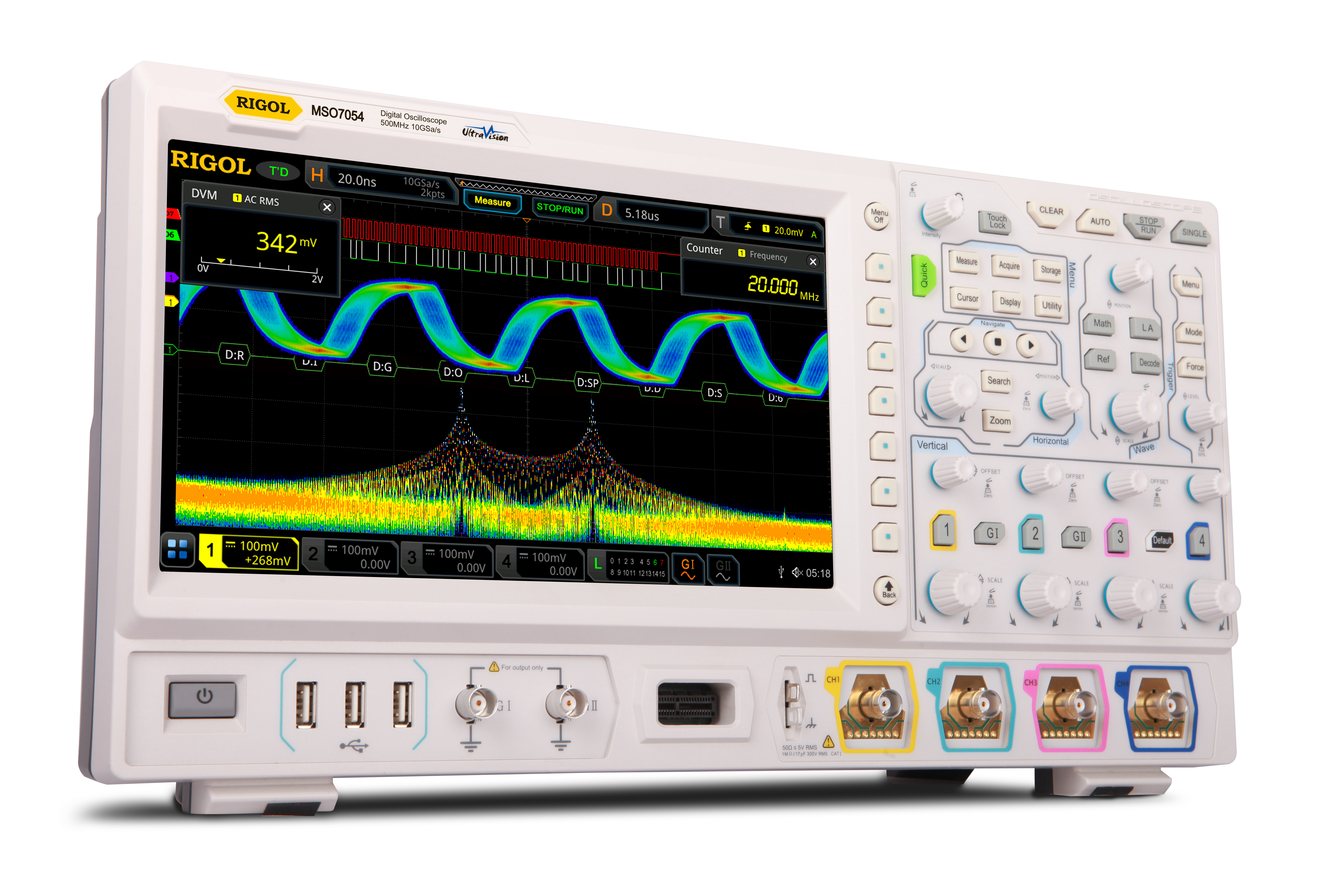 7-into-1 Oscilloscope features a 10.1″ touch-color display
The Chinese based technology company Rigol Technologies has launched a new high-performance oscilloscope series, the MSO/DS7000 Oscilloscopes. This new series incorporates some of Rigol's latest developed technologies and includes RIGOL's self-developed ASIC chipset "Phoenix" into it. The introduction of the MSO/DS7000 series oscilloscope will make it the first time for a Chinese enterprise to launch its own developed ASIC chip on its product, which is of great strategic significance in the global electronic test and measurement instrument industry.
MSO7000/DS7000 series is a multifunctional and high-performance digital oscilloscope designed on the basis of the UltraVision II technology developed by RIGOL. With bandwidths of 100 MHz to 500 MHz (bandwidth upgrade), sample rates up to 10 GS/s and with 4 analog and 16 digital channels, the MSO/DS7000 series is fit for many application areas. With a waveform capture rate of up to 600,000 waveforms/s, users can capture, display and evaluate fast signal sequences based on the new UltraVison II Chip Set technology for fastest analysis (decoding).
MSO7000/DS7000 series integrates 7 independent instruments into one and is equipped with super high sample bandwidth ratio, extremely high memory depth, clear display, excellent waveform capture rate, and robust data analysis functions. The 7000 series oscilloscopes incorporate a large 10.1″ touch-color display which helps in providing better and clear signal representation. The 10.1-inch capacitive multi-touch screen supports various touch gestures. The touch gestures such as "tap," "Pinch & Stretch," "Drag," and "Rectangle Drawing" make you find the measurement operation more smooth, convenient, and easy to learn.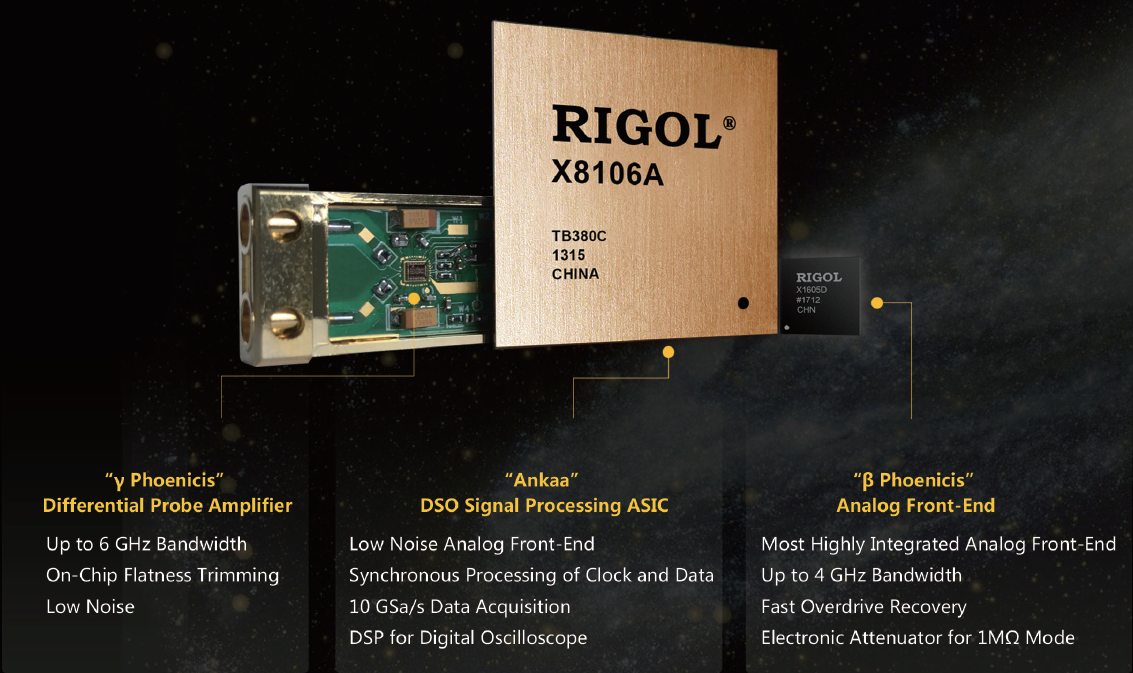 MSO/DS7000 series digital oscilloscope adopts RIGOL's self-developed chipset "Phoenix", which gain the data acquisition capability of up to 10 GSa/s sample rate, realizing the high integration of all the function modules required for the analog front-end (AFE), and significantly improving the consistency and reliability of the digital oscilloscope. The 1M ohms path digital input attenuator can switch the scale rapidly and quietly. The unique circuit design can shorten the overload recovery time of the 1M ohm – mode to 0.5% of that of the existing products.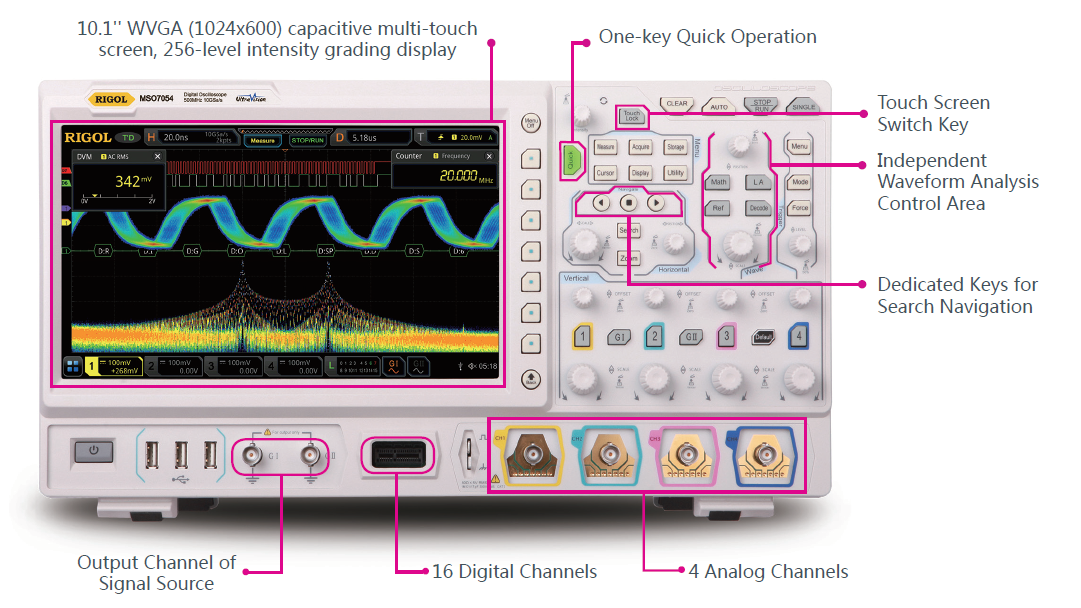 The integrated 7 in 1 instruments in the MSO/DS7000 series oscilloscope are made up of the following:
Oscilloscope –

Four bandwidth models: 500 MHz, 350 MHz, 200 MHz, and 100 MHz; with the bandwidth upgradeable
Up to 10 GSa/s real-time sample rate per channel 4 analog channels and 1 EXT channel
Up to 500 Mpts memory depth (option)
Maximum waveform capture rate of 600,000 wfms/s
500 MHz passive voltage probe for each channel (standard)

Logic Analyzer –

Standard configuration of 16 digital channels and 1 RPL2316 logic analyzer probe for the MSO model
62.5 Mpts memory depth for the waveforms of all the digital channels
Up to 1.25 GSa/s sample rate
Hardware real-time waveform recording and playback functions supported
Mixed (analog channel and digital channel) trigger and decode supported
Convenient digital channel grouping and group operation

Spectrum Analyzer

Standard configuration of enhanced FFT, real-time operation for max.
1 Mpts waveform data
Max. frequency range: oscilloscope analog bandwidth
Up to 4 groups of operations can be displayed at the same time
Independent FFT color persistence view supported
Up to 15 peaks available for the peak search function; event table available to be exported

Waveform Generator

Standard configuration of 2 waveforms output channels for the hardware of MSO model and only AWG option is required to be ordered
13 pre-defined waveforms
Up to 25 MHz frequency
Up to 200 MSa/s sample rate
Advanced modulation, sweep, and burst signal output supported

Protocol Analyzer

Support RS232/UART, I2C, SPI, CAN, LIN, I2S, FlexRay, and MIL-STD-1553 serial bus
Support the protocol trigger and decoding for the analog channel and the digital channel
RS232/UART, I2C, and SPI protocols support the waveform search function
Capable of working with the waveform recording, pass/fail test, and zone trigger

Digital Voltmeter –

3-digit DC/AC RMS/AC+DC RMS voltage measurement
Sound an alarm for reaching or exceeding the limits
Display the latest measurement results in the form of a diagram, and display the extrema over the last 3 seconds

Frequency Counter and Totalizer

Optional 3 to a 6-digit high-precision frequency counter
Support the statistics on the maximum and minimum values of the frequency
48-bit totalizer (standard)
The DS7000 brings advanced analysis and visualizations capabilities to embedded design, power analysis, serial decode and multi-domain applications. It provides various interfaces including USB host, USB device, LAN(LXI), HDMI, USB-GPIB, and USB mouse support are also offered. The MSO7000/DS7000 series starts from $2,699 to $11,299. More information about the product is available on the product page.
Subscribe to Blog via Email
Join 97,456 other subscribers
Archives