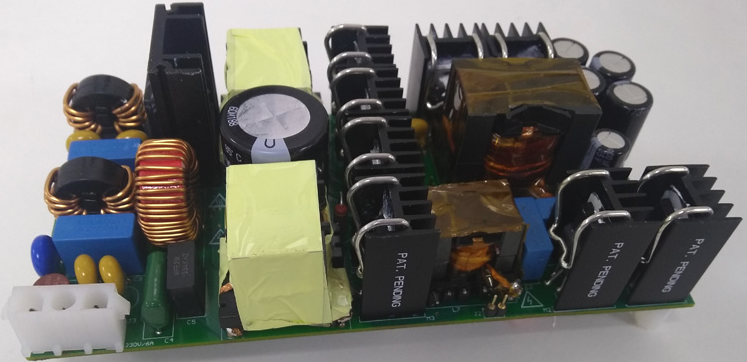 94.5% Efficiency, 24V @ 21A – 500W industrial AC-DC reference design
This reference design is a compact, high efficiency, 24-V DC, 500-W reference design for industrial AC/DC power supplies. This design consists of a front-end, two-phase interleaved transition mode (TM) power factor correction (PFC) based on the UCC28064A. This minimizes the PFC inductor size and reduces EMI filter requirements. The DC-DC is implemented using the HB-LLC stage implemented using TI's UCC256301 device. For efficiency improvement, synchronous rectification is used at secondary which uses the UCC24612.
This reference design is a 500-W high efficiency industrial AC/DC power supply. The design consists of a two-phase-interleaved, critical conduction mode (CrCM) PFC converter, which operates from an input voltage range of 85- to 265-V AC RMS and generates a 400-V DC bus. The second stage is made up of an isolated half-bridge LLC stage, which generates a 24-V, 20-A nominal output. Industrial power supplies have requirements of high efficiency over their entire operating voltage range and wide load variations from a 50% to 100% load. This design demonstrates high efficiency operation in a small form factor (155 × 125 mm) and delivers continuous 480 W of power over the entire input operating voltage range from 85-to 265-V AC. It gives an efficiency of > 94.5% for 230-V AC nominal operation and 92% for 115-V AC nominal operation.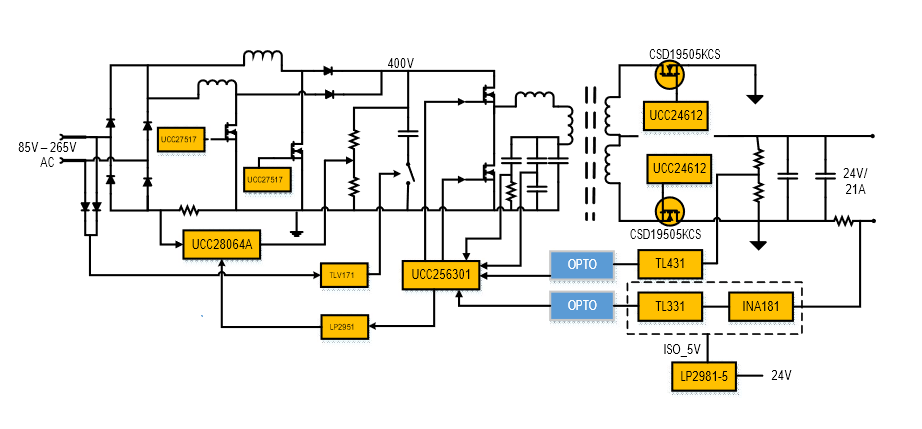 Features
Overall efficiency of 94.5% at full load with peak efficiency > 95%
Up to 330-W operation without forced cooling
High power factor > 0.99 and meets PFC regulations and current THD as per IEC 61000-3- 2 Class A
Meets requirements of conducted emissions standard (EN55011 Class B)
ZCS avoidance feature and OVP sensing feature in LLC controller improves robustness and protects systems from overcurrent, short circuit, and overvoltage to ensure safety
Small 160 mm × 80 mm × 35 mm PCB form factor
more information on http://www.ti.com/tool/TIDA-010015