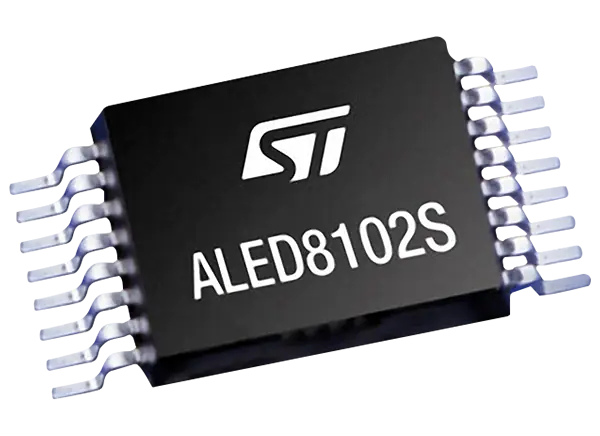 ALED8102S – 8 Channels LED driver with direct switch control
The ALED8102S is a monolithic, low voltage, 8 low-side channels LED driver. The ALED8102S guarantees up to 19 V output driving capability allowing users to connect several LEDs in series. In the output stage, 8 regulated current sources provide from 5 mA to 100 mA constant current to drive the LEDs. Current is programmed through a single external resistor.
The ALED8102S is equipped with a thermal management that protects the device forcing it in shutdown (typically: power-off at 170 °C with 15 °C hysteresis to restart). The thermal protection switches OFF the output channels only.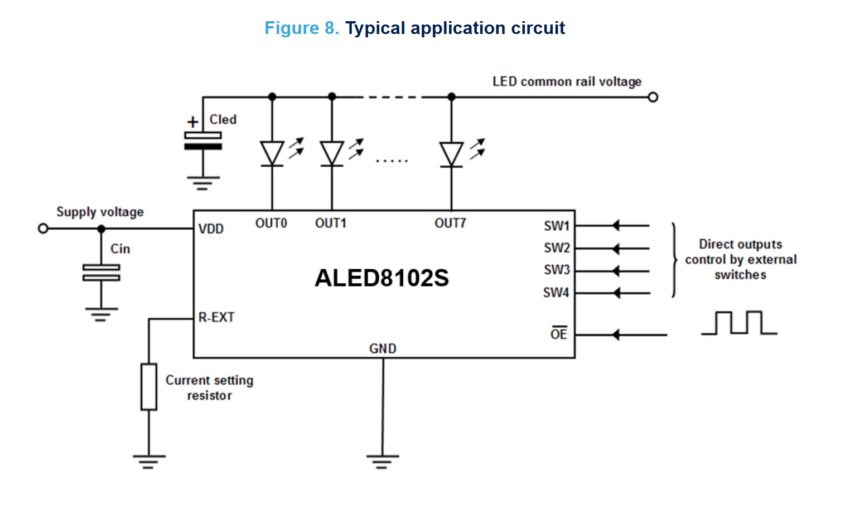 Features
AEC-Q100 grade 1 qualified
Operating temperature range: -40 °C < TJ < +150 °C
8 constant current output channels controlled by four switch inputs
Output enable input for global dimming
Output current: from 5 mA to 100 mA
Current programmable through an external resistor
Supply voltage: 3 V to 5.5 V
Thermal shutdown
19 V current generator-rated voltage
The operative supply voltage range is between 3 V and 5.5 V. The output control is provided by four switch inputs, providing an on/off toggle action suitable also for local dimming. Moreover, on all active output LEDs brightness can be adjusted with a global PWM signal applied to the output enable pin (OE). Outputs can be connected in parallel, or left unconnected if not used, as required by the application.
more information: https://www.st.com/en/power-management/aled8102s.html
Join 97,426 other subscribers

Archives