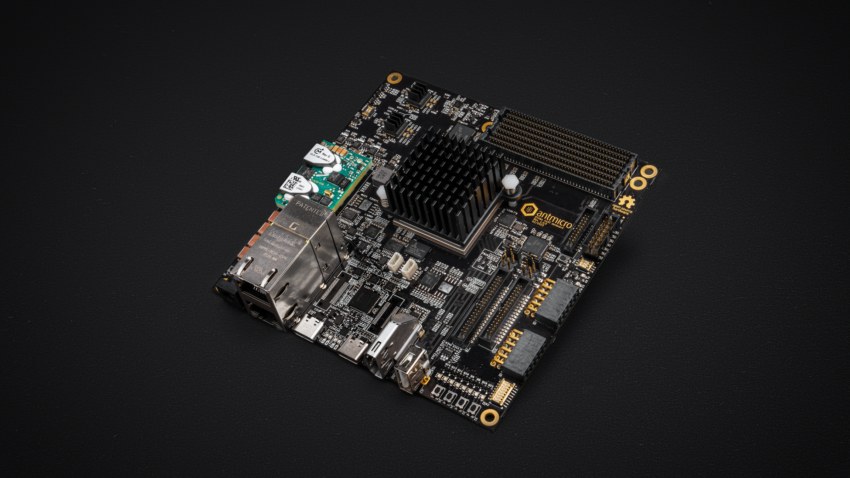 Antmicro creates an open hardware Xilinx Kintex K410T development board
Antmicro, known for its open hardware ecosystem, has designed the AMD-Xilinx Kintex-7 development board for developers to explore its potential as an RTL prototyping platform. Antmicro has introduced this board as part of its extended open-source SystemVerilog toolchain. The company chose the AMD FPGA design because it has already been widely used in open hardware projects, such as the Data Center RDIMM DDR4 Testers and the DDR5 Tester.
The AMD Xilinx Kintex-7 FPGA provides 400k logic cells in a 900-pin package with input/output ports divided into 7 high-range and three high-performance banks. The PCB has a compact form factor of a nano-ITX board which measures 120×120 mm and can be powered using multiple power sources— regular DC power jack, 40W PoE++ on Gigabit Ethernet connector, and a 45W USB Type-C power delivery.
Antmicro's Kintex K410T development board provides users with the ability to synthesize custom RISC-V-based processing platforms. This allows developers to create custom processing platforms that can be tailored to meet the specific needs of their applications.
The Kintex K410T development board features a range of I/O options, including the industry-standard FMC connector. The FMC connector provides PCIe x8 on 12.5Gb/s transceivers and 50 I/Os, consisting of 24 length-matched differential pairs and two single lanes, all in the 3.3V domain.
The PCIe x8 interface provided by the FMC connector allows the Kintex K410T to achieve high-speed data transfer rates, making it suitable for applications that require high-performance data processing. The 50 I/Os provided by the FMC connector also provides developers with a wide range of options for connecting the Kintex K410T to other devices and systems.
One of the key benefits of the Kintex K410T development board is that it allows for hardware-in-the-loop testing of designs with multiple IP cores and peripherals, such as OpenTitan and its variants. This means that developers can use the Kintex K410T to test their ASIC designs in a real-world hardware environment, which can help identify and correct any issues or bugs before the final product is manufactured.
Join 97,426 other subscribers

Archives