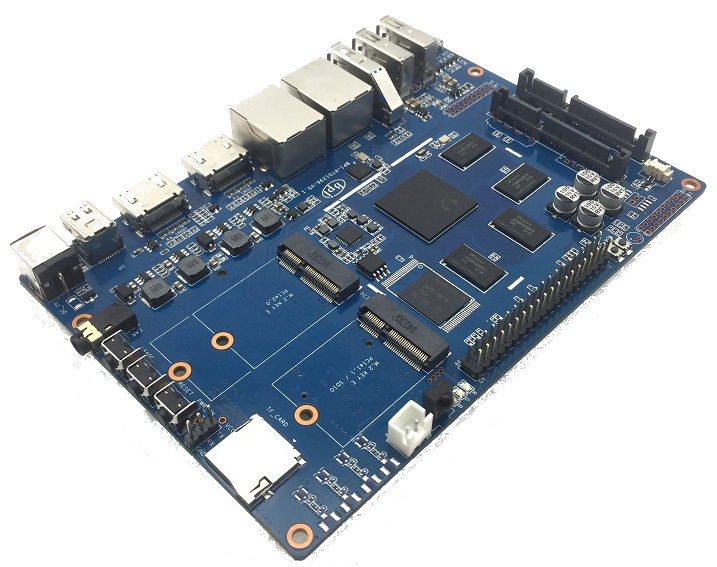 Banana Pi BPI-W2 SBC – A Multimedia Router And NAS Board That Runs Android Or Linux
SinoVoip has released Banana Pi BPI-W2 multimedia network and smart NAS router SBC. The BPI-W2 has a faster processor and more advanced features than last year's Banana Pi BPI-R2. However, the new model has only two Gigabit Ethernet ports instead of four.
This SBC is designed for applications such as high wireless performance, home entertainment, home automation, and many more. The BPI-W2 runs on a Realtek RTD1296 SoC with 4x Cortex-A53 cores clocked at up to 1.5GHz with a high-end Mali-T820 MP3 GPU. By comparison, previous year's BPI-R2 used a quad-core, Cortex-A7 MediaTek MT7623 with a Mali-450 MP4. SinoVoip confirms full support for Android 6.0, CentOS, Debian 9, Raspbian, and Ubuntu 15.04, and the board is also said to support OpenWrt.
The updated I/O support is shown in the BPI-W2's dual SATA III ports, compared to only one on the single SATA interface found on the MT7623-based BPI-R2 and RTD1295-based devices. The BPI-W2 also has 8-64GB eMMC, a microSD slot, and 2GB of DDR4.
Although limited to dual GbE ports, the board also has a GbE WAN port for router applications. Unlike the R2, there is an HDMI input in addition to the HDMI output, and a mini-DisplayPort has replaced the earlier MIPI-DSI connection. In either case, the output resolution is still limited to HD (1080p) only.
Four USB ports are available, including single USB 3.0 and Type-C ports. There is a 40-pin header that is claimed to support Raspberry Pi 3 add-on boards. Other features involve RTC, IR, debug, audio I/O, and a 12V input.
Like other Banana Pi boards, the BPI-W2 is open source, shipping with schematics and other documentation. The AliExpress and wiki pages list and show PCIe 2.0 and 1.1/SDIO slots on the front as well as a single M.2 slot on the back. Yet the PCIe slots are also tagged as M.2 slots (E-Key), and it's unclear which slots are capable of what. The PCIe slots are capable to support up to 802.11ac WiFi, and there's also a SIM card slot.
The Banana Pi BPI-W2 is available now for $93 plus shipping on AliExpress. More information may be found on the BPI-W2 wiki page.
Join 97,426 other subscribers

Archives