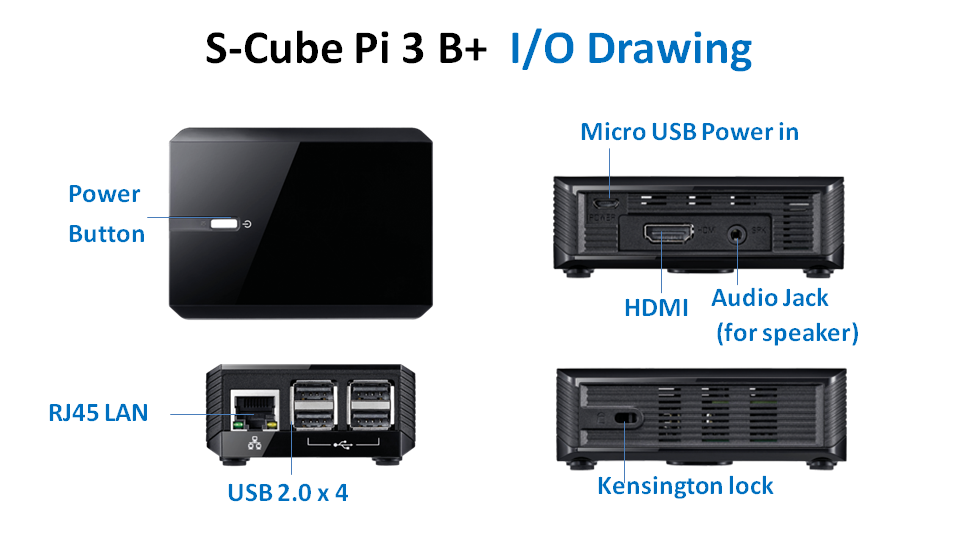 Clientron Releases its First ARM Based Thin Client
Clientron Corporation, a dedicated provider of intelligent solutions that offers high quality and high performance computing platforms including Thin Client, POS and intelligent systems has officially released its  first ARM- based Clientron thin client specifically designed for high performance and economic desktop virtualization solution for the education, SMB, finance, healthcare and enterprise market. The thin client dubbed the S-Cube Pi 3 B+ -the smallest and most power efficient model yet, running on less than 5 watts- is the first thin client that runs on the latest Raspberry Pi 3 B+ SBC and supports various Virtualization software providers like Microsoft RDP, Citrix XenDesktop and VMware Horizon view with secure Linux operating system.
Compared with other Raspberry Pi 3 Model thin clients from ViewSonic, ClearCube, NComputing, the Clientron thin client is powered by a faster ARM Cortex-A53 quad-core 1.4GHz Broadcom 64-bit processor, it smoothly runs highly demanding functions including Bluetooth 4.2 and Wi-Fi wireless connection, optional PoE (Power over Ethernet), 1Gb LAN, one HDMI display output, an internal micro SD card expansion and comes in an ultra-compact credit card size form factor of 91.7 x 67 x 29.2mm- which is actually not a cube as the name suggests- with other enhancements.
The S-Cube Pi 3 B+ also comes in a fanless and noise free design with 10/100/1000 Ethernet port with Wifi speeds up 300Mbps and 1GB LPDDR2 RAM, 4 USB 2.0 host ports, an audio jack, and a micro-USB port for power. Its HDMI port support up to 1920 x 1200 pixels resolution. In addition to these basic Raspberry Pi features, it supports a Kensington security lock connector and an optional VESA (Video Electronics Standards Association- A technical standard for Computer display) metal mounting kit and supports temperature ranges from 0 to 35oC degress.
The Clientron S-Cube Raspberry Pi 3 B+ comes with power efficient and cost-effective benefits, it offers the lowest endpoints acquisition cost of desktop virtualization solution for customers. Because of its PC- like working experience and capability to run virtual sessions from various workspace environments, it is suitable to enhance working environments in different markets.
Apart from running thin client solutions, the S-Cube Pi 3 B+ can be used for various applications such as digital signage and smart retail applications.
Clientron has also recently released other models based on the intel Braswell Q800 and R800 processor which runs Windows Embedded Standard 7, Win10 IoT Enterprise with Linux available per request.
The Clientron S-Cube Raspberry Pi 3 B+ is now available. More information can be found in Clientron S-Cube Raspberry Pi 3 B+ product and announcement page.