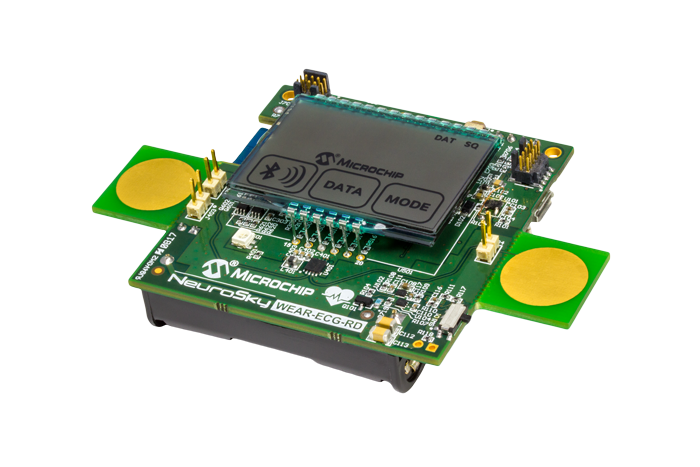 Connected Secure and Wearable Electrocardiogram (ECG) Design
The electrocardiogram or ECG machine design from Microchip Technology is used to monitor and record the electrical activity of the heart. This design features the SAML22, a high-performance, 32-bit Arm® Cortex®-M0+ microcontroller with ultra-low-power technology, the BTLC1000 Bluetooth® Low Energy (BLE) 4.1 module, the ECC508A Crypto Authentication chip, and the NeuroSky® CardioChip™ ECG biosensor. Since each heartbeat produces an electrical impulse in the heart, the generated cardiac electrical potentials can be measured with sensors placed on the body at different locations. Abnormal electrical activity can indicate conditions such as heart attack, chest trauma, reduced blood flow to the heart, arrhythmia, or heart deformities. The ECG demo measures a complex heart rate and computes other heart-related data. Patient movement is also tracked via an on-board accelerometer. The BTLC1000 BLE module on this board allows the demo to communicate with tablets, smartphones, or PCs for IoT capability.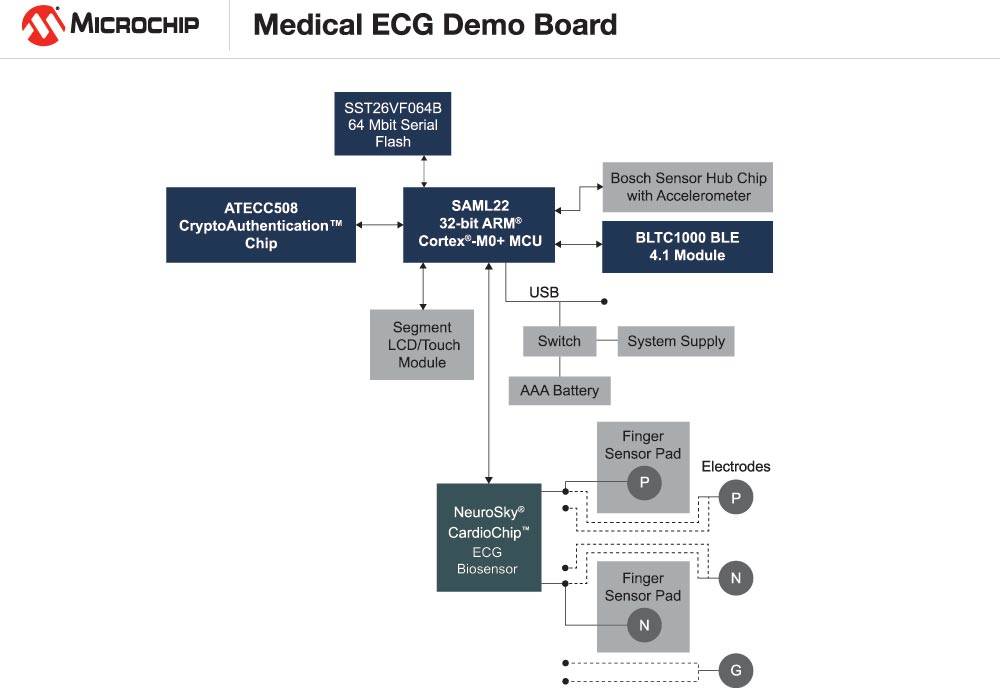 The demand for portable and accurate ECG monitoring has grown substantially. Despite the smaller size of these portable products, ECG devices still require precision filtering, high-performance processing power, and integrated high-resolution graphics control that is separate from the main microcontroller core. As medical remote patient monitoring becomes more important, the need for wearable ECG capability has become critical. Microchip's Connected, Wearable ECG Demonstration Board can be used in the design of advanced fitness tracking devices and can also be designed into medical wearable remote patient monitoring and diagnostic systems.
Features
Ideal for portable/wearable medical/fitness designs
Measures heart rate and computes heart rate variability, heart age, and stress using ECG data
Easy development of more advanced heart-healthy index functions
Demo can also be shown using standard ECG leads
BLE module is used for smartphone/tablet IoT capability
Low overall BOM cost due to high level of integration
Powered from a single AAA battery
Resources
Join 97,426 other subscribers

Archives