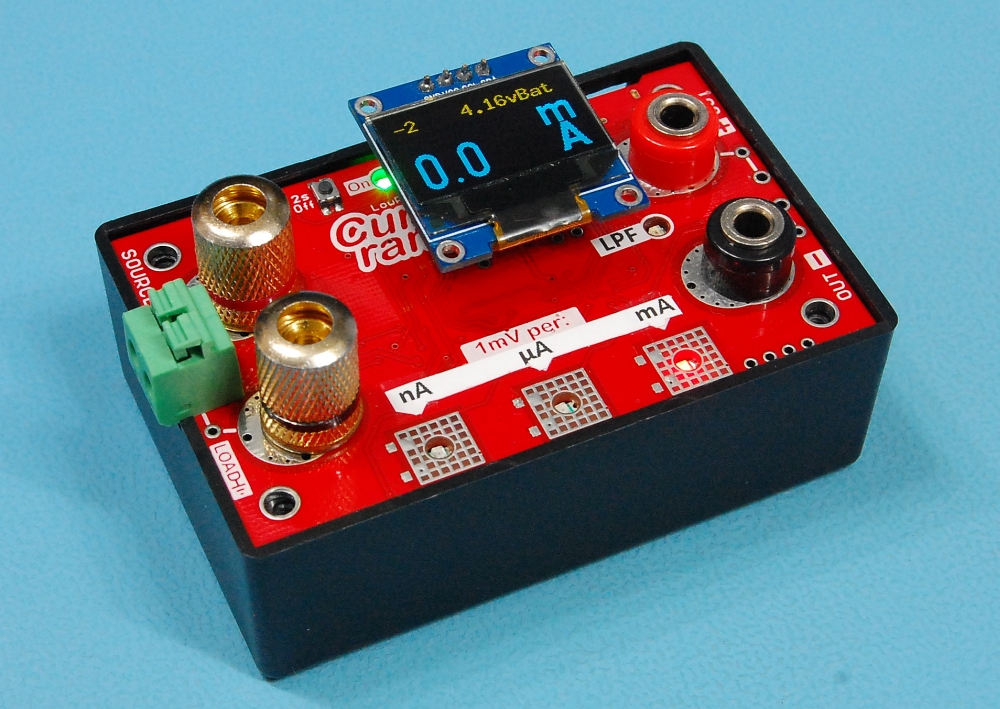 CurrentRanger – Auto-ranging current meter
Felix designed a precision Auto-ranging nanoAmp ammeter with loads of features. He writes:
CurrentRanger is a nanoAmp current meter featuring auto-ranging, uni/bi-directional modes, bluetooth data logging options and more.

It is a highly hackable and affordable ultra low-burden-voltage ammeter, appropriate for hobby and professional use where capturing fast current transients and measurement precision are important.
Here are some of the features of this instrument which sets it apart:
Low noise zero-offset with 3-ranges (1mV output per nA/µA/mA)
Low input burden voltage, high precision & bandwidth analog outputs
Increased flexibility and usability with several input and output terminal options
Auto-ranging capable
Use standalone with a small OLED display or with a multimeter/oscilloscope
Ultra fast range switching between any ranges (even nA to mA) without any glitching/bouncing of a mechanical switch
Low Pass Filter mode – very useful to capture low noise  signals on oscilloscopes
Unidirectional mode – most used mode in measuring DC currents ranging from [0, 3.3A]
Bidirectional mode – split supply biasing allows AC currents measurement ranging from [-1.65A, 1.65A]
LiPo battery powered – long life and extended measurement range
Auto-power-off
Full digital control for power & range switching via touch pads
OLED display option to read output with usable precision
Datalogging possible via Bluetooth serial module
SAMD21 Cortex M0+ powered, change firmware to your needs
Optional buzzer for audible feedback
CurrentRanger – Auto-ranging current meter – [Link]
Join 97,426 other subscribers

Archives