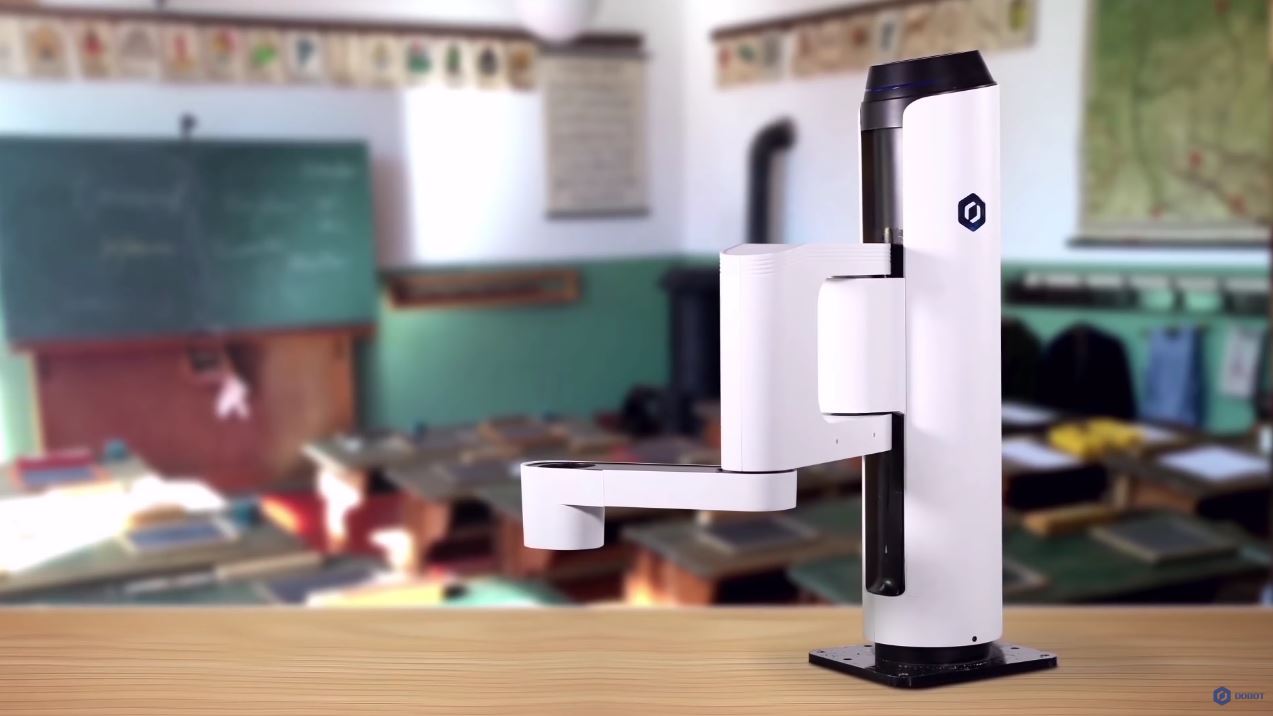 Shenzhen Yuejiang Technology Co. Ltd ("Yuejiang") is a leading robot arm solution provider in China. Yuejiang is established in July 2015 in Shenzhen, China by 5 dedicated robotics engineers with the mission of facilitating the development and upgrading of the industrial robotic arms solutions in China and continuously developing the extensive applications in this arena. Yuejiang's newest product is Dobot M1!
Dobot M1 is an all-in-one industrial robotic arm based on SCARA, with many interchangeable heads to 3D print, laser engrave, solder and pick & place unlimited applications. It also has computer vision ability.
Check this video featuring the amazing capabilities of Dobot M1:
Dobot M1 is the second edition of Dobot 1.0. Dobot 1.0 featured 7 different ways of controlling a robotic arm, including mouse control, vision control, EEG control, mobile APP, Leap motion control and gesture control, that was targeting makers as a new way of personal fabrication. Dobot 1.0 Kickstarter campaign raised an incredible $615,000, shattering a goal of only $36,000, Now Dobot M1 is extending its audience to the education, self-employers and factories sectors providing them an enhanced edition of the multifunctional arm.
Dobot M1 comes to solve the problem that industrial robot arms with such specifications are usually very expensive. Providing Dobot M1 with a price around $2000 will change the manufacturing equation forever. Dobot M1 will be the greatest tool to be added to your working space to try some light manufacturing professionally.
The toolheads included with the arm give multiple choices of operation, whether a 3D printer, gripper hand, laser engraver and 4th axis attachment. Once, it is a 3D printer with 400mm radius and 200mm height printing area itself, and you can extend this printing area with a 1m long trail. Then it is a laser engraver that line engrave and shade engrave your favorite symbols and pictures precisely thanks to the PWM laser it uses.
Attaching it with a camera, you are giving Dobot M1 eyes to process the mission given. It has integrated visual API that can be simply work with OpenCV or your own visual system. It also can be a precise pick and place machine, can do two things at the same time with the dual arm operation feature and can move around!
Dobot M1 support Bluetooth and WiFi, you can connect more than one Dobot together to function simultaneously with the same of multi functions. You can also control them using a mobile app. No need to worry about bein an expert to cope with Dobot M1, you can program it with a visual and easy programming language, and furthermore you can teach it the moves you want it to do with handhold teaching and then it will mimic them. These are the full specification of Dobot M1.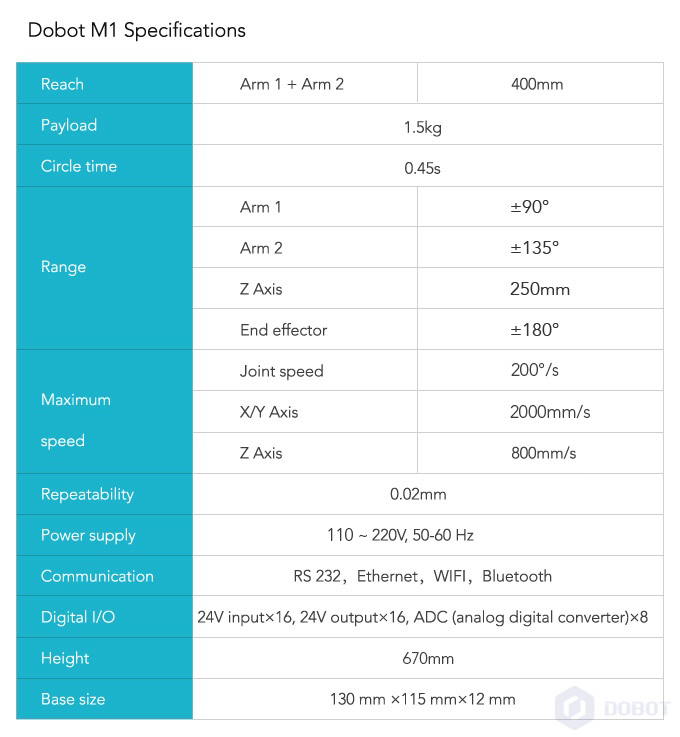 What makes Dobot M1 special is its expandability, it has a standardized head tool port, protocol, API, SDK, and extension ports. It is also considered affordable in comparison with its competitors.
"One simple fact: an industrial SCARA type robotic arm prices between $10,000 and $20,000, two-year payback period. For many small businesses constantly adjusting their production technique, this is too much to afford, not to mention those creative individuals who want a professional making machine. With less than $2,000, and 3 months of payback period, Dobot M1 is here to fill the missing puzzle. With more functions and features, Dobot M1 is able to integrate in more steps of production, helping you save more budget."
Dobot M1 is now live on a Kickstarter campaign and it only has 3 days to go! Hurry up and pre-order an amazing addition to your fablab or co-working space. You can get the standard kit with two toolheads of your choice with around $1600. It will be a nice automated all-in-one tool for hardware startups that are wasting time and money on different tools and materials doing most of the work by themselves.
For more details about Dobot M1 check the official website and the crowdfunding campaign page.
Subscribe to Blog via Email
Join 97,456 other subscribers
Archives