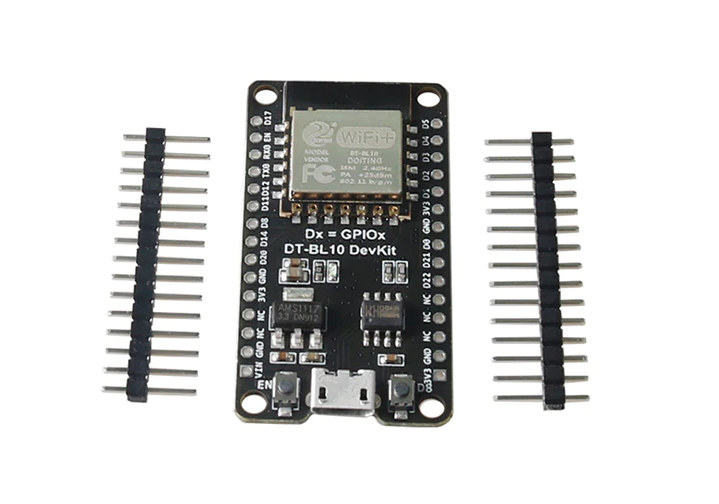 DT-BL10 is a development board powered by BL602 WiSoC that sells for around $5. This board is specifically designed to work with a 32-bit RISC-V CPU with dynamic frequency from 1MHz to 192MHz. It has a 276KB SRAM and 128KB ROM.
The main focus of this board is on its wide range of wireless support. It has the support for Wi-Fi 4 802.11 b/g/n and Bluetooth 5.0 Low Energy. Wi-Fi security standards WPS/WEP/WPA/WPA2/WPA3 are available also with this low-power IoT application-focused board.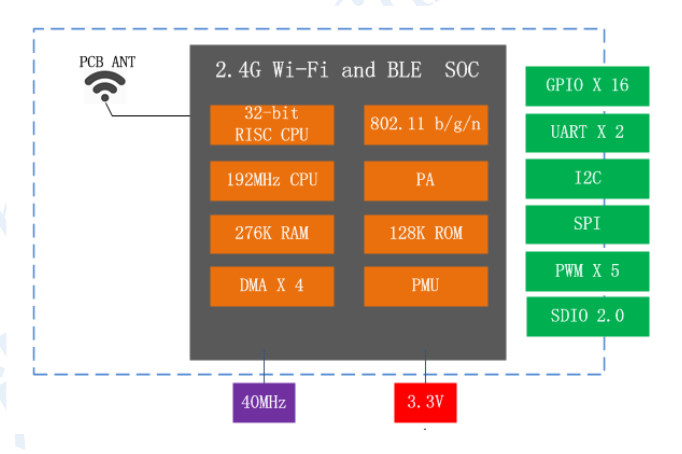 Moreover, a variety of security features such as secure boot, secure debug, XIP QSPI On-The-Fly AES Decryption (OTFAD), AES-128/192/256 are supported on this 49 × 26 × 3 mm board. Peripheral interfaces include SDIO, SPI, UART, I2C, IR remote, PWM, ADC, DAC, ACOMP, PIR, etc. Flexible GPIO configurations are supported. BL602 has a total of 16 GPIOs.
Board Specifications for the DT-BL10 :
SoC : Bouffalo BL602 RISC-V processor @ up to 192 Mhz with 276KB RAM, 128KB ROM with WiFi and Bluetooth
Wireless :

2.4GHz 802.11b/g/n WiFI 4 up to 65 Mbps (802.11n) or 26 Mbps (802.11g)
Bluetooth LE 5.0
PCN antenna

Peripherals and I/Os :

SDIO 2.0 slave (AP-Host)
SPI master/slave, 2x UART, I2C master/slave, 5x PWM channels
ADC – 10-bit general DAC, 12-bit general ADC, 2x general analog comparators
PIR (Passive Infra-Red) detection
IR remote HW accelerator
16x flexible GPIOs (BL602) / 23x flexible GPIOs (BL604)
4x DMA channels
RTC timer up to One year
2x 32-bit general-purpose timers

Supply Voltage : 3.0 to 3.6V
Power consumption : Deep-sleep mode: 22mA; deep standby mode: 2mA
Dimensions : 20 x 16 x 3mm
Temperature Range : -20°C to +85°C
Targeted toward the well-established low-power IoT applications, this board tries to rival the ESP8266 and ESP32 solutions which are already very affordable and community-supported. It may take the heat off from this competition with the implementation of the BL602 SoC. Time will tell if it can make an impact in the maker community. More information can be found on this product page.
Join 97,426 other subscribers

Archives