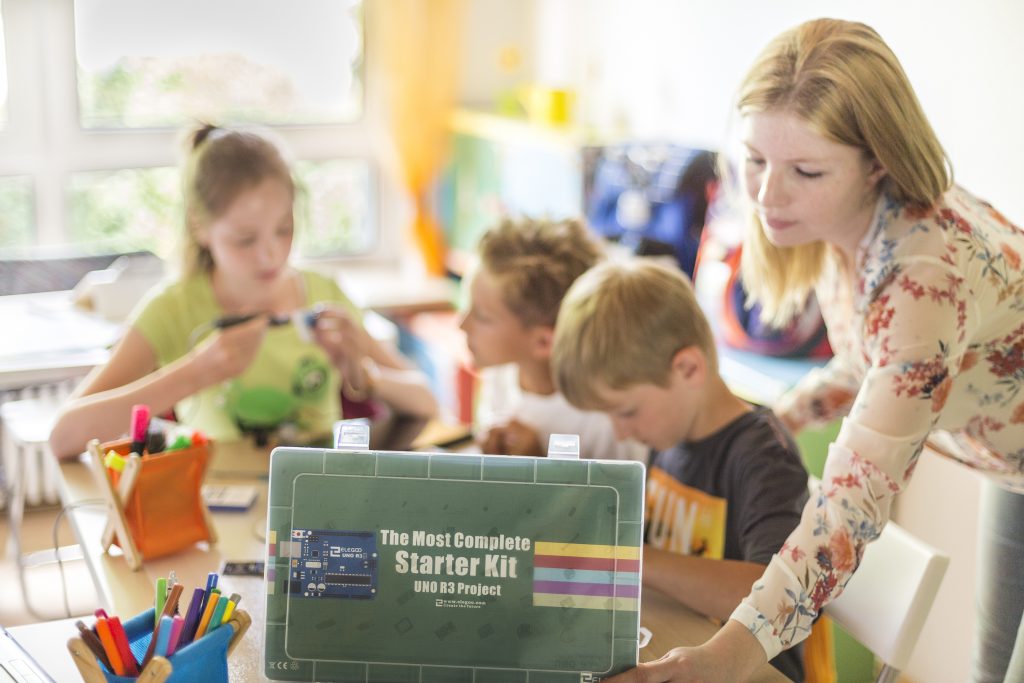 Elegoo Gift Guide Is for a Complete Arduino Starter Kit with 20% discount
Arduino is an open source software and electronics platform that has evolved the open hardware, DIY (do it yourself), makers, STEM, and the electronics industry. Arduino has grown to be one of the best learning platforms for young engineers and students. Using an Arduino a student new to electronics and embedded systems can easily build something interesting in less than 2 hours.
Despite the awesomeness and usefulness of the Arduino platform, it also comes with some challenges. Arduino has several add-ons like sensors, modules, shields, displays, and others that can be added to a project to increase its complexity and there are several add-ons that are available in the market from different makers. It can be overwhelming for beginners to get started with so many options. What if we could house all the necessary components in one box? Here, comes the Arduino kits. There are many Arduino starter kits available on the market and most of these kits are intended for electronics enthusiasts who just beginning their journey to Arduino. But how to choose the one that is right for you? Here we will take a look on Elegoo Arduino Starter Kit.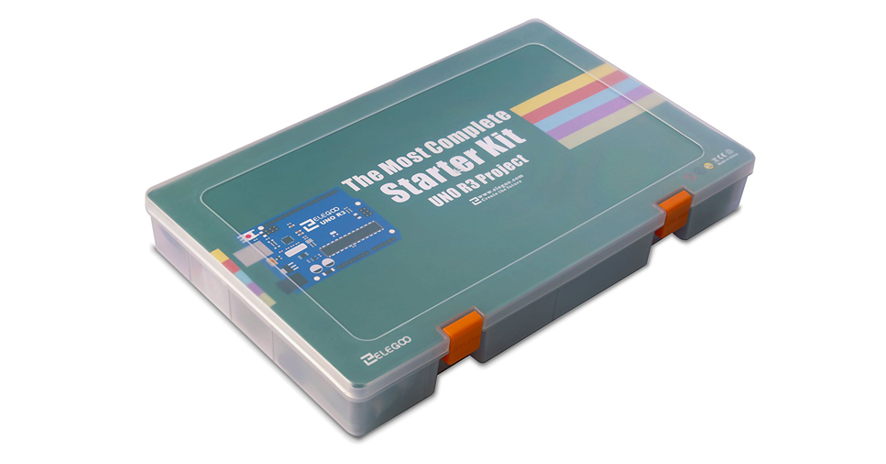 Arduino kits contain an Arduino Uno board or similar board and some other parts that can be used to teach electronics and programming in its simplest form to kids, students, makers, and others. At the same time, professionals can use Arduino for research purposes as the kits have been made to suit everyone. With these kits, one can build projects like smart homes, robots, weather station, fancy light controllers, Alexa clone and many more.
The Elegoo EL-KIT-001 is one of such Arduino kits that goes a step above of other available kits. This is because each component of the kit is clearly labeled, it includes a CD with various Arduino tutorials and includes more than 200 electronics components to build your own project. Elegoo Kit is made from a technology company based in Shenzhen China which I that's justify its low cost and availability. Elegoo, also creates and sells various types of Arduino kits and pieces.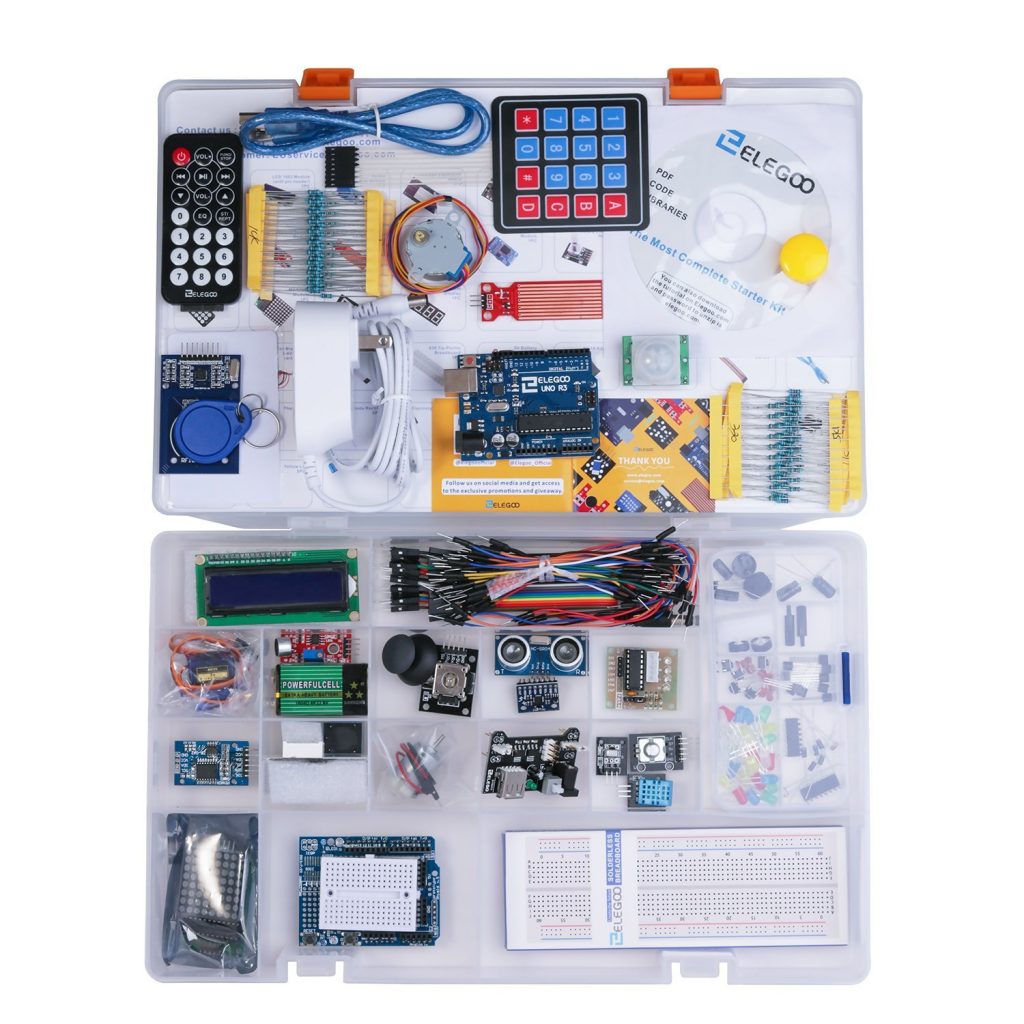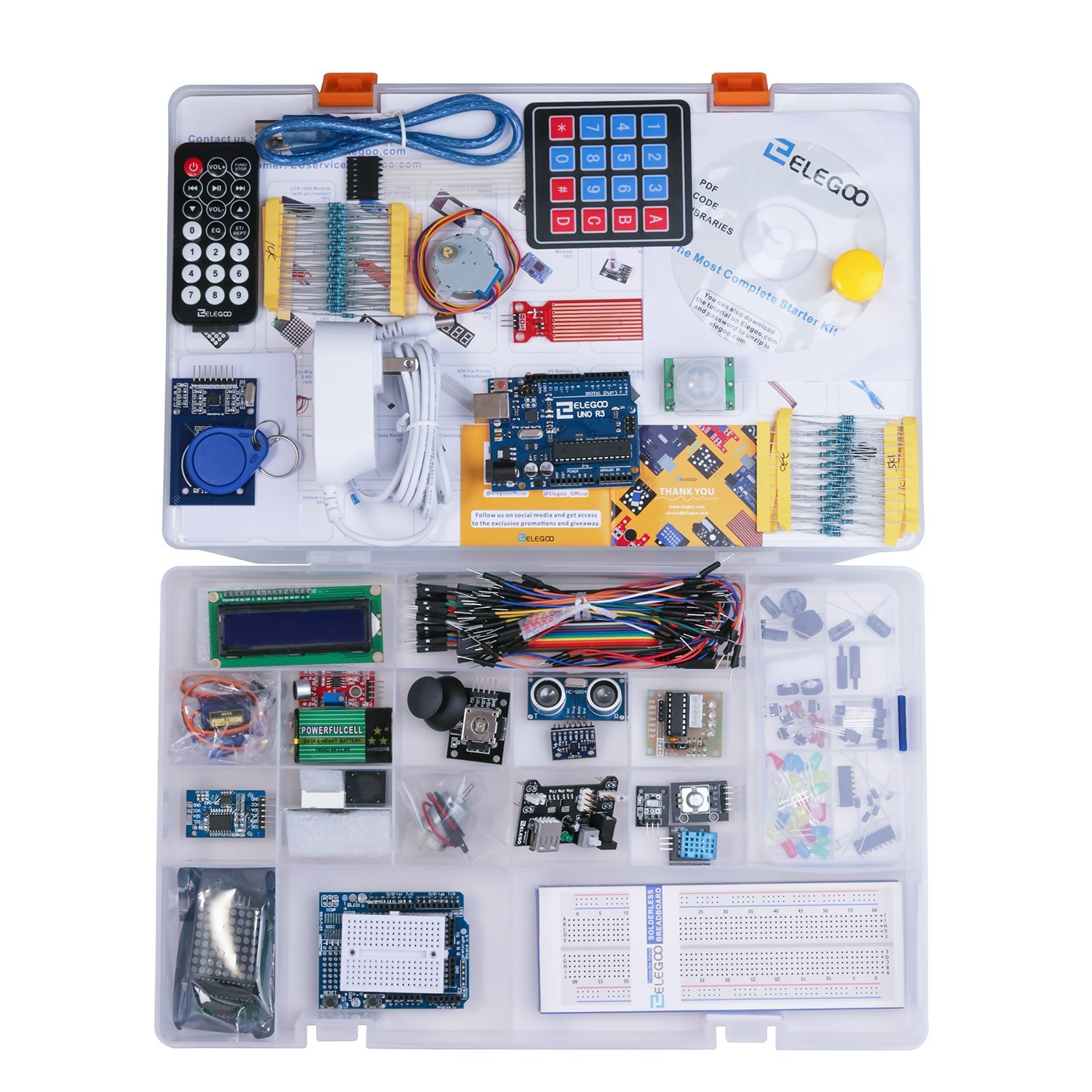 As said, Elegoo-El-KIT-001 UNO R3 is an Arduino starter kit that has over 200 components to cover most of your starter needs. The kit is compatible with most Arduino modules and Elegoo believes it is the most complete starter kit (I think it might be) out there. True to its' name, the Elegoo starter kits come with a PDF that contains more than 30 tutorials on projects that deal with the use of every single material found in the kit.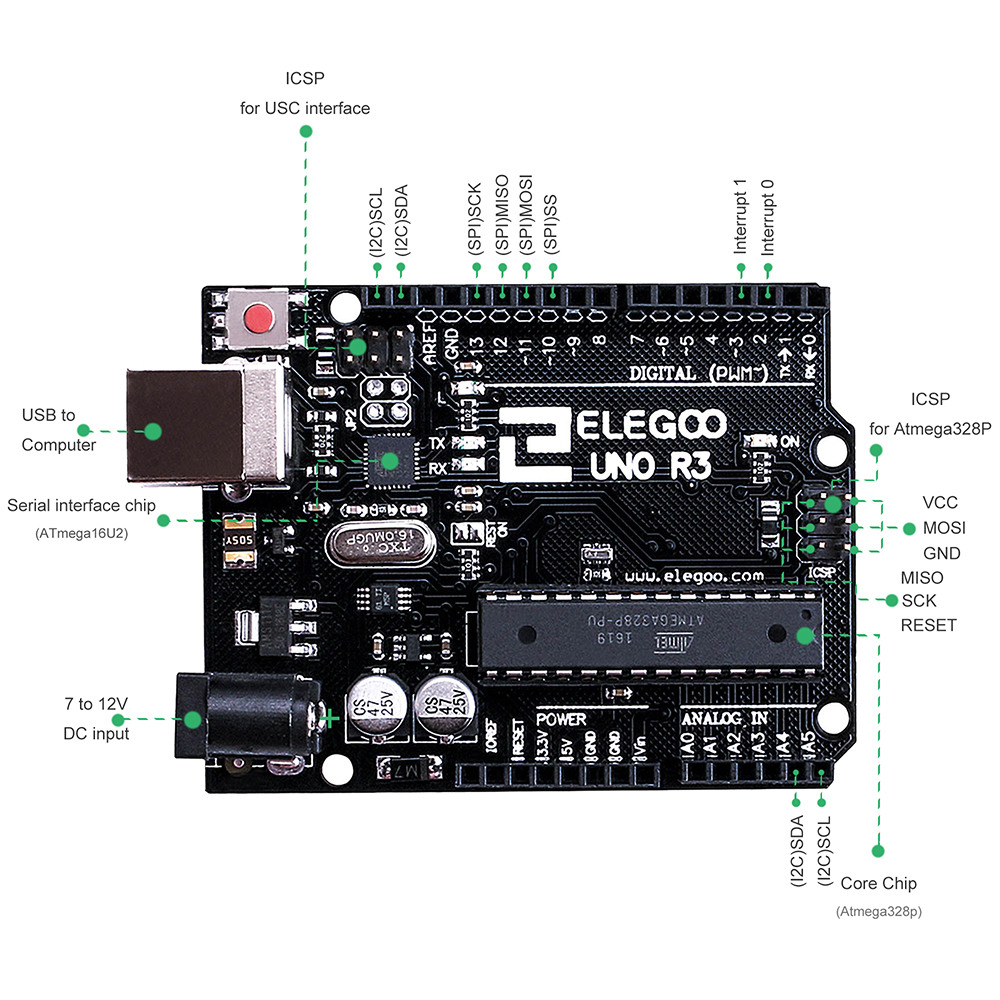 The kit also comes with a CD that contains various sketches for a variety of projects. This is for people who are new to programming or even people who have not programmed an Arduino module before. The Arduino programming language is very similar to the C and C++ programming language. Examples of tutorials available include the 74HC595 Shift Register and LEDs, DC Motors and L293D Transistor project, and the LCD1602 Display module and others (this project basically allows the display of characters on the module)
I believe the Arduino has been one of the most revolutionary hardware innovation that has ever happened in the STEM and Electronic Industry. Below are some exciting benefits of building with the Arduino Platform:
Cost: It is a cheap way that allows people to learn.
Flexibility: Arduino projects are only limited to your imagination. Once you think it, you can create it.
Versatility: The programming language is easy, and beginners can easily adapt to it.
Multiple options: Anyone is allowed to re-created their version of the Arduino modules.
Connectivity and Cross Platforms: The software (IDE) can run on various operating systems such as Windows, Linux, and Mac.
Amazing community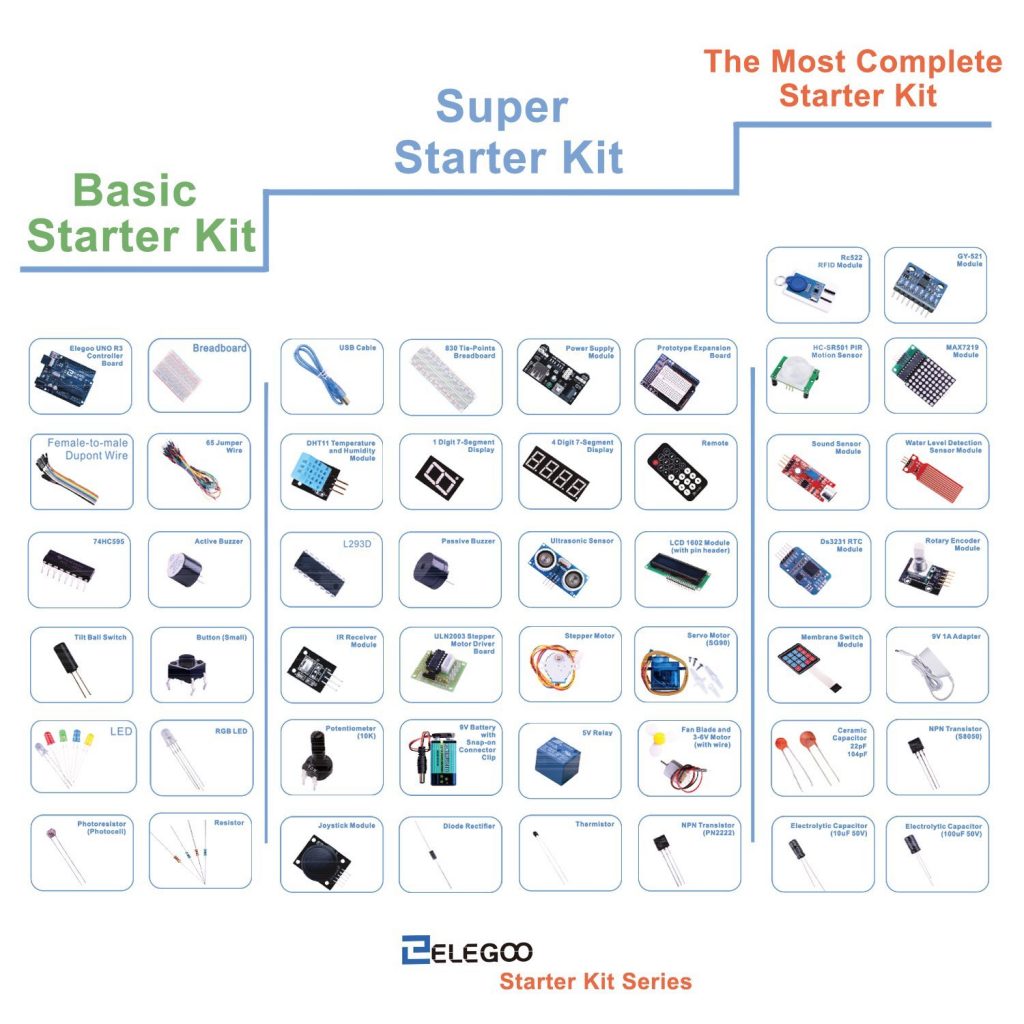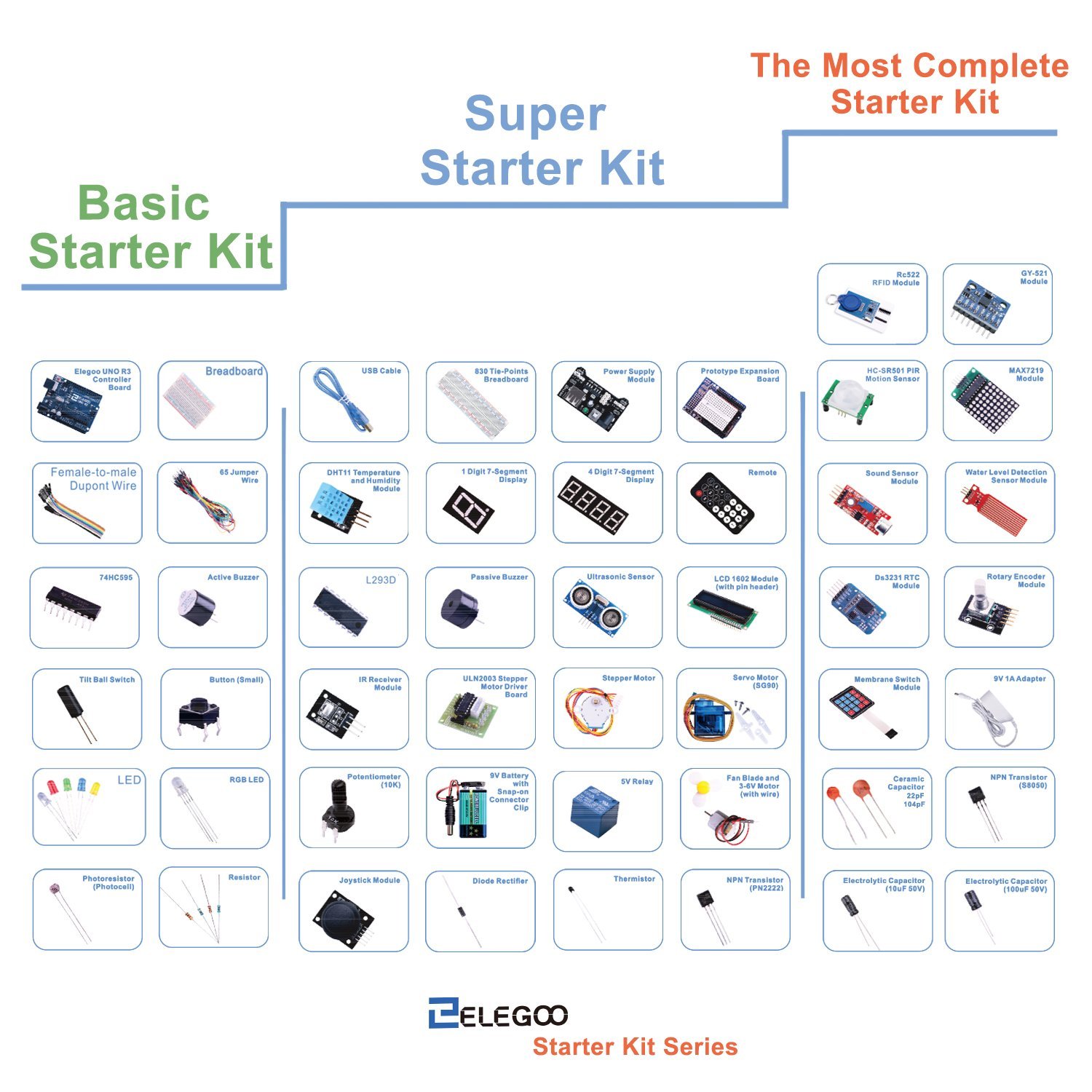 Below are some components and parts available in the kit:
Arduino Compatible Uno Board.
Water/Rain Sensor.
4 by 4 Matrix Keyboard.
IR Remote Controller.
IR Sensor.
RFID Cards and Receiver.
16 by 2 LCD Display.
ADXL335 Accelerometer
Resistor & Capacitor Sets.
Servo and Stepper Motors.
Ultrasonic sensor.
Motion Sensor.
Breadboard.
Joystick module.
RGB Display Module
and so much more.
The kit is highly inexpensive considering the price of similar kits which don't even have enough parts and can be bought on Amazon for $53.99 with half a year warranty. The kit on Amazon ships to customers only in the US and not eligible for international shipping. For customers outside the US, you can still purchase the kit for a slightly higher price of about $69.99 on the Elegoo online store here.
Exclusive Offer
Elegoo is offering a promotion coupon for purchasing their Arduino kit. The coupon is as follows:
Discount : 20% OFF
Coupon Code: 3PBN7LP6
Product link: http://ow.ly/JtyS30mCS5P
Start Date: 15/11/2018  08:00 AM PST
End Date: 22/11/2018  11:59 PM PST
Join 97,426 other subscribers

Archives