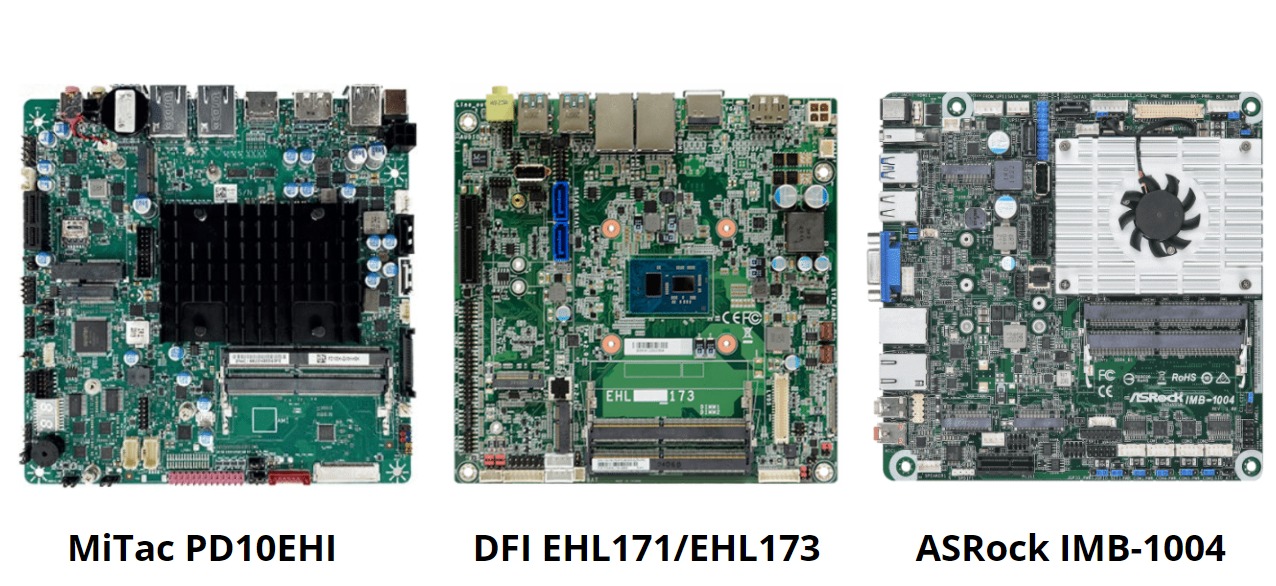 Elkhart Lake Processors Power Thin Mini-ITX motherboards for IoT applications
To support the next generation of IoT edge devices, Intel has developed a new line of processors enhanced for IoT. In comparison to 14nm generation processors, the new Elkhart Lake processor offers up to 1.7x better single thread, 1.5x better multi-thread, and 2x better graphic performance thanks to 10nm SuperFin fabrication technology. These next-generation solutions offer real-time performance, flexibility, and a slew of Intel technologies to power edge computing.
With the release of these Intel Elkhart Lake processors, many third-party manufacturers have come up with hardware based on this chip, such as MiTac's PD10EHI, DFI's EHL171/EHL173, and ASRock's IMB-1004 thin Mini-ITX boards. Mini-ITX offers the optimal blend of functionality and performance with its extensive I/O ports and interfaces that can quickly fulfill diverse applications required by a wide range of industries. Thus, they provide an ideal solution for AGV/AMR, KIOSK, digital signage, and gaming.
MiTac's PD10EHI Elkhart Lake Processor thin mini-ITX motherboard
MiTac, a global pioneer in industrial computing and an Intel Titanium Partner, has developed the PD10EHI, a high-performance, low-power Elkhart Lake industrial motherboard.
With the Intel Programmable Services Engine, the PD10EHI takes advantage of a dedicated offload engine. It is powered by an ArmCortex-M7 microcontroller and offers independent, low-DMIPs computing as well as low-speed I/Os for IoT applications. It also includes additional features such as remote, out-of-band device administration, network proxy, embedded controller, and sensor hub.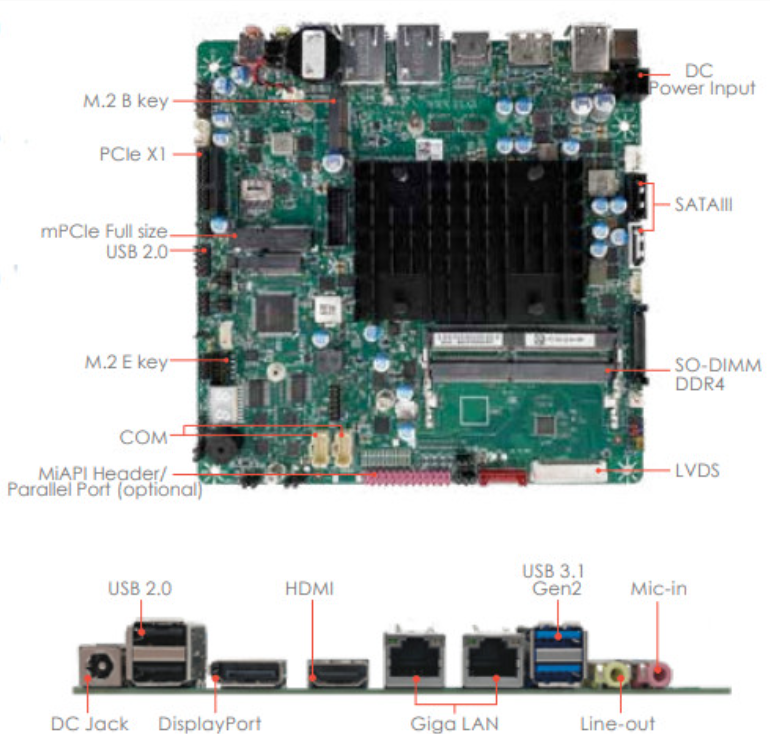 The quad-core Atom x6413E / Celeron J6413 processor is clocked at 1.5GHz / 1.8GHz with 3.0GHz Turbo Burst for the high-end SKUs of the board. Intel UHD Graphics are also included, which support up to 16EU (Execution Units) of graphic processing capability. The PD10EHI has two DDR4 SO-DIMM sockets, allowing it to use up to 32GB of non-ECC memory with a 3200 MHz maximum clock frequency.
For storage installation, it also has two SATAIII ports which are multiplexed with M.2 and mSATA connections. Internal slots include PCIe Gen3 for add-on cards, sufficient storage, or LTE/5G expansion through M.2 B key 2280/2260/2242/3052/3042 and E key 2230 for WiFi/Bluetooth. It also has 1x mini PCIe and a maximum of 6 COM ports for expansion to maintain flexibility in multiple applications.
Block Diagram of PD10EHI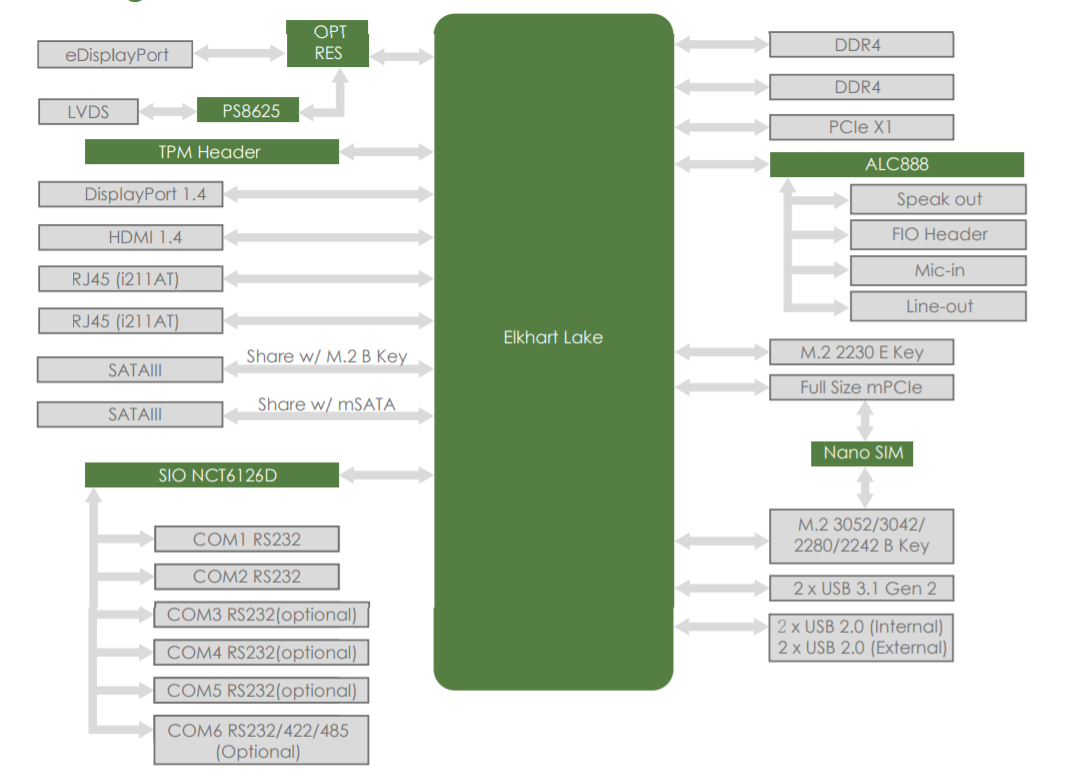 In addition, the integrated 10th generation Intel HD graphics unit supports Triple Display at a maximum resolution of 4K. An HDMI port with a resolution of up to 4096×2160 pixels, a display port with a maximum of 4096×2160 pixels, and an LVDS port with a Full HD 1920×1200 pixel resolution is available for connecting displays. The LVDS port can be replaced with an eDP port with a resolution of 4096×2160 pixels. Hence, it is ideal for multimedia applications like Kiosk, Signage, or Factory automation like HMI.
The MiAPI pin header additionally features 10 GPIOs, a watchdog, SMBUS, UART, and mainboard monitoring functionality. The PD10EHI can operate in a voltage range of 8 to 24 volts DC and temperatures ranging from 0 to 60 °C. The wide voltage power input makes this motherboard ideal for industrial embedded systems with longevity, stability, and reliability.
DFI's EHL171/EHL173 Motherboard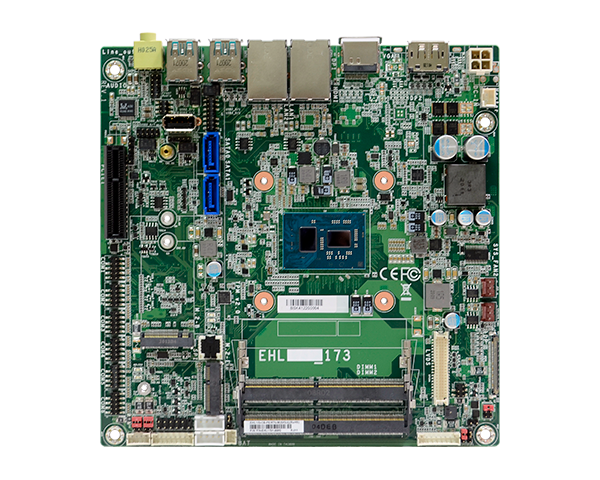 DFI's EHL171/EHL173 is the only model that includes one of the 10nm-fabricated Elkhart Lake's "FE" variants. Thus, it provides Intel Safety Island technology with functional safety (FuSa). DFI's embedded industrial motherboards with a high-class lifespan deliver value-added services to a wide range of embedded applications based on cutting-edge platforms and technologies.
In addition to the quad-core Atom x6427FE with a clock speed of up to 1.9GHz, there is a quad-core 2GHz/3GHz Atom x6425E and a quad-core Pentium J6413. Dual slots support up to 32GB DDR4-3200 memory, and the board also includes two 2.5GbE ports. The board comes with two M.2 slots (B- and E-key), a nano-SIM socket, and PCIe x4 support (PCIe x2 signal).
It can support up to 4K resolution and has a triple display. This includes eDP/LVDS as well as HDMI and DP++ ports. Onboard there are 2x USB 3.1 Gen2 ports, 2x USB 3.1 Gen1 ports and 6x USB 2.0 headers. It additionally provides GPIO or DIO, a watchdog, and a TPM option. The manufacturer also offers an LCD inverter connector.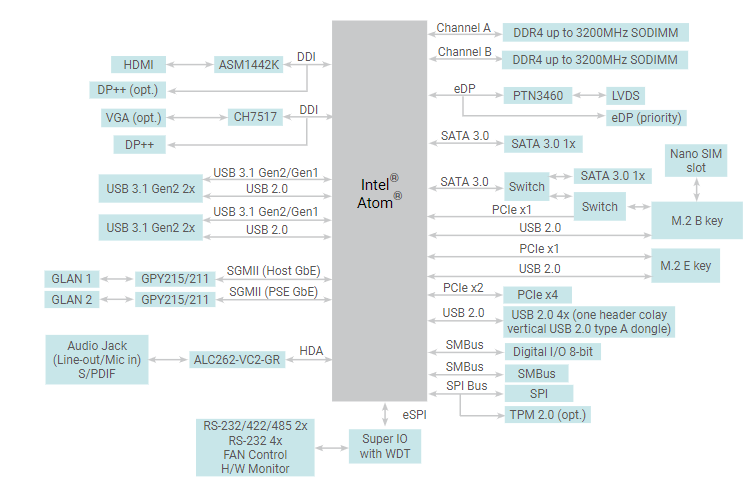 DFI is the only board that can withstand temperatures ranging from -40 to 85°C. Except for the Pentium J6413 SKU, which supports -5 to 65°C, this is standard. The main difference between the EHL171 and the EHL173 is that the EHL173 has a 9-36V input instead of 12V. Only two of the three EHL173 models have a 9-36V input: the Atom x6425E and the J6413.
ASROCK's IMB-1004
ASRock Industrial's Mini-ITX motherboards powered by Elkhart Lake processors are the most popular form factor (6.7-inx 6.7-in) with extensive I/O expansion and good performance. ASRock doesn't have any Atom models, although it does have dual-core and quad-core Celeron and Pentium chips.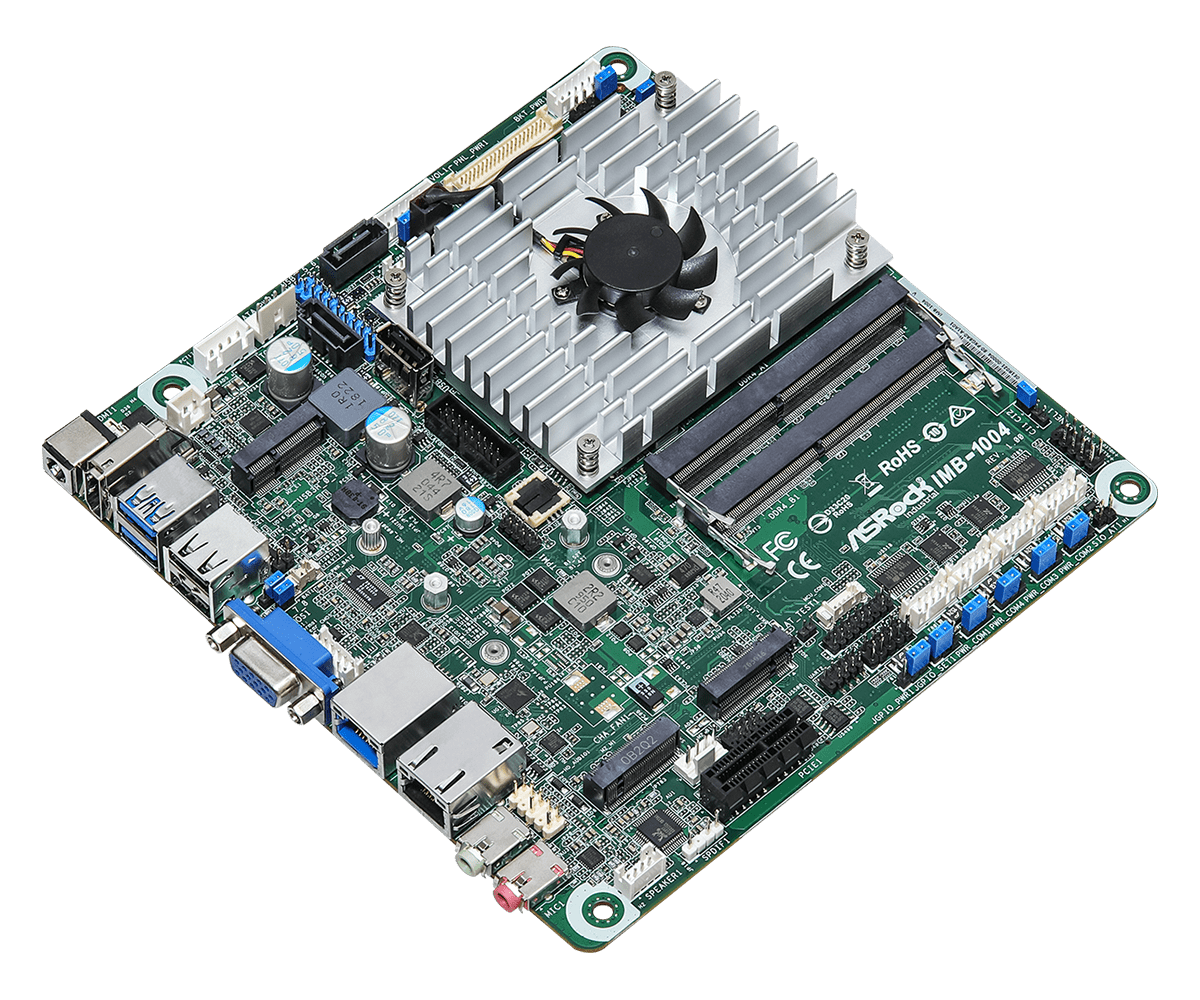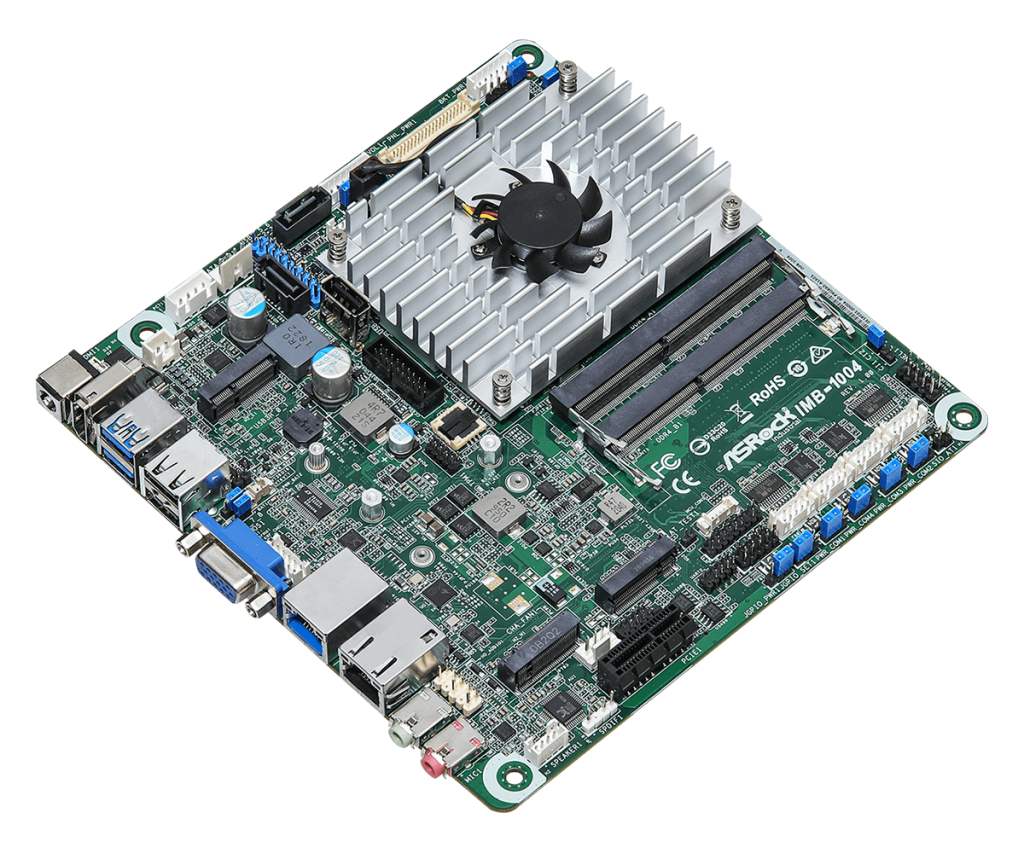 The IMB-1004 also supports up to 32GB DDR4 memory with a 3200Mhz clock frequency. It features two SATAIII connectors, 2.5GbE and 1GbE ports. Furthermore, it includes three M.2 slots (M-, B-, and E-key), as well as a SIM card slot and a PCIe x1 interface.
Like PD10EHI and EHL171/EHL173, the IMB-1004 also offers triple-independent displays. HDMI, VGA, eDP/LVDS, and a speaker header are all provided by the firm. Additionally the board includes 2x USB 3.2 Gen1 and 2x USB 2.0 ports, as well as 2x Gen1 and 6x USB 2.0 internal headers. Similarly, this board also supplies GPIO or DIO, a watchdog, and a TPM option.
Discussing further, the DFI's EHL171/EHL173 is compatible with both Linux and Windows 10 IoT Enterprise. While the PD10EHI from MiTac supports Windows 10, and Linux is only available on request. ASRock Industrial does not specify an operating system. However, unlike ASRock's Windows-oriented commercial unit, ASRock Industrial usually supports Linux.
MiTac's PD10EHI is available from ICP Germany, which does not list pricing; however, ChirpLabs sells it for $300 with a Pentium N6415. DFI's EHL171/EHL173 and ASRock Industrial's IMB-1004 have no pricing or availability information at this point in time.
Via LinuxGizmos
Join 97,426 other subscribers

Archives