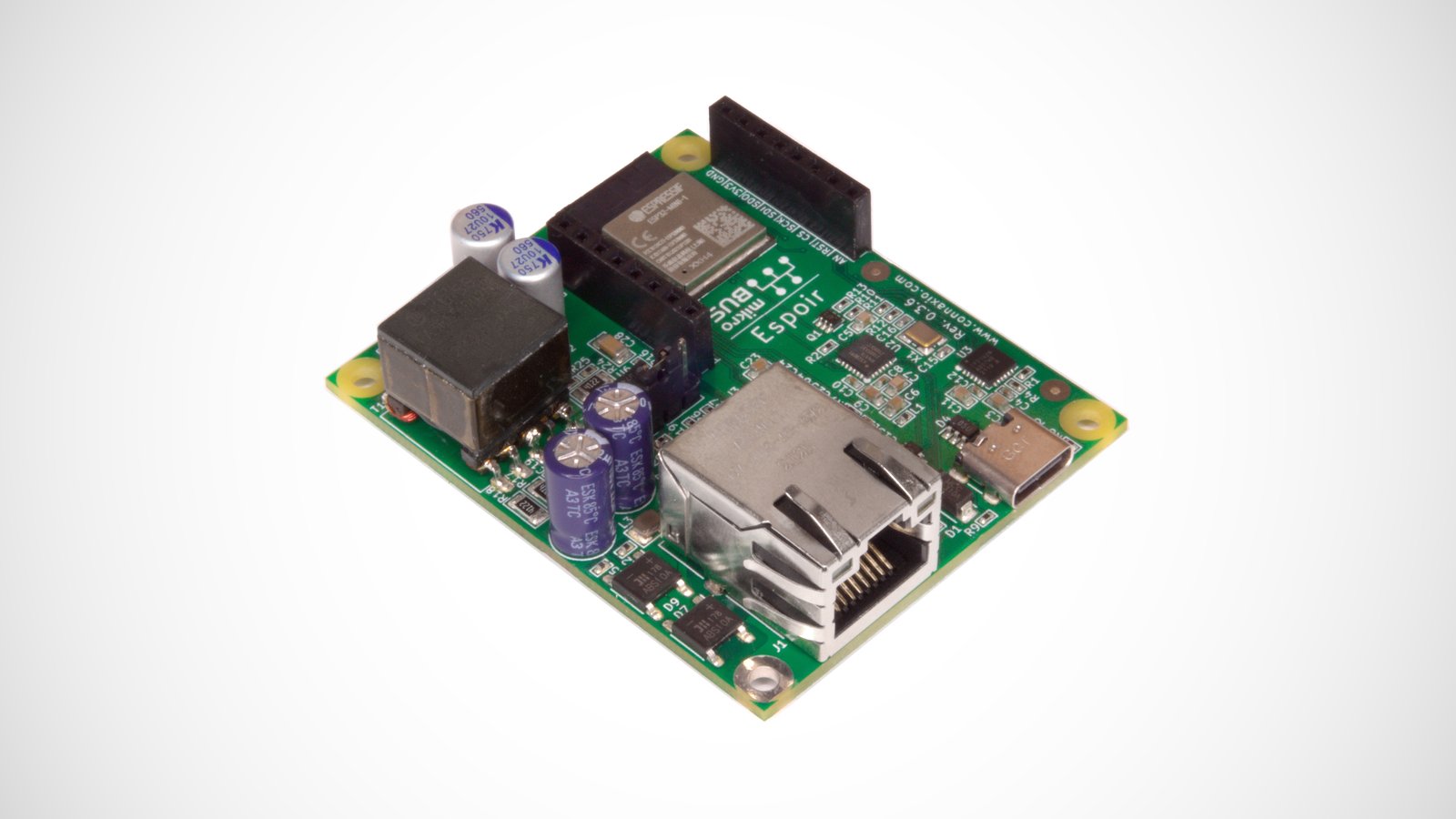 Espoir — fully compliant Power over Ethernet+ ESP32-based devboard
Canadian IoT specialist Connaxio is preparing to launch a handy open source board that makes for a quick and easy way to wire up IoT projects. The new Espressif ESP32-based Espoir is a dual-core development board designed to drive projects using Power over Ethernet (PoE).
"Espoir is a fully compliant Power over Ethernet+ (PoE+ 802.3af/at) ESP32-based devboard that lets you jump straight to business. It provides up to 15 watts of power to your application at 5V and 3.3V," said Connaxio's Marc-Antoine Lalonde. "Four full copper layers give the board enhanced electromagnetic compatibility and thermal dissipation. Its PI-filtered power input and outputs give excellent analog performance."
The board strengths:
reliable (with PoE+, batteries, solar panels, wind mills, and glued-together power supplies).
robust (through signal protection and filtering, proper isolation, and a four-layers PCB)
remote controllable (via Ethernet or WiFi)
modular (through compatibility with over 1,300 mikroBUSTM add-on boards and a 5V, 3A output)
standardized (compliant with applicable IEEE 802.x standards)
The Espoir features an on-board ESP32-MINI-1 module meaning it's a fully-functional microcontroller board in a compact footprint. The Espoir board is designed majorly for outdoor use and can handle all kinds of sensors. You can use it to turn "dumb" devices smart or use it for smart lighting, access control, motion detection, audio applications, and item scanning.
Board Features & Specifications Include:
ESP32-MINI-1 Processor with Single/Dual core running at up to 240 MHz, 4 MB Flash @ 80 MHz, and, 520 KB of Static RAM (SRAM)
Power Input:

37 V – 57 V PoE through the Ethernet connector (no additional hardware is required)
5 V through the USB-C connector (4.6 V available through a protection diode)

Power Output:

5 V at 3 A (15 W) from PoE
3.3 V at 0.7 A (2.3 W) (Linear, derived from the 5 V power rail)

100Base-T Ethernet (80+ mbps UDP throughput)
Wi-Fi 2.4 GHz 802.11b/g/n with integrated antenna
Bluetooth 4.2 BLE
USB 2.0 data connectivity via USB-C connector
Full mikroBUS™ socket with two grounds, 5 V, 3.3 V and 12 IOs
Extension header with two grounds, four additional input only pins, and the ESP32 reset signal (unsoldered socket header included)
Weight: 31 g
Size: 50.8 x 61.0 mm (2.0 x 2.4 in)
Mounting holes: 4x M2.5 / 4-40. The bottom-left hole is plated and connected to local ground.
Designed exclusively with free, open source software.
The pricing and availability of the dual-core variant board are yet unknown, but it is fully open source and design files have been published to Connaxio's GitHub repository. Other useful details on the board can be found on Crowd Supply where the company is planning to launch a crowdfunding campaign for the board. You can sign up to get notified when the project finally goes live.
Join 97,426 other subscribers

Archives