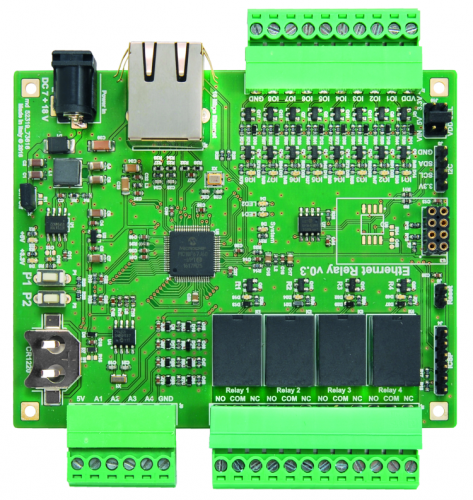 Ethernet Relay board
LAN interface with 4 relays, 8 programmable  I/Os and 4 analog inputs, IoT-ready.
How many times have you read or heard about the Internet of things (Iot)? The Internet of things is an expression that is becoming more and more popular lately; it represents the expansion of the Internet into the world of objects and physical locations. Thanks to this technology, many objects that used to be exclusively passive, can now become interactive and coordinate between themselves and interact with the user; they become more intelligent and thanks to the Internet connection they allow to share generated data with the user or another board that can also be in another continent. However, in this scenario, the term "intelligence" is often misused. In fact, many times the IoT includes not only electronic devices capable of making autonomous decisions in order to simplify our everyday life, but also the plethora of products that used to be stand-alone. For this reason, all we have to do is equipping our older devices with an Internet connection.
Ethernet Relay board – [Link]