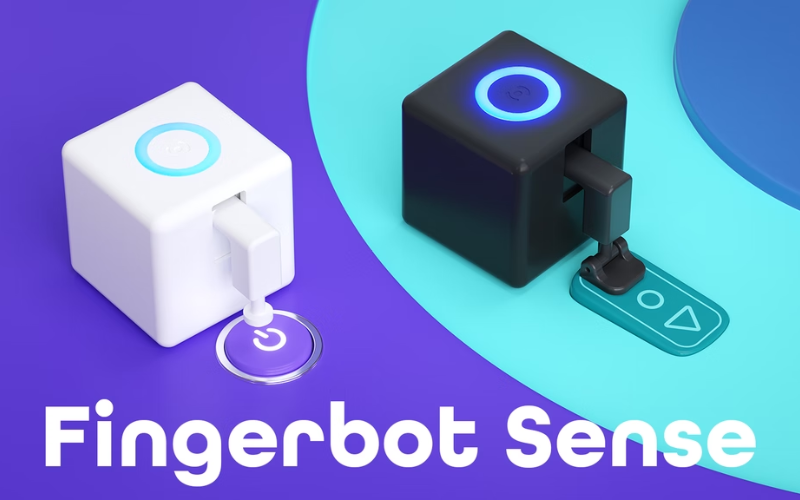 Fingerbot Sense smart button-pusher is ready to become your health protector
On June 7, 2022, a Los Angeles, California-based IoT design startup Adaprox launched a touchless control button pusher, Fingerbot Sense, for IoT applications that can be controlled using Zigbee or Bluetooth Low Energy wireless connectivity. The manufacturer has been around for a while with the early two launches of the Fingerbot series– Fingerbot in 2020, Fingerbot Plus in 2021, and the latest Fingerbot Sense in 2022. This gives us an idea that the designers have been taking feedback from their existing customers and keeping the ecosystem active for developing new products.
The Fingerbot Sense comes in two versions– the Zigbee version and Bluetooth version, which can be controlled in various smart methods, including mobile application, voice control, scheduling, timer, home automation with other products, and many more (yet to discover). Its classy design and module arm allow it to be deployed in a variety of scenarios to control home appliances, such as coffee machines, air conditioners, elevators, garage doors, automated coffee at a scheduled time, and voice-activated garage doors. In the wake of the covid pandemic, social distances have become important, and interacting with devices remotely will bring more health safety to public spaces. "Let it be your smart button-pusher plus your health protector," says the manufacturer.
Specifications of Fingerbot Sense
Colour: White and Black
Dimensions: 34.5×34.5×34.5 mm
Stall torque: 2.0kgf cm
Maximum movement: 12mm
Wireless connectivity: Bluetooth Low Power 4.2 and Zigbee 3.0
Battery type: CR2.3.0V
Operating temperature: -10°C to +45°C
Combination of arms in Fingerbot Sense
Straight arm: By default, the button-pusher comes with a regular-lengthed straight arm which is suitable for triggering buttons and other places where a simple push will be enough to perform the function.
Rocker arm: Rocker arm is sold separately and has a flexible flat surface at the end that enables it to be able to pull up and push down the switch.
Toggle arm: Toggle arm comes in an O-shaped tip and is designed to cling to the toggle switch and then flip it in both directions.
Customizable arms: The customizable and special arms come as 3D printed files that let you customize a unique arm for your custom needs.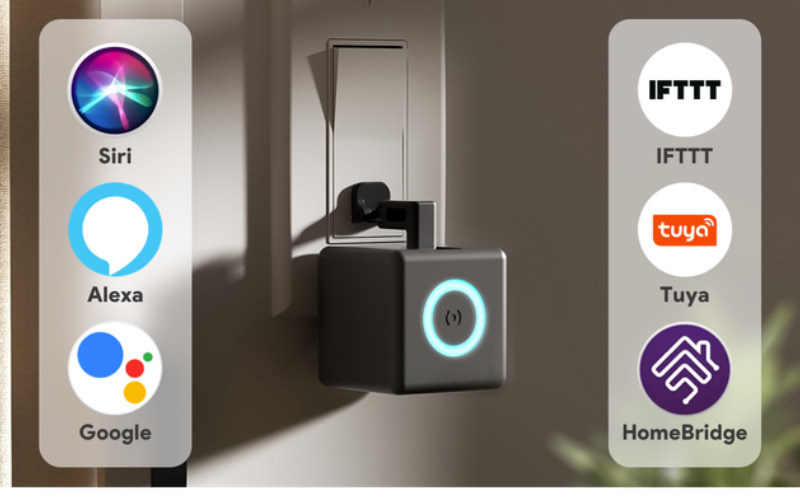 Pressing modes
Click mode: This mode imitates as if the user is pressing the button. In this mode, the Fingerbot Sense will move its arm down and retract after some time which can be configured as per the customer's requirements.
Switch mode: For on/off switches, this mode is specially designed for the arm to stick to one side of the switch, relying on push/pull to perform the on/off action.
Program mode: This program is a custom mode wherein the user can program the Fingerbot Sense to do repeated movements.
Multistate mode: If your IoT application requires three or more stages, then the multistate model is the desired solution for you.
If you purchase the Bluetooth version, it can be directly controlled using your smartphone, but without the help of a Homehub, some of the features are restricted. For the Zigbee version, the Fingerbot Sense requires Homehub and gives a more stable connection for a wider range. The Fingerbot Remote support the Zigbee protocol only and to control the button-pusher via a Fingerbot Remote, a Homehub is required to act as a bridge to convert all the instructions to the cloud. All the Fingerbot Sense are Bluetooth by default, and if you are interested in the Zigbee option, make sure you select the 'Upgrade a Fingerbot Sense to Zigbee' option in the add-on.
You can find more details on the crowdfunding Kickstarter product page, where you can start pledging as low as $25 for an early bird Fingerbot Sense unit, and it goes up to $449 for an early bird party bundle that gives you 16x Fingerbot Sense, 8x Fingerbot Toolpack, and 2x Homehub.
Join 97,426 other subscribers

Archives