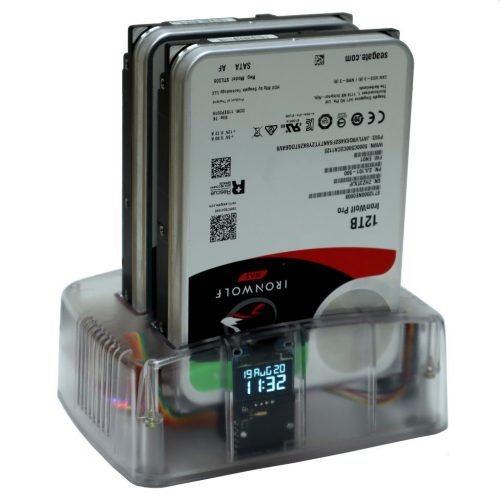 Hardkernel Odroid-HC4 is a low-cost dual-bay NAS that sells for $65 and up
Hardkernel has announced an open-spec, "ODROID-HC4" Network-Attached Storage (NAS) device that runs Linux on a quad -A55 Amlogic S905X3 and offers 4GB DDR4, HDMI 2.0 and two PCIe-driven 2.5- or 3.5-inch SSD/HDD slots for just $65 to $75.
This follows after the company updated its Odroid-HC1 NAS board with an Odroid-HC2 model sometime in 2018, both of which are somehow limited as they support only one drive.
The new Odroid-HC4 however seems to be a powerful upgrade as the HC4 does not only switch to a more powerful Amlogic S905X3 processor but also adds a second SATA slot. For the first time also, the SATA slots are enabled via PCIe instead of USB, meaning a faster and more reliable operation.
"We've heard that many users wanted to run their storage server on a modern ARM 64bit platform with more DRAM memory, higher power efficiency and more storage capacity. Therefore, we started developing a new Home-Cloud platform late last year and it is time to show you something new based on the same ARM S905X3 CPU in the ODROID-C4", says Hardkernel. "We connected a SATA SSD to the HC4 platform and measured the storage IO throughput. We could observe 390~420MB/s transfer speed which is quite good for many applications."
Unlike most NAS systems, the ODROID-HC4 has what it takes to keep things running cool from the inside. It has a passive heat sink attached on top of Amlogic S905X3 processor and a 5V 4,000-RPM bearing fan that operates at 23.9 dBA. The drives can also be inserted into the case slots and exposed to open air rather than hidden away inside a metal or a plastic.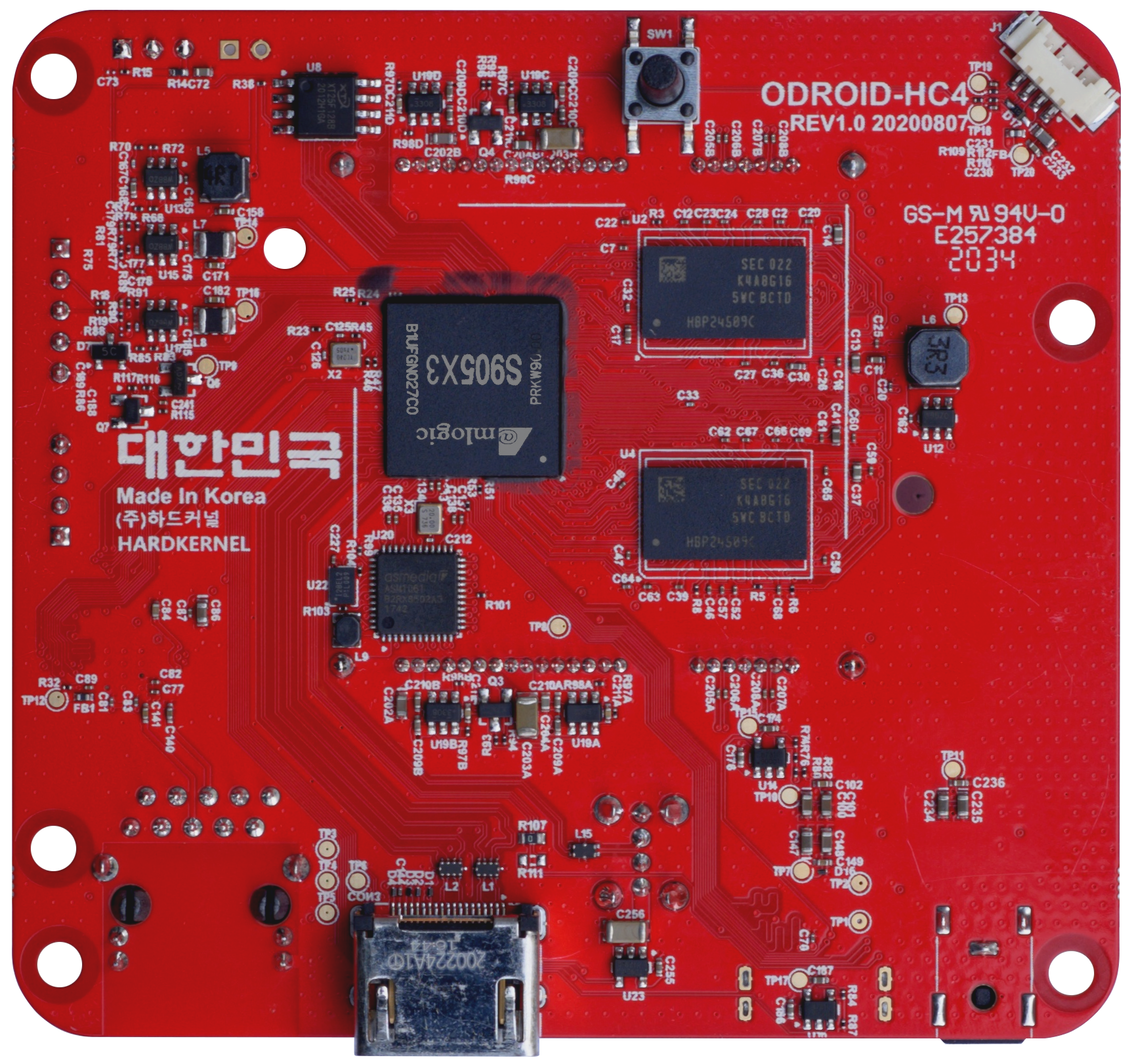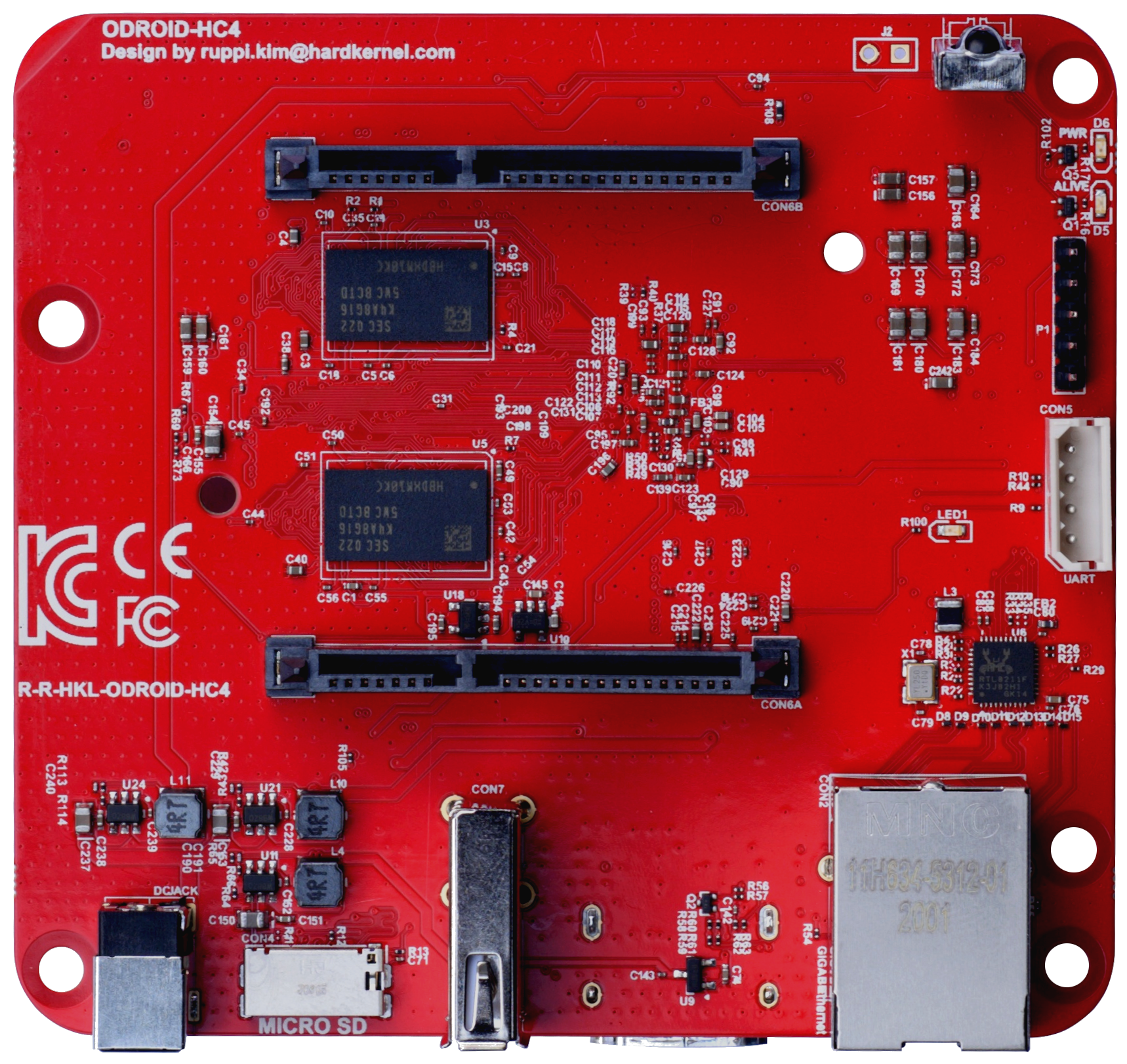 ODROID-HC4 is ideal for workgroups, single users and families members. The server centralizes data and enables users to share and stream multimedia files to desktop and mobile devices.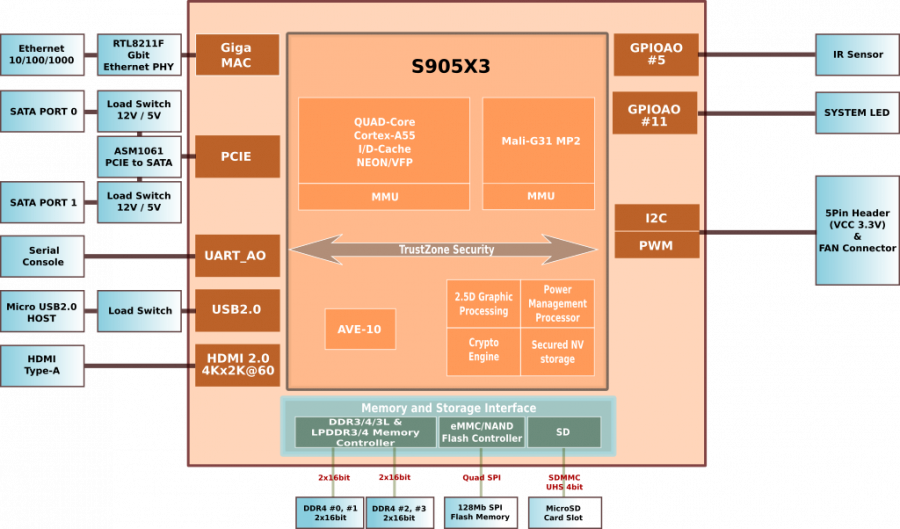 Key Features and Specifications of the new dual-bay NAS device include:
Amlogic S905X3 quad-core Cortex-A55 processor (1.8 GHz)
Mali-G31 MP2 GPU with 4x execution engines
4GB DDR4 RAM
128 Mbit SPI flash
1x UHS-1 compatible microSD slot
2x SATA-3 ports implemented through ASM1061 PCIe to SATA controller
1x GbE RJ45 ports via Realtek RTL8211F PHY (supports 10/100/1000 Mbps)
1x HDMI 2.0 up to 4K @ 60 Hz
1x HDMI digital output
7x GPIO pins for optional OLED display
1x USB 2.0 host port
1x UART serial console
2x LEDs
1x cooling fan
1x boot switch
IR receiver for remote controller
15V DC via barrel jack.
Dimensions: 84.0 mm x 90.5 mm x 25.0 mm
Weight: 280g including case, fan and heatsink.
ODROID-HC4 comes pre-installed with an Ubuntu Linux image but will also support third-party software like CoreElec, OpenMediaVault and Android soon.
The basic ODROID-HC4 board with a pre-assembled case shell will be available for sale by October 27th for just $65 while another version with a 1 inch OLED display and real-time clock pre-installed and visible on the front of the case, for $75. The company will also offer optional accessories like Wi-Fi and Bluetooth adapters, IR remote control, USB-UART cable and ODROID-VU series display devices.
Further details may be found on their announcement and wiki pages.
Join 97,426 other subscribers

Archives