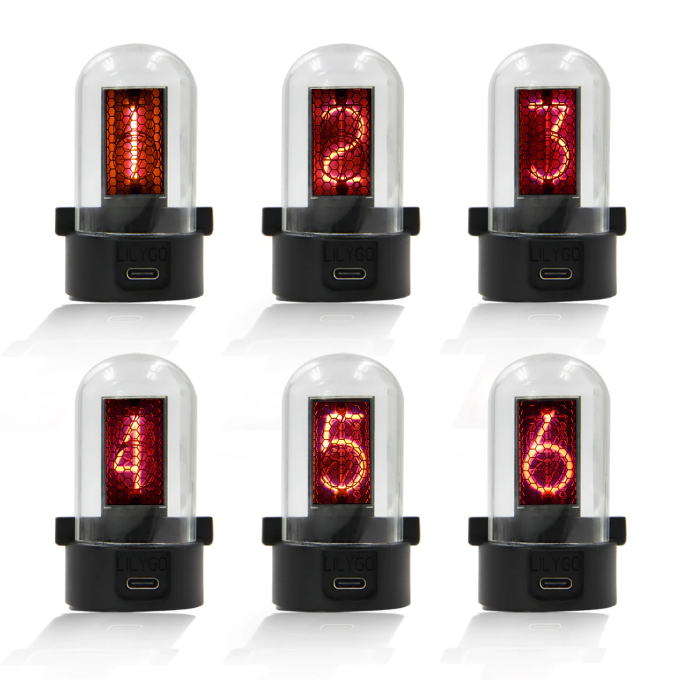 LILYGO TTGO Simulation Nixie tube based on ESP32
Nixie tube is an electronic device for displaying numerals or other information using glow discharge. When a voltage is applied between two electrodes in a glass tube containing low-pressure gas, the flow of electric current through the gas makes plasma. This phenomenon is called glow discharge. First introduced in 1955, the Nixie displays are legendary. The retro nixie displays had a single anode, multiple cathodes shaped like numerals 0-9 stacked on top of one another. Applying the power to one cathode will make the numeral glow. The tube is filled with a low-pressure gas that creates an orange glow discharge. These legendary displays, however, are no longer mass-produced. Maybe there are a few of them being made which are very expensive. In addition, they need high-voltage drivers.
Therefore, simple replicas are being created that look very much like nixie displays, and they work effectively. Here, mostly the numbers are engraved on ten transparent plates and are stacked on top of one another. LEDs are used for illumination from the edge of each plate. The LEDs light up, and only the number selected is displayed; everything else remains transparent.
Nowadays, nixie displays are implemented by IPS LCDs which can not only display numerals but images that you can upload via your computer. LILYGO TTGO Simulation Nixie tube or the T-Nixie tube is the nixie tube 'lookalike' which is based on IPS LCD. It is based on the LILYGO TTV product motherboard with a 16:9 1.14-inch IPS screen, which is made by adding a cylindrical glass tube to simulate the appearance of a Nixie tube. The tube can be controlled via the standard infrared remote control. Further, it is programmable, which means we can display any content on the tube. Arduino and Micropython are the compatible development environments supported by the tube.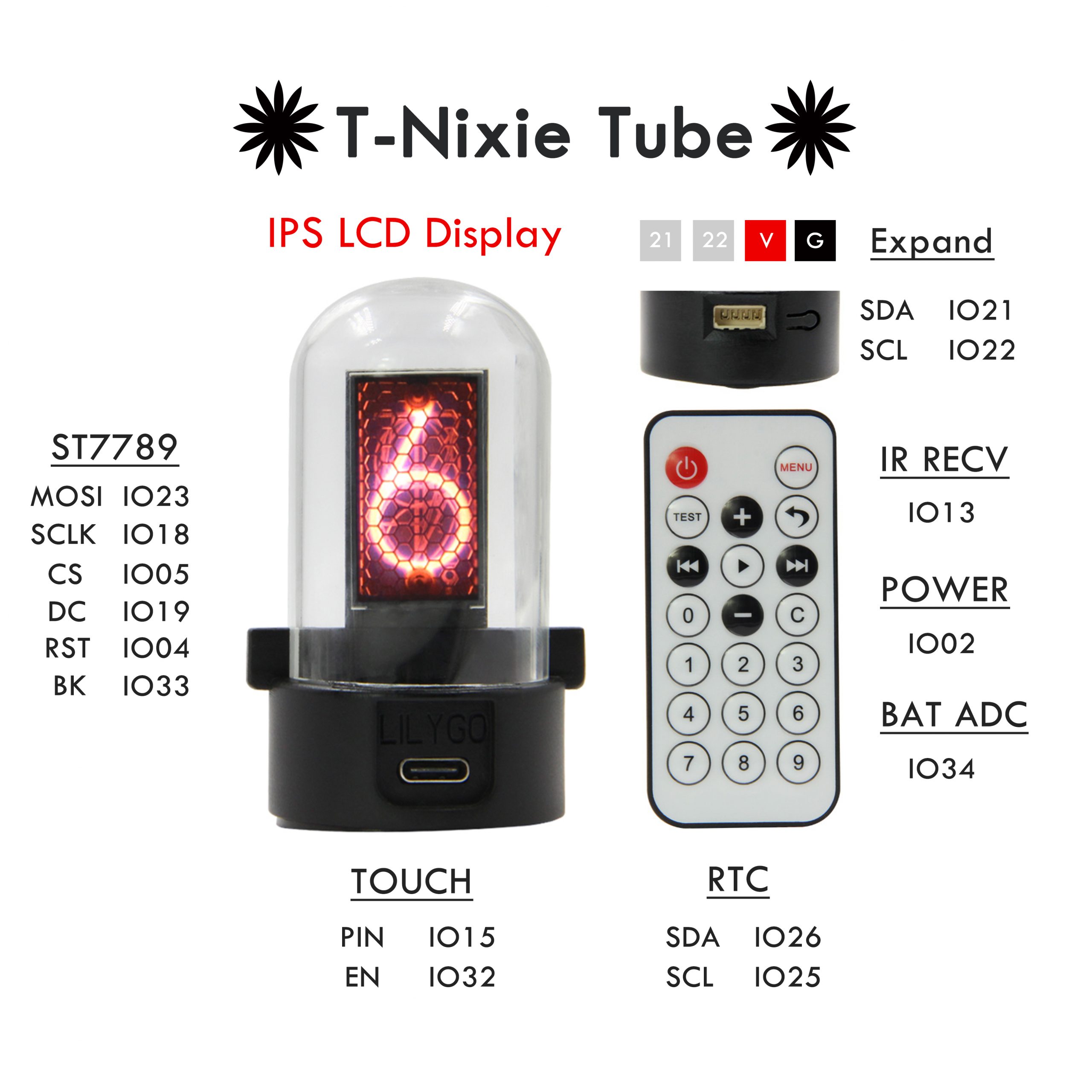 Features of the product:
TTGO T-Micro32 module ESP32 V3 Bluetooth and WiFi
4MB Flash
RTC PCF8563
1.14 inch IPS LCD
Glass tube
Infrared receiving sensor
TTP223 touch button
Type-C
I2C/UART (adapt to T-WATCH sensor kit and T-FH interface sensor module)
Reset button
The TTGO T-Micro32 module used in this nixie tube is the Wi-Fi Wireless Bluetooth Module which is similar in functionality to the normal ESP32 module. But the area is reduced by 45% such that more compact devices can be designed.
The T-Nixie tube can be used to learn to program, as desktop ornaments, STEM education, DIY development creation, etc.
"You can learn to develop the simulation Nixie tube interface, dot matrix interface, and other interesting interfaces through the built-in RTC clock circuit of this product."
The kit is sold on Aliexpress costing 27.5 USD. T-type USB cable and an IR remote control along with the T-Nixie tube.
Github link:https://github.com/Xinyuan-LilyGO/T-NixieTube
Join 97,426 other subscribers

Archives