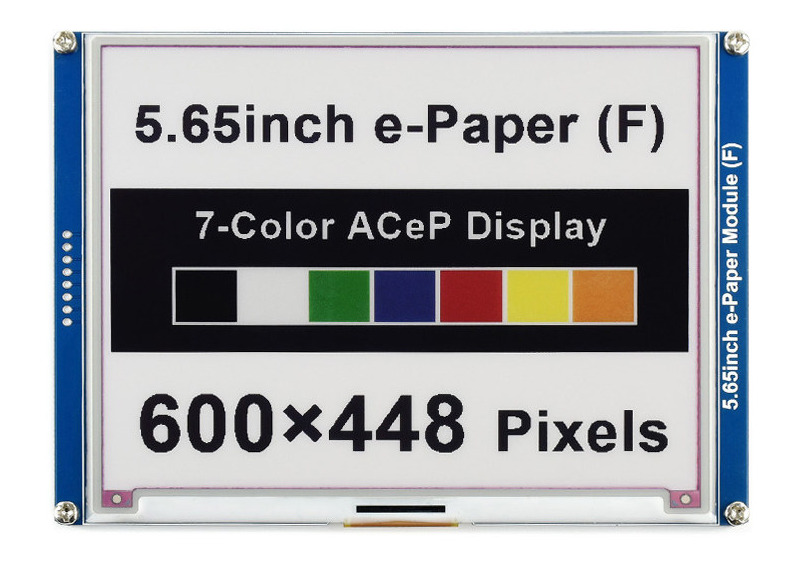 Meet the New Affordable Multi-Color E-Paper Display from Waveshare
E-paper displays need no introductions. They are E-paper displays are fantastic displays, especially for low power applications. However, one shortcoming these displays have is their monochrome black and white nature which literally takes the color out of the things displayed. Some new displays have been able to add one more color but none has been able to give users the kind of color dexterity that is available with other displays like the TFT LCD. All of this is, however,  set to change, as the display manufacturing giant, Waveshare, recently announced the launch of a new 5.65″ 7-color ACeP e-Paper display.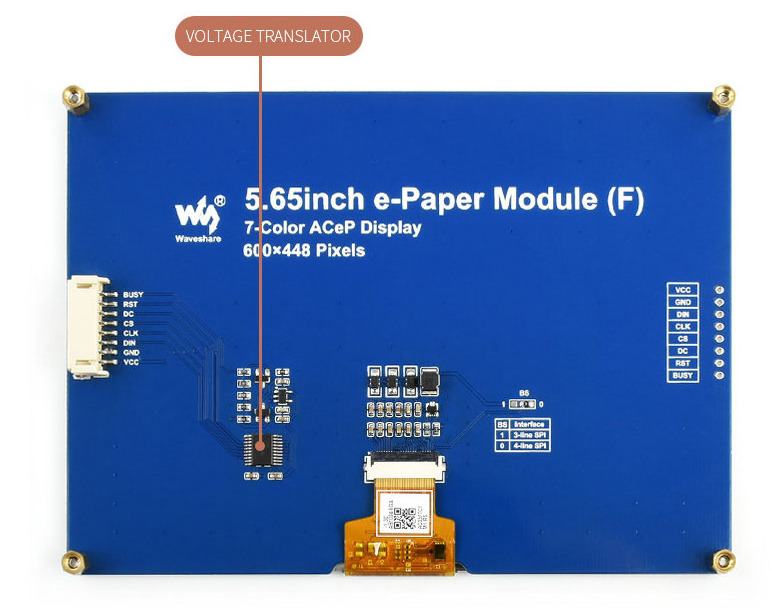 While the display is based on the traditional microcapsule electrophoretic technology used in all e-paper displays, unlike the regular monochrome e-paper displays which represent a pixel data on the display with one bit (0 and 1, black and white), colored e-paper displays represent each pixel with more than one bit, with up to 4bits used in representing every pixel in the ACeP 7-color display, making it easy for developers to represent the colors during firmware development.
Some highlight features of the display include:
Advanced Color ePaper (ACeP) technology, supports 7-Color display
No backlight and displays last content for a long time even when power is disconnected.
Ultra-low power consumption, basically power is only required for refreshing
SPI interface, for connecting with controller boards like Raspberry Pi/Jetson Nano/Arduino/STM32, etc.
Onboard voltage translator, compatible with 3.3V / 5V MCUs
Comes with development resources and manual (examples for Raspberry Pi/Jetson Nano/Arduino/STM32)
The technical specifications of the display are equally impressive with a 120s refresh rate and a wide 170 degrees viewing angle. More technical specifications of the display are provided in the table below:
| | | | |
| --- | --- | --- | --- |
| OPERATING VOLTAGE | 3.3V/5V | DISPLAY COLOR | ACeP 7-Color |
| INTERFACE | 3-wire SPI, 4-wire SPI | GREY SCALE | 2 |
| OUTLINE DIMENSIONS | 138.5 × 100.5mm | FULL REFRESH TIME | 15s |
| DISPLAY SIZE | 114.9 × 85.8mm | REFRESH POWER | 50mW (typ.) |
| DOT PITCH | 0.1915 × 0.1915mm | STANDBY CURRENT | <0.01uA (almost none) |
| RESOLUTION | 600 × 448 pixels | VIEWING ANGLE | >170° |
Waveshare has been one of the frontline developers of e-paper displays and has launched quite a number of innovative displays like the NFC Powered 7.5″ e-Paper among others, but with the 7-Color ACeP Display, they are redefining the e-paper game, inputting an element that will definitely take the bar on the type of things that can be done with e-paper displays a little bit higher.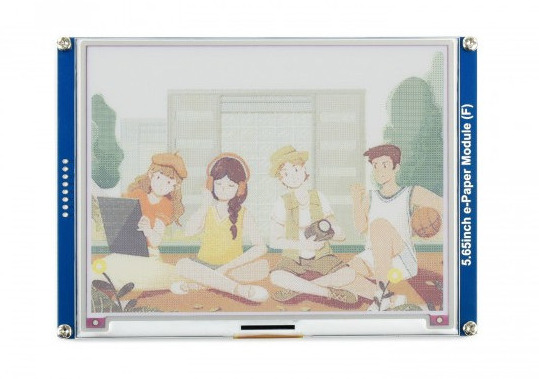 The 5.65″ ACeP display is currently available for sale on Waveshare's store for $74.99, which is arguably a fair price for the quality, size, and features embedded in the display.
More information on the display, its features, and applications/use with different development boards can be found on its wiki page on Waveshare's website.
Subscribe to Blog via Email
Join 97,607 other subscribers
Archives