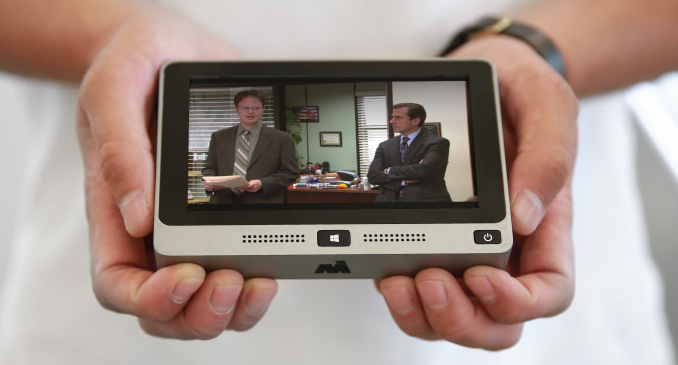 Mi Mini PC – The World's Most Powerful Pocket-Sized PC
Change is constant and accepted by most people if not all. The Evolution of the digital computer has been continuous, technological advancement brought minicomputers, microcomputers, and even notepads. It also brought the invention of smartphones and tablets, but all these gadgets which have been in existence have different issues such as size, weight, ability to carry out specific functions well and many more. However, recently a Hong Kong-based researcher who goes by the name Leo Chung released to the public information about his project called the Mi Mini PC.
With the goal to put away tablets, personal computers, and laptops, the mini PC is simply a small version of the combination of a tablet and laptop. Don't be fooled by the size; the Mi Mini PC will stand toe to toe with some modern laptops today. It has 128GB Solid State Drive (SSD) which can be upgraded to 512GB SSD for $50, and it comes with 8GB Random Access Memory (RAM) (most mid range laptops have 4GB).
Additionally the Mini PC has various ports found on a generic modern laptop such as the HDMI port which enables it to connect to a bigger screen, USB Type C port (yes, the same found on the new gadgets and the costly MacBook), and other USB ports. Talking of screens, the Mini PC is a touch screen gadget and has HD resolution of 1280*720 pixels. This versatile device comes with an impressive feature set, and it also includes USB 2.0, USB 3.0 and Ethernet. Bluetooth 4.2 connectivity, dual-band WiFi, stereo speakers are also built in.
The board runs on the powerful Intel Atom 2.56 GHz processor. Capable of fitting in the palm of your hand, Mi MiniPC is paired with a wireless, foldable Bluetooth keyboard and features a 6,000-mAh battery with a six-hour power life for office presentations and long work days.
Some features of the Mini Pc include:
5-inch Aluminium Case for the body.
Game Console specially designed for the mini PC which costs $20.
SD card slot.
2.56Ghz Intel Atom x7- Z8750 Processor.
A power adapter.
Carrying pockets for keyboard and adapter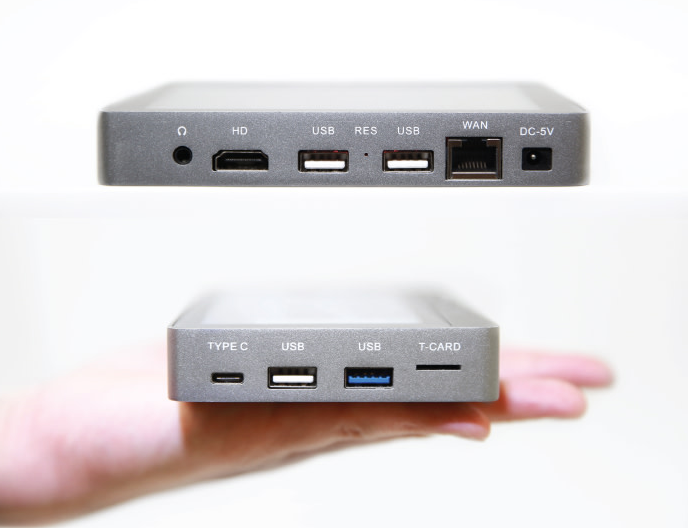 A lot of people might be worried about how a device so small can work efficiently. The mini PC has not only a pre-installed Android 5.10 Operating System (OS) but also a functional Windows 10 OS which means one can work on any windows program without difficulty. Its 8GB RAM and Solid State Drive ensures the device can manage and run several programs and applications simultaneously, and still capable of running some computer games as well. Another fantastic perk to the mini PC is that it allows you to choose your preferred operating system on startup.
The most significant advantage of the PC is that it is very portable and the fact that one can get all that is required for a laptop on a 5-inch sized device. The Mini PC also ends the story of overheating and whirring noises made by existent laptops. Due to its' aluminium case and high – tech heat sinks, fans are now a thing of the past, therefore, making a solution for annoying whirring sounds.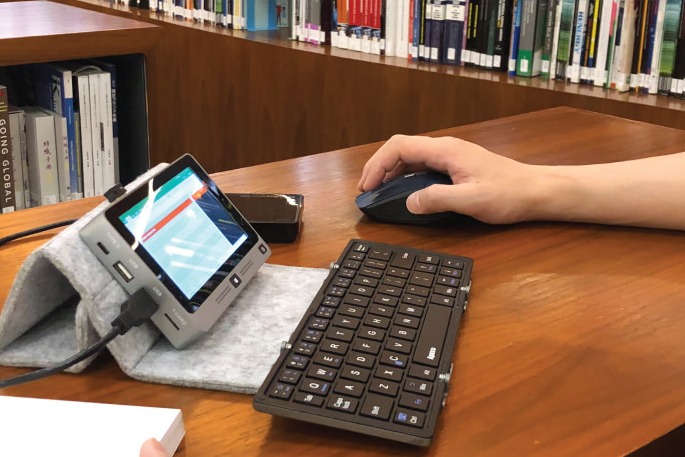 The Mi Mini PC project is currently being crowdfunded over on Indiegogo which has raised over $1 million in backing already. Pre-orders are available with prices starting at $159 (US) and an expected ship date of September 2018. The standard package includes two carrying pockets, a cover stand, a foldable Bluetooth keyboard, and power adapter. Add-ons include an extra battery ($10), Android 7.1 Upgrade ($15), gaming controller ($20), 256GB SSD upgrade ($30), or 512GB SSD upgrade ($50)
Subscribe to Blog via Email
Join 97,902 other subscribers
Archives