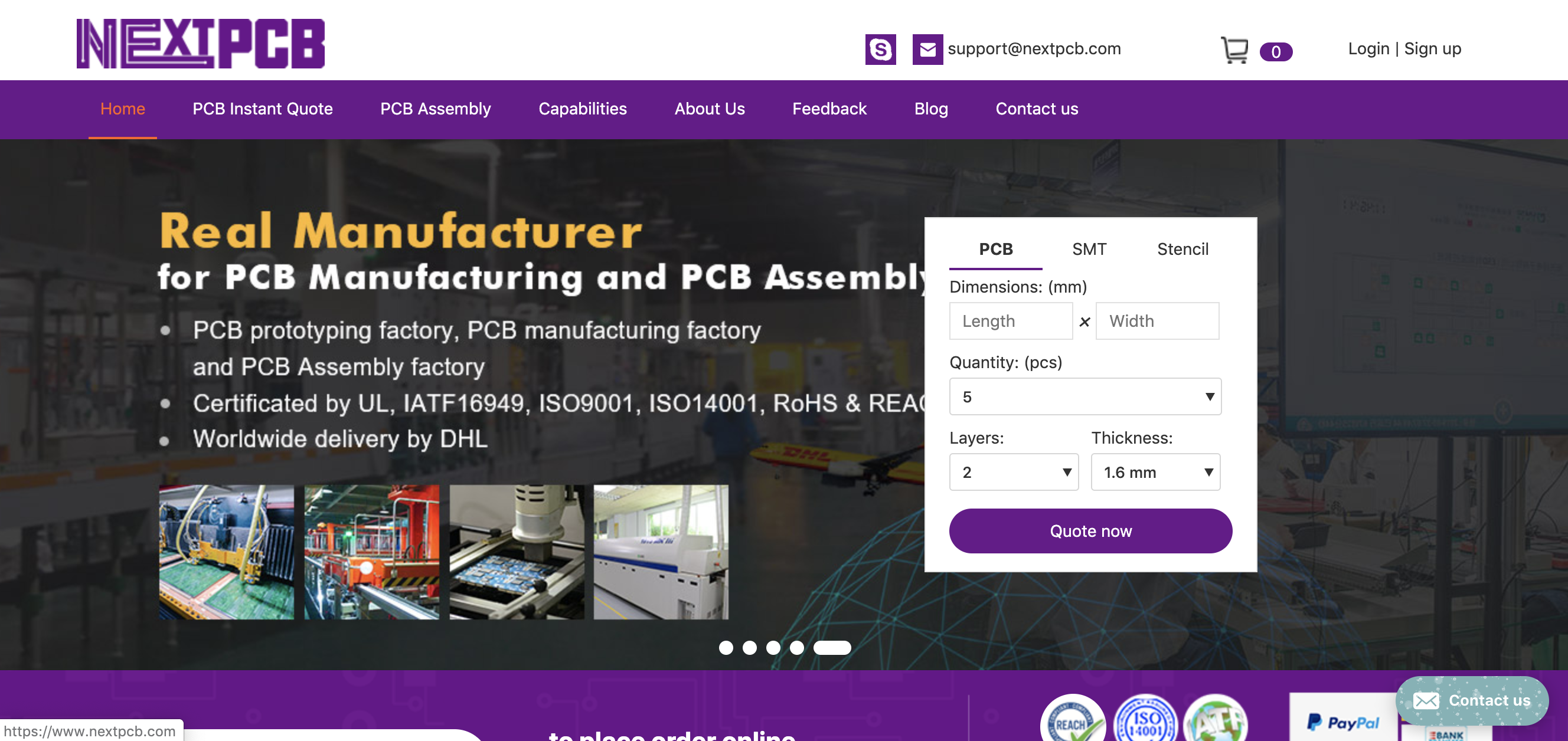 NextPCB.com Service Review
Printed Circuit boards are an important part of the development of any electronics product. They provide an easy, neat and repeatable ways of connecting components together. Thus, ensuring quality from their design to production is so critical that, failure at any point in the process could lead to a lot of money going to waste and delay in the project timeline, as such, since the existence of several EDA software ensures reliable design, focus should then be on ensuring a manufacturer that is worth his weight in Gold, is selected for the manufacturing of the designs. One such manufacturer with experience and interesting capabilities is NextPCB and for today's review, we will examine their processes, rates and why you should probably choose (or not choose) them as pcb manufacturers for your next PCB project.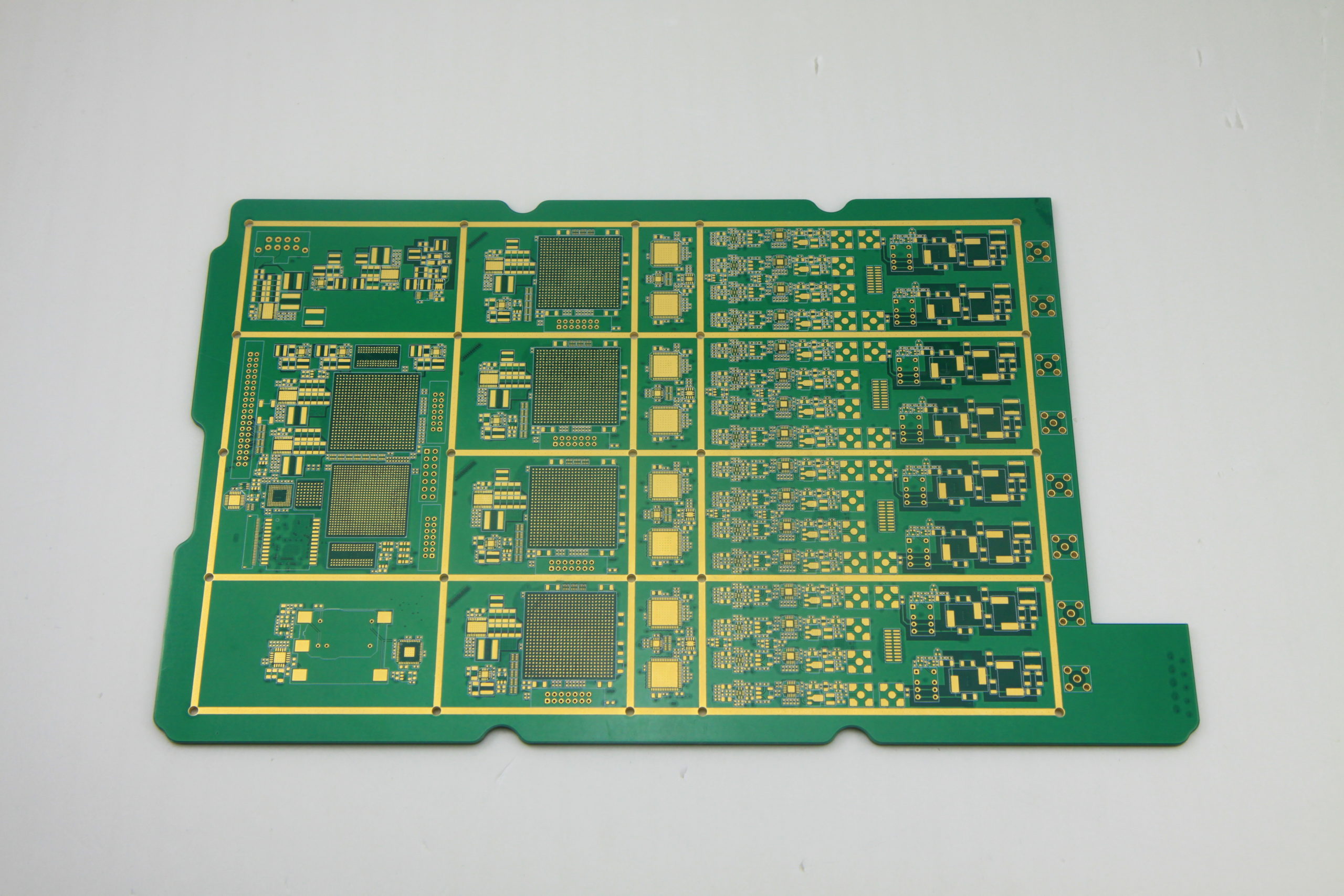 NextPCB is reputed as one of the most popular PCB manufacturers in china.  Situated at the heart of Shenzhen, NextPCB has been in the PCB manufacturing and assembly industry for over 15 years, providing some of the most innovative printed circuit boards, with assembly technologies of the highest quality standards, fastest delivery turnaround (as fast as 24hours), lowest manufacturer direct prices, and support via dedicated customer service professionals.
Using some of the latest machines and equipment, NextPCB provides two major services; PCB Manufacturing and PCB Assembly.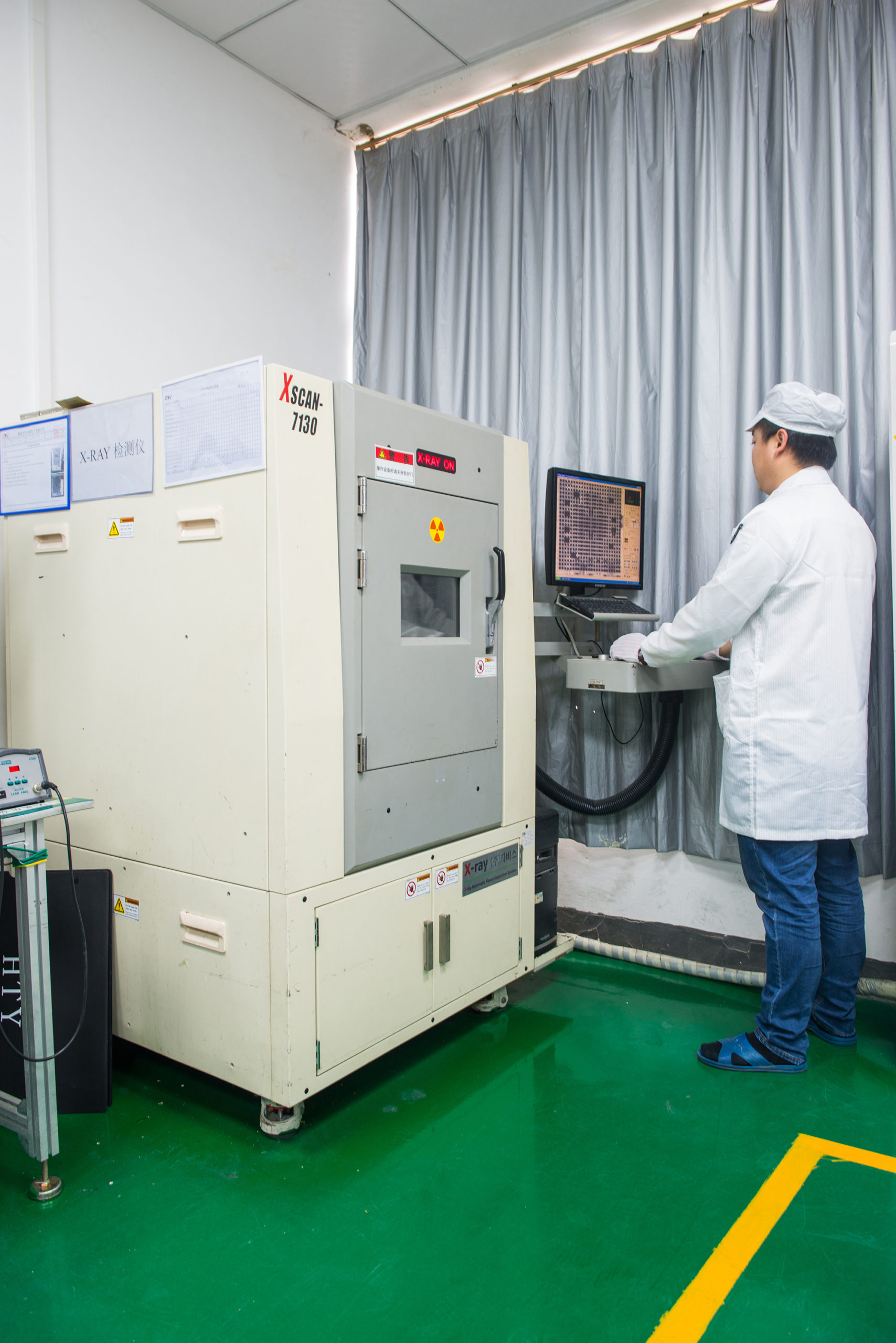 Their PCB manufacturing services cover both PCB prototyping and Mass production with lead time as fast as 24hours and cost as low as 0$. They are capable of manufacturing up to 16 layers PCB with a thickness of up to 2.5mm. All there PCBs are UL and ROHS certified which reduces the number of certifications the product companies need to go through.
A summary of the Key capabilities of NextPCB as regards printed circuit board manufacturing is provided in the table below. They created the table to help customers determine if the capabilities of the equipment being used by NextPCB matches the requirements of your design, and to also serve as a tool to help NextPCB's regular customers design their PCBs to match the capacity of the company.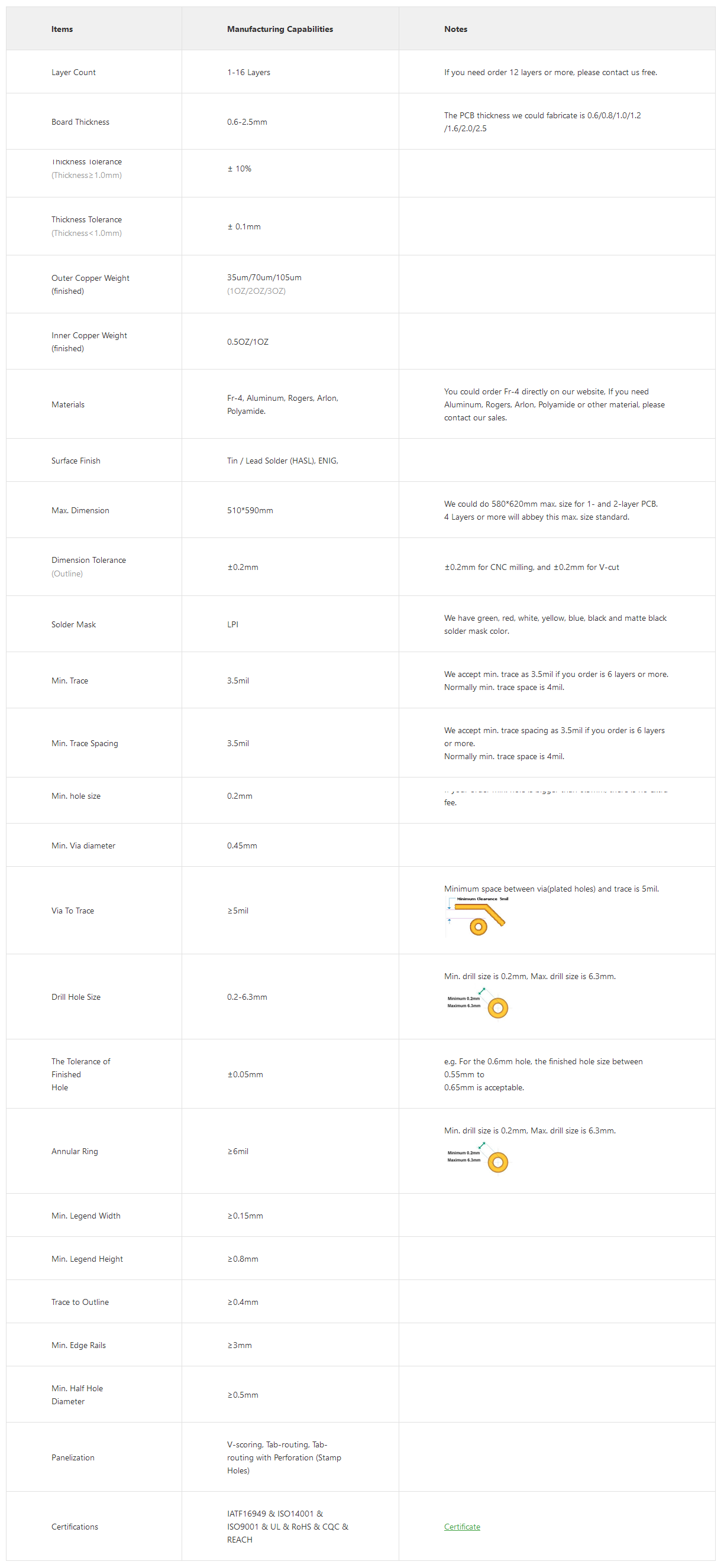 For PCB Assembly, NextPCB provides a turnkey experience with services like;
Components/parts Sourcing
PCB Fabrication
Pick and Place Machine based board population
SMT & Through-hole assembly with wave soldering
100% E-test and functional testing support
Worldwide free delivery with up to 30% off on the freight
A summary of some of the capabilities of NextPCB along the lines of PCB Assembly is provided in the table below;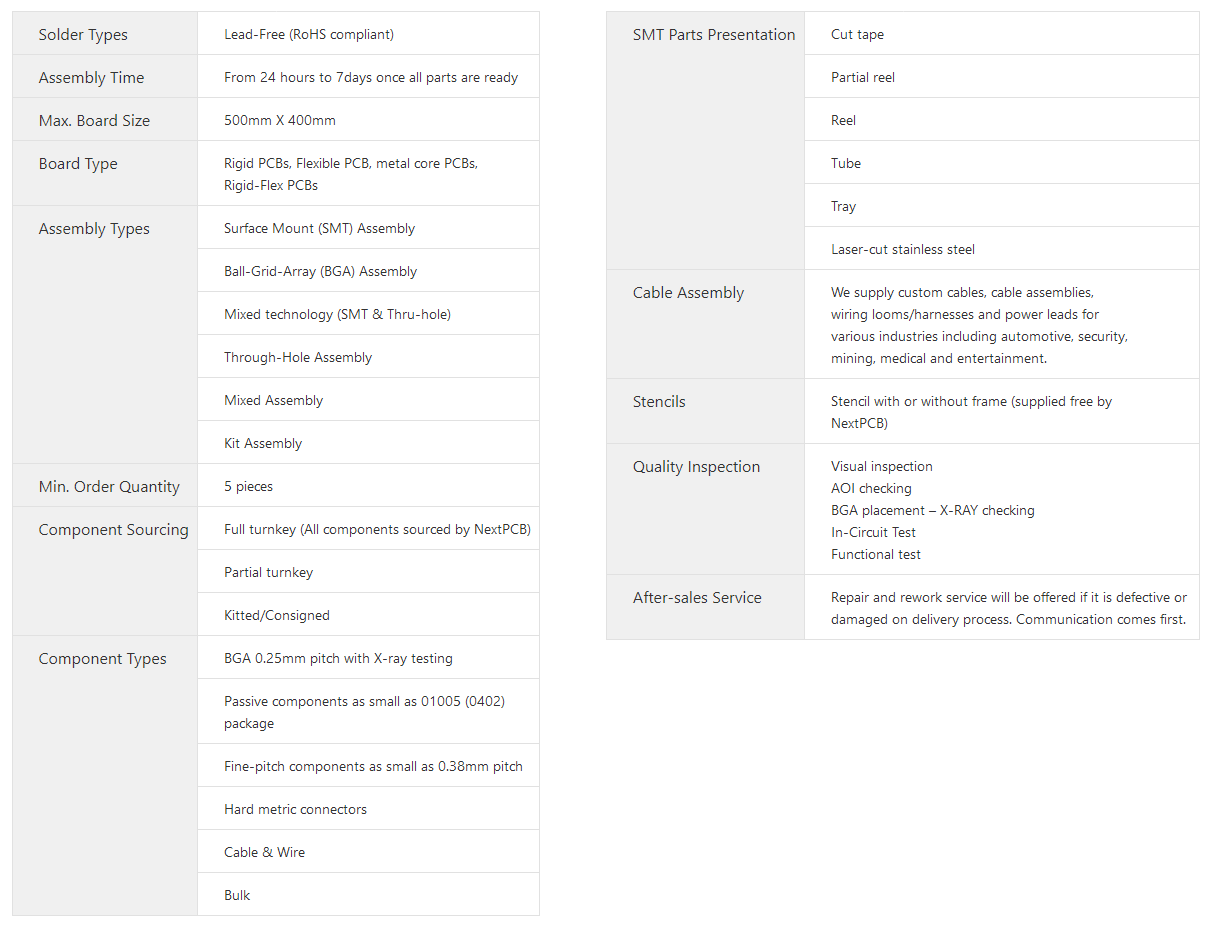 For capabilities not listed in the table above, NextPCB works with the customer to ensure they are delivered.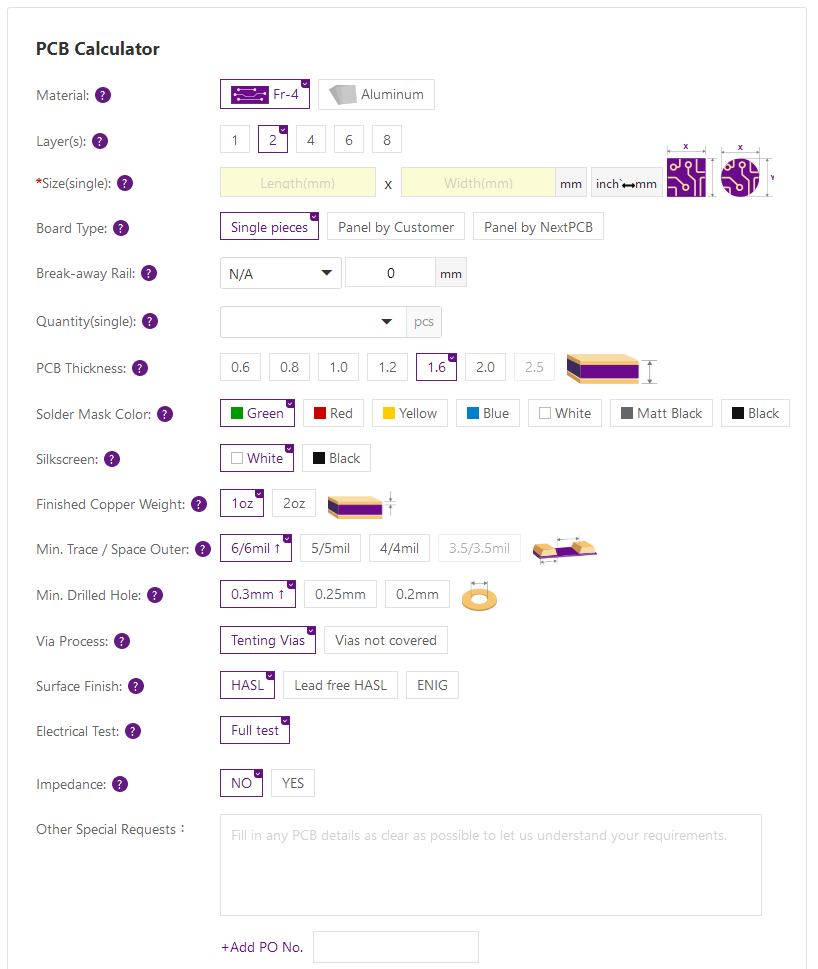 To make access to these services easy, NextPCB has an online and instant PCB quote generator to which users can upload their Gerber files, and instantly get an evaluation of the design with a quote for its production. This makes it easy for developers to place orders for their boards from the comfort of their computers, and for situations that involve building a relationship with the company, NextPCB has a dedicated line through which customers can reach the company via their customer service professionals.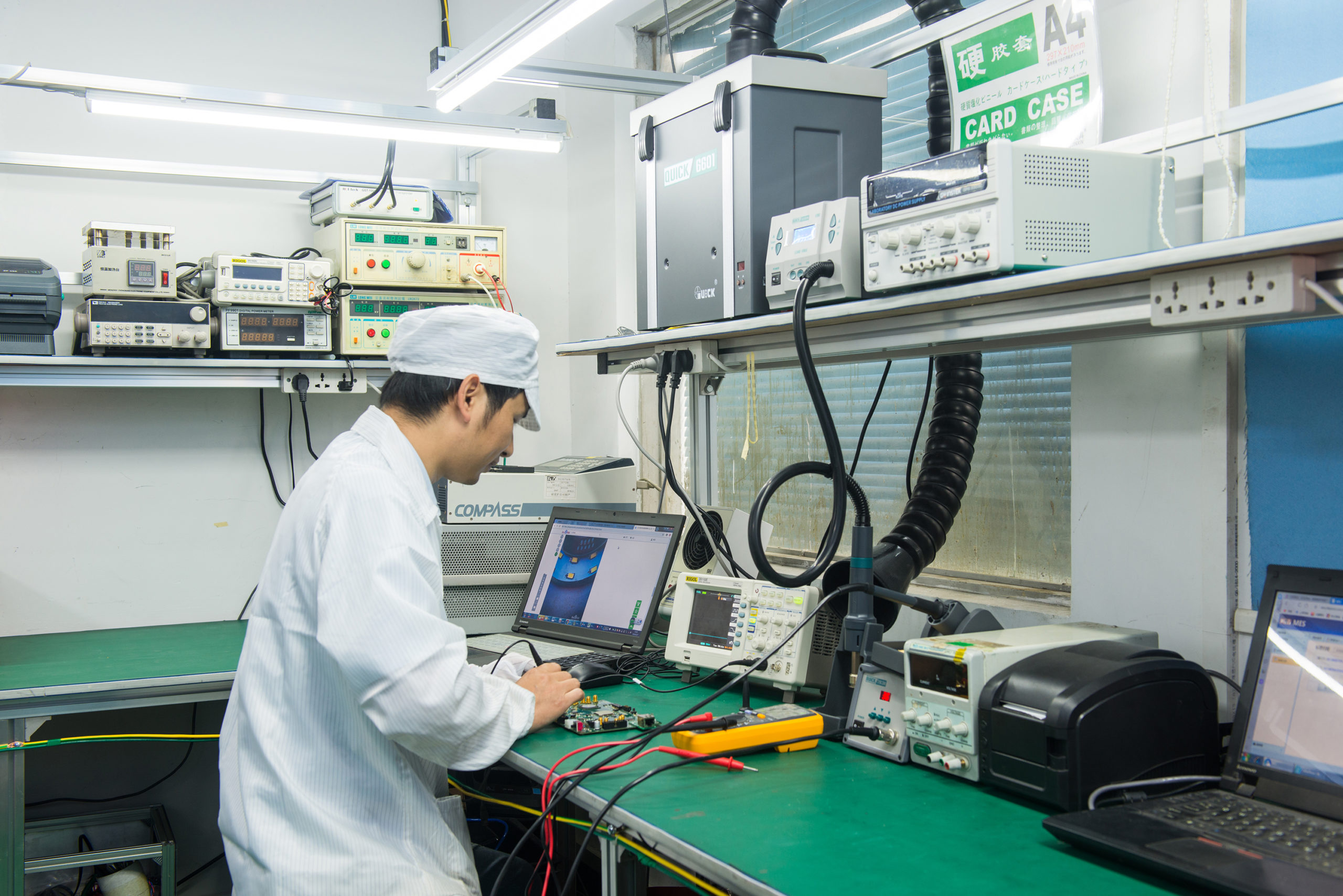 NextPCB works to provide customers with reliable and flexible services, and one of the ways they do that is by providing customers with flexible payment and delivery options. NextPCB allows payment through channels like PayPal, Western Union, and ordinary bank transfer, while shipping and fulfilments are done via international logistics companies like DHL, FedEx and the Singapore post amongst others.
With an understanding of the big role the community plays, NextPCB is a big supporter of the open-source EDA community, supporting different community programs, and making donations to different community projects, including the widely popular KiCad for which NextPCB is regarded as one of the Main Sponsors.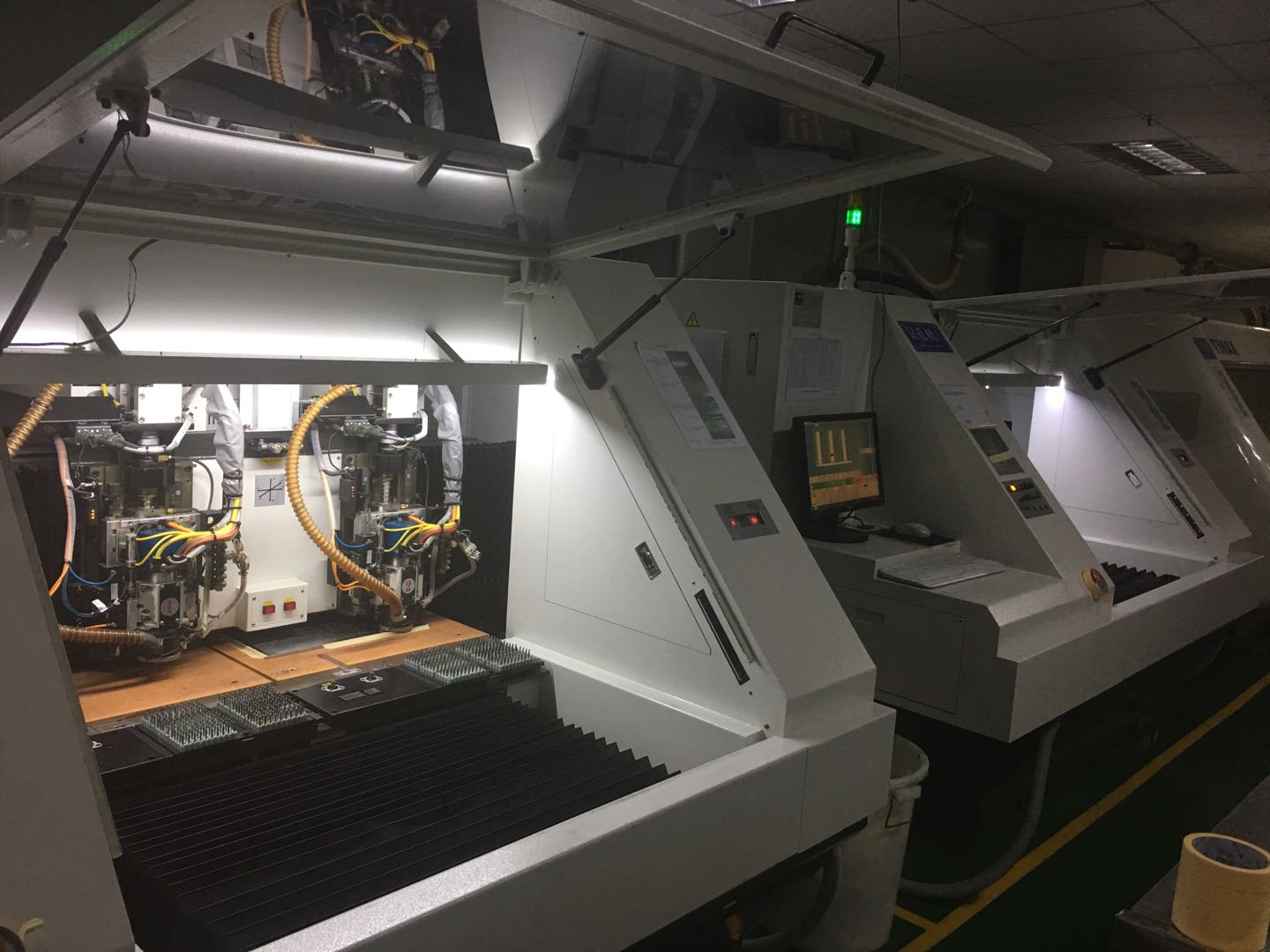 Overall, compared with a number of PCB companies on the internet, the fact that NextPCB actually owns their factory (Not a Broker) and has been in the business for over 15 years means it will definitely be better to have them as partners for your projects, especially when for projects that require some level of experience in its manufacturing. Also, the parts sourcing services they provide helps take a lot of burden off product companies as they will definitely have a wider reach and be able to help you get components that may be difficult to come-by on the open market.
Subscribe to Blog via Email
Join 97,930 other subscribers
Archives