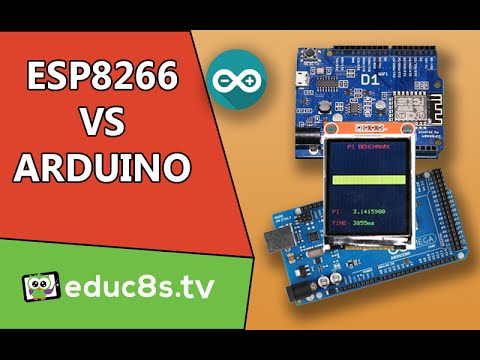 WeMOS D1 ESP8266 vs Arduino Uno, Arduino Due and Teensy 3.2. Which one is the fastest board?
educ8s.tv uploaded a new video comparing the performance of ESP8266 Arduino board with the most popular Arduino boards.
In this video we are going to compare the computational speed of the WeMOS D1 ESP8266 based Arduino compatible board with the computational speed of the most popular Arduino boards and the Teensy 3.2. Let's get started!

A few weeks ago, in a similar video we compared the performance of the Teensy with the most popular Arduino boards. Today, we are going to add another board to the comparison, the WeMOS D1 ESP8266 Arduino compatible board. I have prepared a detailed tutorial on that board so you can check it out before we start.

In order to compare the processing power of the boards, all the boards, the Arduino Uno, the Arduino Due, a Teensy 3.2 and the WeMOS D1 will run the same sketch. The Newton's approximation of PI for half a million iterations. The time needed to execute this task is then displayed on a 1.8" Color TFT display. This way we are going to have a visual representation of the speed differences of the boards. In order to see how to connect the display with the Teensy or the Arduino boards check out the tutorial I have prepared on that. You can find links for all the parts in the description of the video.
WeMOS D1 ESP8266 vs Arduino Uno, Arduino Due and Teensy 3.2. Which one is the fastest board? –  [Link]
Join 97,426 other subscribers

Archives