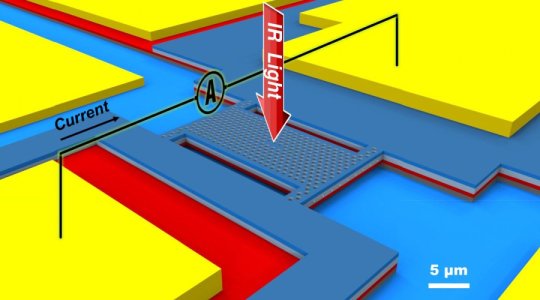 Micro-spectrometer Sensor Will Let You Check Air Quality Or Blood Sugar – Using Smartphone
Now you can use your smartphone to check how clean the air is, measure the freshness of food or even the level of your blood sugar. This has never been so easy. All credit goes to the new spectrometer sensor which is developed at the Eindhoven University of Technology and can be easily attached to a mobile phone. The little sensor is just as precise as the normal tabletop models used in scientific labs. The researchers published their invention on 20th December in the popular journal Nature Communications.
Spectrometry is the analysis of the light spectrum. It has an enormous range of applications. Every organic and inorganic substance has its own unique 'footprint' in terms of light absorption and reflection. Thus it can be recognized by spectrometry. But precise spectrometers are bulky and costly since they split up the light into different colors (frequencies), which are then measured separately.
The intelligent sensor developed by Eindhoven researchers is able to make such accurate measurements in an entirely different way. It uses a special photonic crystal cavity that acts as a 'trap' of just a few micrometers into which the light falls and cannot escape. This trap is situated in a membrane. In the membrane, the captured light generates a tiny electrical current which can be measured accurately. The accurate working cavity design is made by Žarko Zobenica, a doctoral candidate.
The sensor can measure only a narrow range of light frequencies. To increase the frequency range, the researchers placed two of these membranes above each other closely. The two membranes affect each other. Changing the separation gap between them by a tiny amount also changes the light frequency that the sensor recognizes. To understand this the researchers, supervised by professor Andrea Fiore and associate professor Rob van der Heijden, included a MEMS or micro-electromechanical system.
This mechanism can change the measured frequency by changing the separation between the membranes. In this way, the sensor is able to cover a range of about thirty nanometers. Within which the spectrometer can recognize some hundred thousand frequencies with an exceptional precision. The research team demonstrated several applications like an extremely precise motion sensor and a gas sensor. All made possible by the clever use of the tiny membranes.
As per Professor Fiore's expectations, it will take another five years or more before the new spectrometer actually gets into a Smartphone. The main difficulty at this moment is the frequency range covered is still too small. It covers only a few percent of the most common spectrum, the near-infrared.
Given the huge potential and the wide field of applications, micro-spectrometers can become just as important as the camera in the smartphones of future.
Join 97,426 other subscribers

Archives