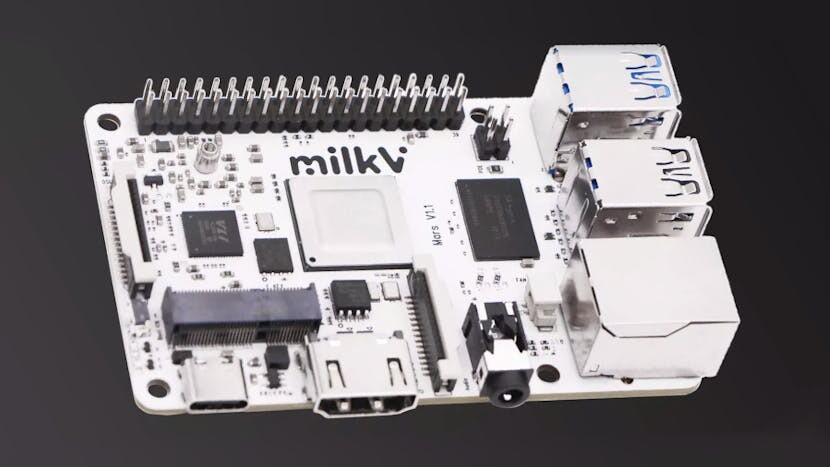 Milk-V Mars is a credit card sized high-performance RISC-V single-board computer
A few weeks ago, Chinese hardware manufacturer Milk-V Technology announced the launch of Pioneer. This RISC-V computer integrated 64 physical cores and was based on Sophon SG2042 in a standard mATX form factor. The company has now announced Milk-V Mars, another single-board computer with a credit card-sized compact design that offers high-performance computing capabilities and comes with the StarFive JH7110 system-on-chip.
Inside the Milk-V Mars is the StarFive JH7110 SoC that brings significant power to the board. The JH7110 is equipped with a dual-core U74 processor, enabling efficient multitasking and advanced computing tasks. With 2MB of L2 cache, this SoC ensures fast data access and smooth execution of applications.
One of the important features of the JH7110 is its compatibility with the Linux operating system, making it a flexible choice for developers and enthusiasts. The SoC's built-in image/video processing subsystem supports popular codecs such as H265, H264, and JPEG, allowing seamless handling of multimedia content. Moreover, the StarFive ISP (Image Signal Processor) is compatible with mainstream camera sensors, enhancing the board's capabilities for vision-based applications.
The JH7110 is equipped with a high-performance, low-power vision DSP and NNE (Neural Network Engine). These integrated components enable intelligent and efficient visual processing, making the Milk-V Mars ideal for various real-time visual processing needs at the edge. The SoC's ability to perform complex image and video processing and intelligent visual calculations ensures that the board can handle diverse and demanding computational tasks.
As the RISC-V ecosystem continues to expand, the Milk-V Mars SBC stands out as an impressive addition, offering a powerful computing platform for a wide range of applications. Whether it's edge computing, AI-powered visual processing, or multimedia projects, the Milk-V Mars with its StarFive JH7110 SoC is a good option to provide high performance and flexibility to users.
The manufacturer has not provided much information on the availability and pricing on the official product page. But given the media coverage, it is speculated that the pricing will be approximately between $60 to $90, depending on the memory capacity.
Join 97,426 other subscribers

Archives