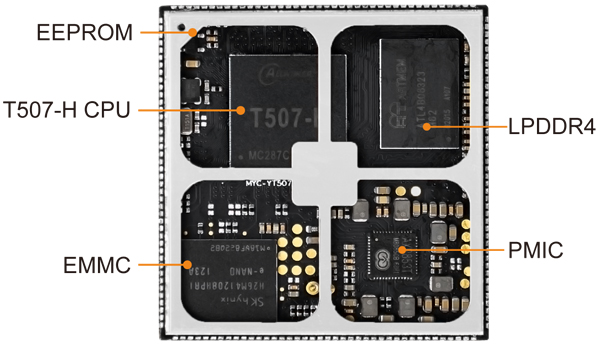 MYIR Introduces ARM SoM Powered by ALLWINNER T507-H
MYIR introduces a cost-effective MYC-YT507H CPU Module powered by ALLWINNER's T507-H industrial processor which among Allwinner T5 series with a 1.5GHz quad-core Cortex-A53 CPU and a Mali-G31 MP2 GPU. The module is ready to run Linux OS and targets a wide variety of applications like power IoT, automotive electronics, commercial display, industrial control, medical devices, intelligent terminals and more other professional or industrial applications which require rich performance and professional visual effect.
Measuring 43mm by 45mm, the MYC-YT507H CPU Module is a compact System-on Module (SoM) that combines the Allwinner T507-H processor, a dedicated Power-Management IC AXP853T also from Allwinner, 1GB/2GB LPDDR4, 8GB eMMC and 32Kbit EEPROM. A number of peripherals and IO signals are brought out through 1.0 mm pitch 222-pin stamp-hole (Castellated-Hole) expansion interface to make the module an excellent embedded controller for system integration.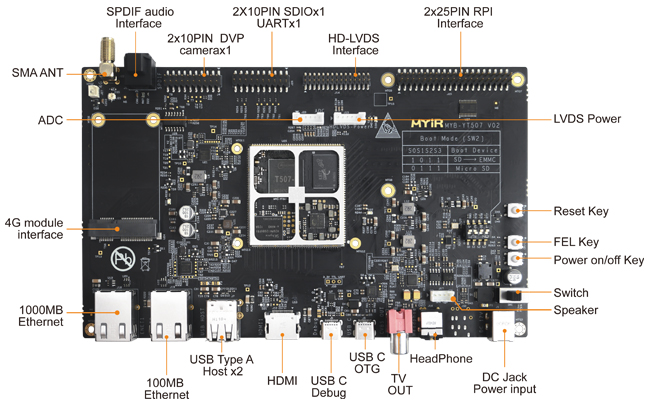 MYIR provides theMYD-YT507H Development Board for evaluating the MYC-YT507H CPU Module, its base board has explored a rich set of peripherals and interfaces such as Serial ports, one Gigabit Ethernet and one 10/100M bps Ethernet, two USB 2.0 HOST and one USB 2.0 OTG, one TF card slot as well as a USB based 4G Mini PCIE interface. It has a DVP camera interface and a MIPI-CSI interface to allow connecting with camera modules. It also supports multi video output interfaces such as dual LVDS, HDMI and CVBS OUT, to achieve different display in dual screens. The board is delivered with necessary accessories, detailed documentations as well as optional MY-CAM002U USB Camera Module, MY-CAM011B DVP Camera Module, MY-CAM003M MIPI Camera Module, MY-WIREDCOM RPI Module (RS232/RS485), MY-WF005S WiFi/BT Module and MY-LVDS070C LCD Module, which makes it ideal for evaluating and prototyping based on ALLWINNER's T507-H processor.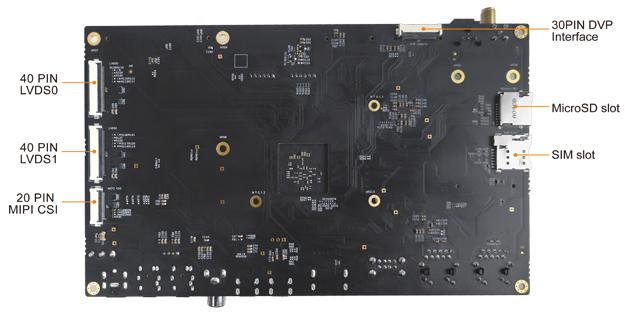 The MYC-YT507H Module is ready to run Linux OS. MYIR provides abundant software resources for Linux 4.9 based MYIR MEasy HMI V2.0 system with QT5.12.5, Ubuntu 18.04.5 system, including kernel, driver source codes and compilation tools to enable users to start their development rapidly and easily.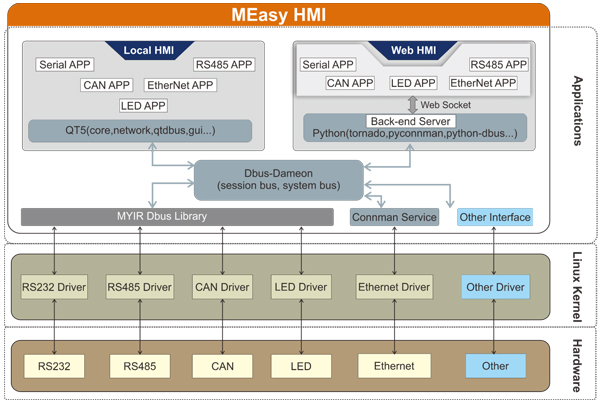 MYIR offers RAM options for CPU Modules and Development boards. The prices are economic. Discount is to be offered for volume quantities.


More information about the MYC-YT507H CPU Module can be found at: http://www.myirtech.com/list.asp?id=684
Join 97,426 other subscribers

Archives