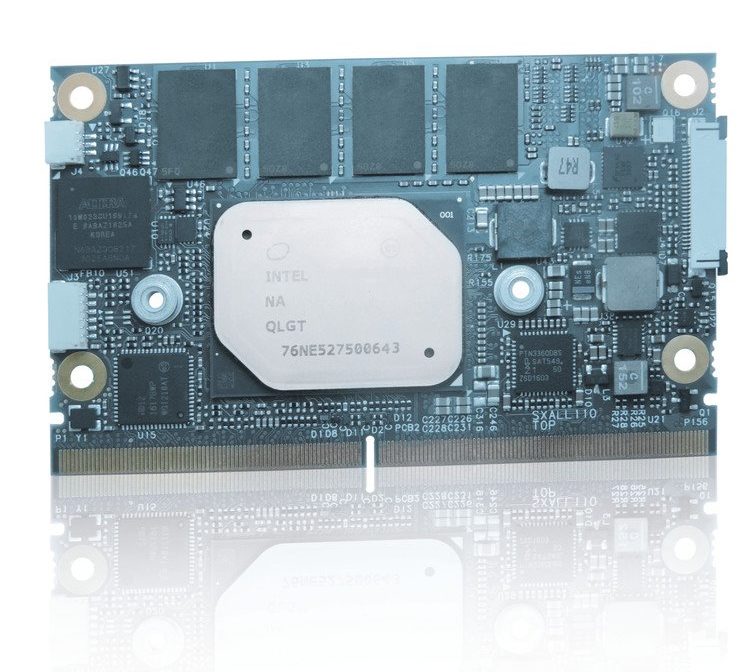 New Kontron SMARC-sXAL4 (E2) Module with up to 8 GByte LPDDR4 Memory Down
Kontron, a leading global provider in IoT/Embedded Computer Technology (ECT), has introduced the new SMARC-sXAL4 module. The module is available with either Intel Atom®, Intel® Pentium® or Intel® Celeron® processors of the latest generation. With dimensions of only 82mm x 50mm, it can be used flexibly, and the E2 version is designed for use in an extended temperature range from -40°C to +85°C. Thanks to its large number of interfaces, significantly improved computing power and excellent performance-per-watt ratio, the SMARC-sXAL4 is ideally suited for use in industrial IoT and Industry 4.0 systems. 
The SMARC-sXAL4 will be available in five versions: either with DualCore or QuadCore processors. Together with the SMARC-sXAL (E2), which supports DDR3 ECC memory, Kontron now offers customized modules for every purpose based on all current IoT-enabled embedded processors from Intel®. The SMARC-sXAL4 has up to eight GB LPDDR4 memory down RAM, up to two 1000 MBit/s Ethernet, up to four PCIe x1 and four USB 2.0 ports (alternatively: one USB OTG), as well as two USB 3.0 ports. Up to 128 Mbytes of eMMC (MLC) onboard memory serve as mass storage. The new module also has a SATA 6 GB/s and four serial interfaces (two RX and TX ports each), one HD Audio and one I2S, five I2C, two SPI, two MIPI CSI and twelve GPIO, one HDMI, one DP++ and one Dual Channel LVDS interface (on request also for eDP displays). Users also benefit from the high graphics performance of Intel® HD Gfx Gen9. Up to three 4K displays can be controlled independently.
The SMARC-sXAL4 uses the operating systems Windows® 10, Enterprise, Windows 10 IoT, Linux and VxWorks. The VCC voltage of the module is 5V; a wide-range voltage input has been omitted
The new Kontron SMARC-sXAL4 (E2) supports the Kontron APPROTECT security solution based on Wibu-Systems CodeMeter®. Kontron APPROTECT Licensing also enables new business models such as 'pay-per-use' and time-based trial versions.
The SMARC-sXAL4 is available in the following standard variants:
SMARC-sXAL4 N4200 4G/8S SMARC with Intel® Pentium® N4200, 4GB LPDDR4 memory down, 8GB eMMC pSLC, commercial temperature
SMARC-sXAL4 N3350 2G/4S SMARC with Intel® Celeron® N3350, 2GB LP-DDR4 memory down, 4GB eMMC pSLC, commercial temperature
SMARC-sXAL4 E3930 4G/8S SMARC with Intel Atom® x7 E3930, 4GB LPDDR4 memory down, 8 GB eMMC pSLC, industrial temperature
SMARC-sXAL4 E3940 4G/16S SMARC with Intel Atom® x7 E3940, 4GB LPDDR4 memory down, 16 GB eMMC pSLC, industrial temperature
SMARC-sXAL4 E3950 8G/32S SMARC with Intel Atom® x7 E3950, 8GB LPDDR4 memory down, 32 GB eMMC pSLC, industrial temperature
For more information please visit: https://www.kontron.com/products/boards-and-standard-form-factors/smarc/smarc-sxal-e2-.html
Join 97,426 other subscribers

Archives