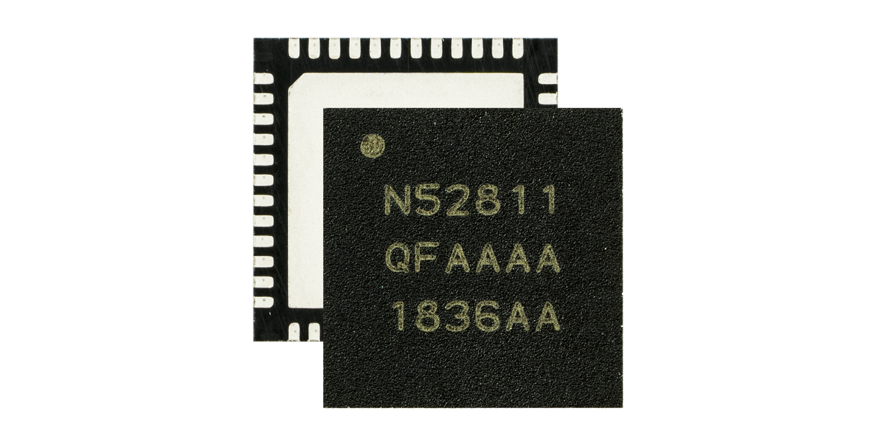 Nordic Semiconductor nRF52811 SoC
nRF52811 – Bluetooth 5.1 direction finding system-on-Chip
The nRF52811 is a multiprotocol Bluetooth® 5.1 SoC capable of Bluetooth Direction Finding and Bluetooth Long Range, 802.15.4, Thread and Zigbee. It is part of the nRF52® Series SoC family, offering a platform where migrating between devices is easy. It is the perfect choice for simple applications or beacons requiring Bluetooth Direction Finding or Long Range capabilities, or as a flexible connectivity SoC paired with a companion MCU in more advanced applications that can be designed to make use of a broad selection of connectivity standards.
The nRF52811 is built around the powerful 64 MHz Arm® Cortex-M4™ CPU with 192 KB Flash and 24 KB RAM. It offers all the digital interfaces that you need, in addition to comparators and an ADC. It comes in three package options, all drop-in compatible with the nRF52810 SoC. Operating supply voltage is 1.7-3.6 V.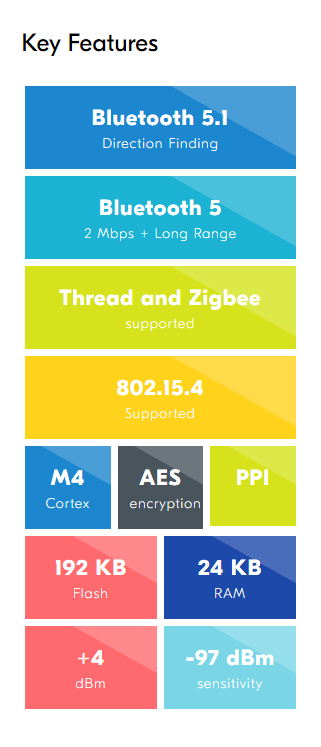 The nRF52811 is supported by nRF5 SDK, providing everything needed to get started with Bluetooth development, while Thread connectivity is available in the nRF5 SDK for Thread and Zigbee. The nRF52840 DK can be used as a development kit by emulating the nRF52811.
Please note: The nRF52840 Development Kit does not support Bluetooth's Direction Finding features.
Features
64 MHz Arm® Cortex M4
192 KB Flash + 24 KB RAM
Bluetooth 5.1 radio with Direction Finding and Long Range support
IEEE 802.15.4 radio support
Full range of digital interfaces with EasyDMA
12-bit 200 ksps ADC
1.7-3.6 V supply voltage range
for more information please visit: www.nordicsemi.com
Join 97,426 other subscribers

Archives