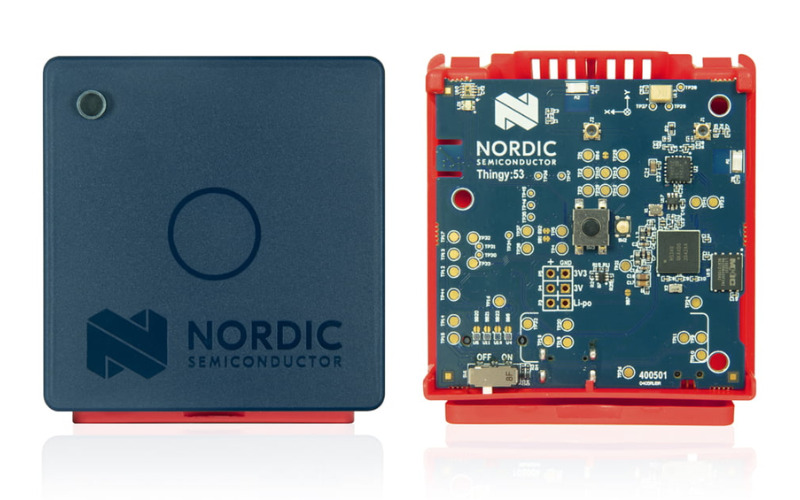 Nordic Thingy:53 gets the Edge Impulse firmware for rapid IoT prototyping
Norwegian embedded device manufacturer Nordic Semiconductor has announced the commercial availability of Nordic Thingy:53, a new addition to the Nordic Thingy family. This multisensor prototyping hardware platform features multiple onboard sensors and robust short-range wireless connectivity for embedded machine learning applications. The hardware also comes with an embedded Edge Impulse machine learning firmware to reduce the time to market and develop edge applications using an advanced wireless connection.
The Nordic Thingy:53 is based on the Nordic's in-house nRF5340 dual-core Arm Cortex-M33 multiprotocol system-on-chip that incorporates an nPM1100 power management unit and a front-end module nRF21540. The Thing:53 is equipped with a six-axis inertial measurement unit and a low-power accelerometer. The onboard environmental sensor, includes temperature, humidity, air quality, and pressure. There also comes a color and light sensor, buzzer, and Pulse Density Modulation microphone.
"Nordic's 'Thingy' family has already proven itself with the developer community as the fastest route to prototype and develop innovative short-range wireless and cellular IoT applications. Now with the addition of Thingy:53, we enhance the range by introducing a prototyping platform using our most powerful and capable multiprotocol SoC," says Pär Håkansson, Nordic's Product Manager for Thingy:53.
Specification of Nordic Thingy:53
SoC: nRF5340 system-on-chip featuring a high-performance Arm Cortex-M33 application core clocked at 128MHz and an ultra-low-power Arm Cortex-M33 network core clocked at 64MHz.
Wireless connectivity: nRF21540 FEM, Bluetooth Low Energy (Bluetooth LE), Thread, Matter, Zigbee, IEEE 802.15.4, NFC, and
Bluetooth mesh RF protocols,
LEDs: RGB, programmable
Interface: Qwiik/Stemma/Groove compatible 4-pin JST
Buttons: Available through the casing, programmable
Battery: 1350 mAh Li-Po, USB-C rechargeable
Sensors: Temperature, humidity, air quality, air pressure, 6-axis with accelerometer, colour and light sensor
Microphone: PDM, wake-on-sound capable
Buzzer: Piezoelectric, 4 kHz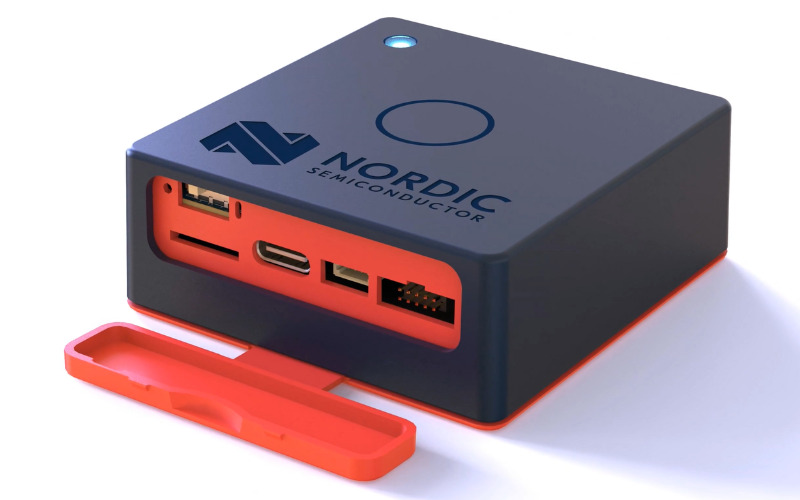 The Nordic Thingy:53 is shipped with a pre-installed nRF Edge Impulse machine learning firmware to transfer training data wirelessly using wireless connectivity to the cloud via the Edge Impulse mobile application. The trained AI model can be wirelessly deployed on the hardware platform. The mobile application is capable of demonstrating the performance of the Thingy:53. The nRF Programmer application for the Nordic Thingy:53 also gives the user additional flexibility for prototyping IoT edge applications. The app will enable developers to flash firmware directly over-the-air from an iOS or Android device.
"The nRF5340 also incorporates Nordic's PMIC and range extender for excellent battery performance and link budget, and multiple advanced sensors. And for the first time, developers who are not experienced in machine learning can easily leverage the technology through Thingy:53's pre-programmed Edge Impulse firmware and the nRF Edge Impulse mobile app. Machine learning is the key to tomorrow's advanced IoT edge processing," Håkansson added.
For more information on Nordic Thingy:53, head to the official product page.
Join 97,426 other subscribers

Archives