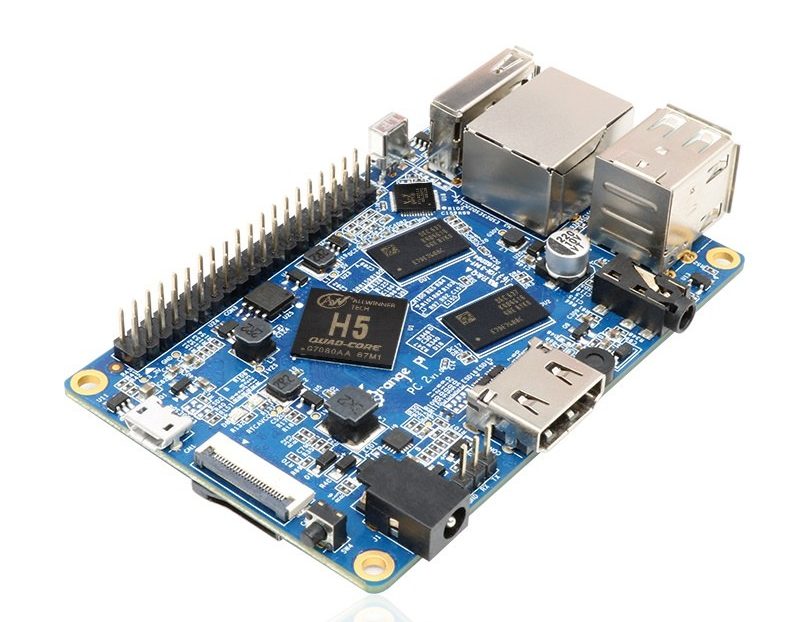 Orange Pi PC 2 – Quad Core 64bit Linux and Android mini PC [Getting Start Guide]
A few time has passed since the addition of Orange Pi PC 2 to the Orange Pi family of SBCs made by Shenzhen Xunlong Software CO., Limited and this successful and high capable board still sales like crazy at $36.65 from various distributors online.
Even though this 85×55mm board isn't as cheap as the $4 VoCore2 Lite, its $36.65 price tag is justified by the hardware it packs inside. And, it also has almost same price as the $35 Raspberry Pi 3. Orange Pi PC 2 is a single-board quad-core 64-bit computer capable of running Android 4.4, Ubuntu, Debian, Banana Pi, and Raspberry Pi images. But let's take a closer look at it's features and specifications.
The board is equipped with 1GB DDR3 SDRAM memory, H5 High Performance Quad-core 64-bit Cortex-A53 processor and a standalone graphics chip (Mali 450). It supports camera input as well as HDMI output and it even has a physical power switch and IR receiver. It takes power using a separate power connector despite the fact that it has a micro-USB port. The absence of WiFi and Bluetooth is a slight turn-down but USB 2.0 ports can be used to add these features. The board also includes a Gigabit Ethernet port and three USB 2.0 ports.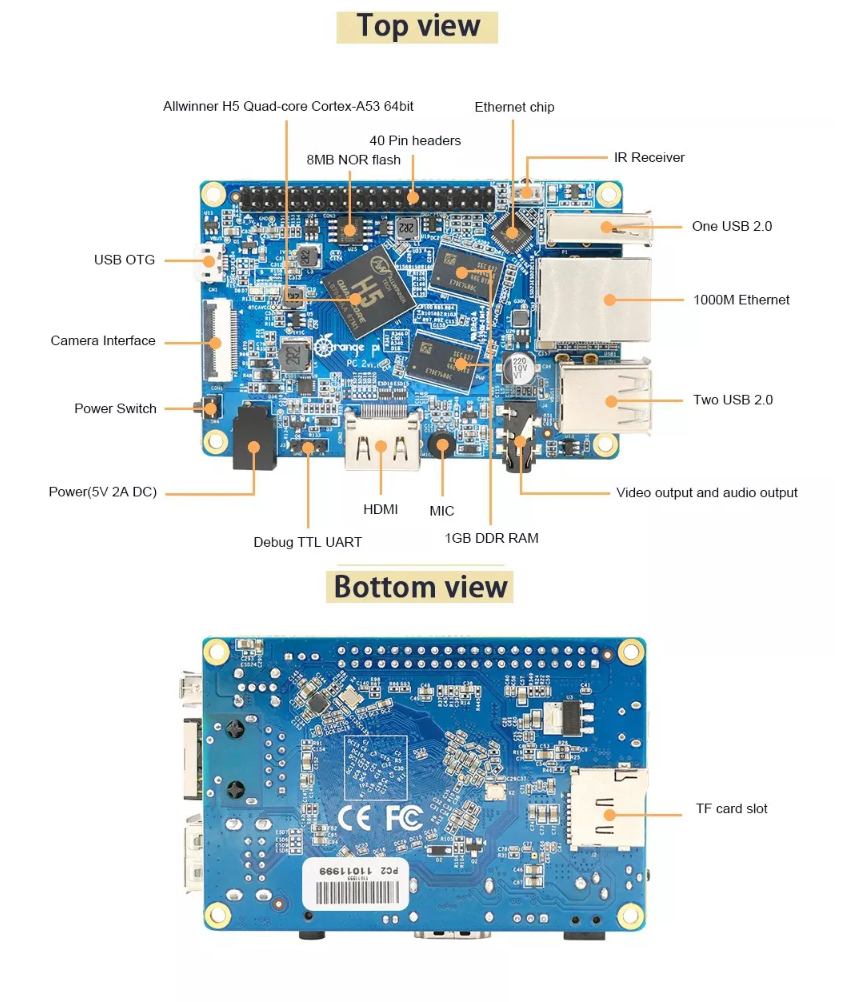 Hardware specifications
CPU: Allwinner H5 64-bit Quadcore (Cortex-A53)
RAM: 1GB DDR3
GPU: Mali-450
Storage: 2MB NOR Flash, up to 64GB via MicroSD card
Connectivity: 2xUSB 2.0, 1xUSB 2.0 OTG, HDMI, 10/1000 RJ45, IR receiver, camera interface, 40-pin header
Audio: 3.5mm jack, inbuilt mic
Operating System: Ubuntu Debian, Raspbian, Android
Getting Started with Orange Pi PC 2
You need to get these accessories to start using your Orange Pi: TF card (minimum 8 GB), HDMI to HDMI lead or HDMI to DVI lead (for monitors with DVI input), AV video lead, DC power adapter, keyboard and mouse, plus Ethernet cable/USB WiFi and Audio lead as an option.
Prepare your TF card

Insert your TF card into your computer. The size of TF should be larger than the OS image size, generally 8GB or greater.
Format the TF card. (using this tool for Windows, and some commands for Linux)

Run fdisk –l  /dev/sdx command to check the TF card node.
Run umount /dev/sdxx to unmount all the partitions of the TF card.
Run sudo fdisk /dev/sdx command to configure TF card. Use o command to delete all partition of TF card and use n command to add one new partition. Use w command to save change.
Run sudo mkfs.vfat /dev/sdx1 command to format the new created partition of TF card as FAT32.
(x should be replaced according to your TF card node)
Download the OS image from the Downloads webpage.
Unzip the download file to get the OS image
Write the image file to the TF card using this software on Windows and this command on Linux: sudo dd bs=4M if=[path]/[imagename] of=/dev/sdx (x should be replaced according to your TF card node)

Set up your Orange Pi PC following the steps in the diagram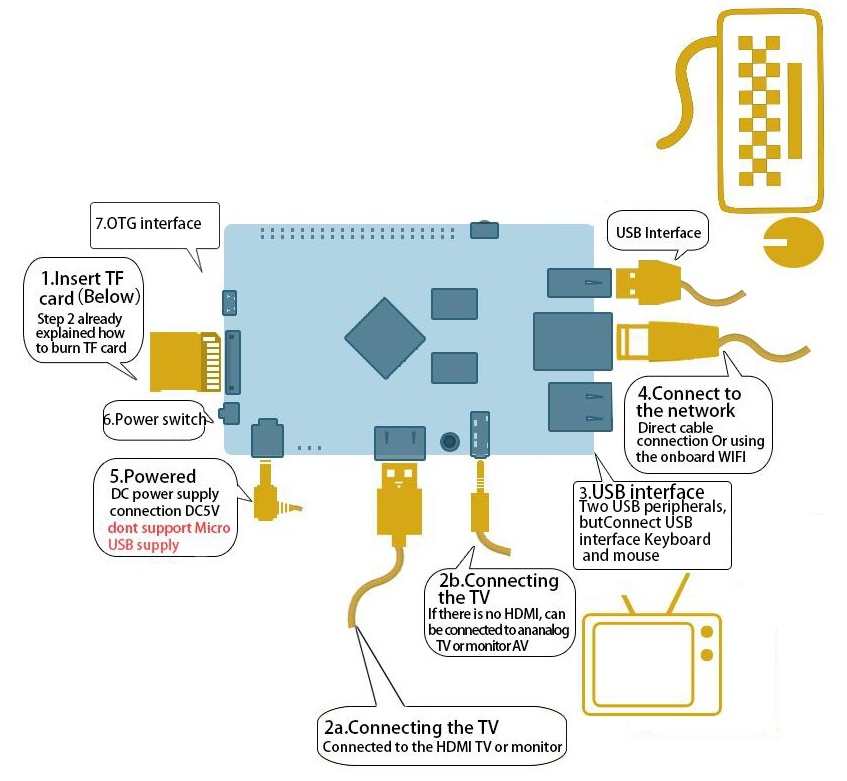 Shut down your board: You can use the GUI to shut down the Orange Pi PC2 safely or just run this command in the terminal:  sudo halt or  sudo shutdown –hnow This will shutdown the OrangePI safely, (just use the power key to turn off might damage the TF-cards file system). After that you can press the power key for 5 seconds to turn it off. Full guide and any updates on the OS image will be available here.
This is the main procedure to get started with OrangePi PC 2.
This open source SBC (single board computer) is a great option to start building IoT devices, DIY projects and for development purposes. You can use it as a mini-computer, a wireless server, music and video player,etc. You should remember that sky is the limit when it comes to open source boards.
The Orange Pi PC 2 is up for sale on www.banggood.com and you can get it now for $36.65.
Join 97,426 other subscribers

Archives