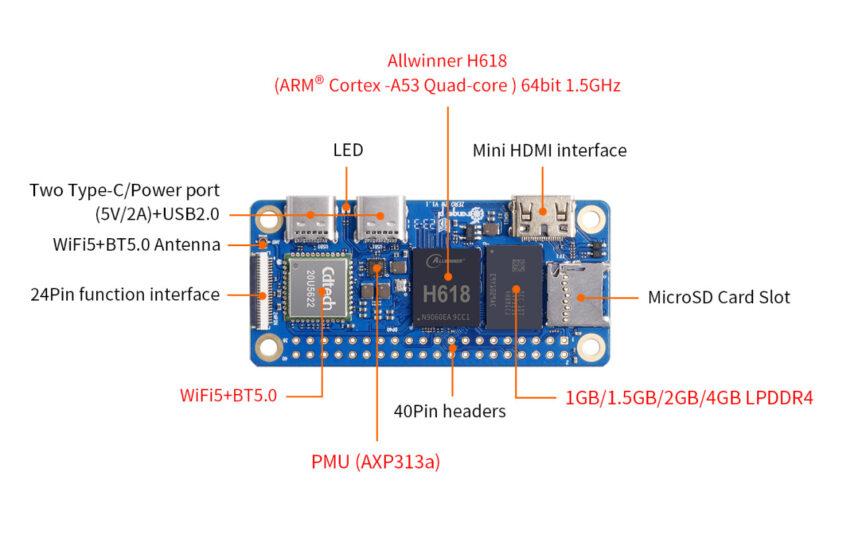 Orange Pi Zero 2W – a new Raspberry Pi Zero 2W alternative with various RAM options
Orange Pi recently introduced a new Raspberry PI Zero 2W alternative powered by a high-performance Allwinner H618 4-core processor with up to 4GB of RAM memory. The new Orange Pi Zero 2W is certainly not the first RPI Zero 2W alternative to be released, but it is sure one board that offers great capabilities and delivery.
The cost-effective Orange Pi Zero 2W has a similar form factor as the RPI Zero 2W. It also comes with similar interfaces such as a mini HDMI port with support for 4Kp60 resolution, 2x USB Type-C ports, 5x UART, 1x I2C, 1x SPI, and 4x PWM. One major difference between the two, however, is that the Orange Pi Zero 2W comes with a slightly more powerful processor and a variety of RAM options for users to choose from (1GB, 1.5GB, 2GB, 4GB)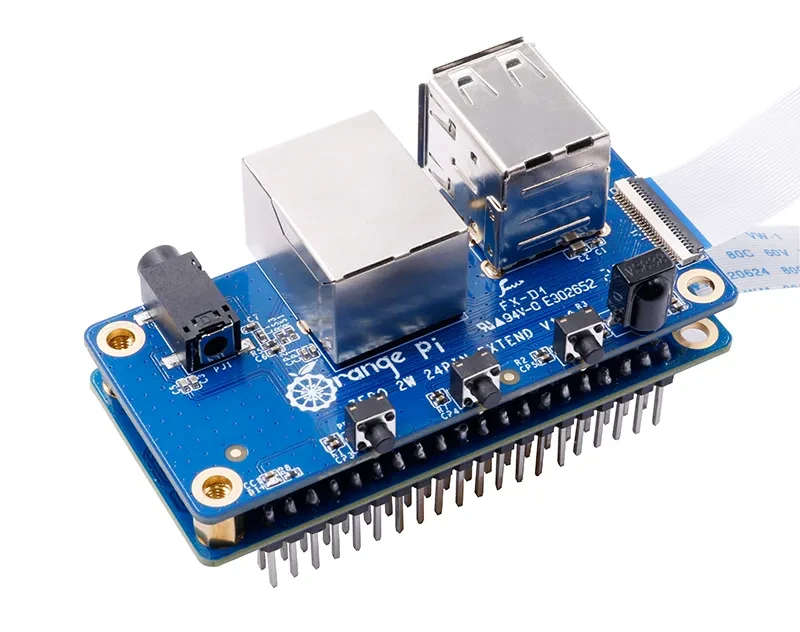 The Orange Pi board comes with a compatible expansion board that further enriches its functional interfaces as well as enhances the development potential for users. The expansion board adds a 3.5mm audio jack, 10/100Mbps (RJ45) Ethernet port, two USB 2.0 ports, one IR receiver, one power and two user buttons.
Additionally, with the board's support for 2.4G/5G dual-band WiFi 5 plus BT 5.0 with Bluetooth LE, you are sure to enjoy seamless network connectivity anytime and anywhere. The board can be used in various applications including TV boxes, smart screencasting devices, smart gateway, smart home, and IoT.
Features and Specifications Include
Allwinner H618 4-core Cortex A53 processor @ 1.5GHz and Mali G31 MP2 GPU supporting OpenGL ES 1.0/2.0/3.2, OpenCL 2.0, Vulkan 1.1
1GB or 1.5GB or 2GB or 4GB LPDDR4 memory options
16MB SPI flash
1x microSD card socket
WiFi 5, BT 5.0 with BLE support
100Mbps (RJ45) Ethernet port
3.5mm audio jack
Micro HDMI 2.0 up to 4Kp60
Digital audio output via HDMI
2x Type-C USB 2.0, 2x USB 2.0
40-pin expansion header offering compatibility with GPIOs, 5x UART, I2C, SPI, 4x PWM, etc
IR receiver, power, and user buttons
Power: Type-C 5V/2A, AXP313a PMU
Dimension: 30mm x 65mm x 1.2mm
Weight: 12.5 grams
Operating System: Android 12 TV, Debian 12, Ubuntu 22.04, Orange Pi OS
Pricing and Availability
All four RAM variants of the boards are currently selling for $12.90, $15.90, $18.9 and $23.9 respectively for the 1GB, 1.5GB, 2GB, 4GB variants. However, these prices are only obtainable if you choose to buy them from AliExpress. Amazon sells each for about $3 higher. The expansion board also goes for $4.9.
More useful information on the Orange Pi Zero 2W can be found here.
Join 97,426 other subscribers

Archives