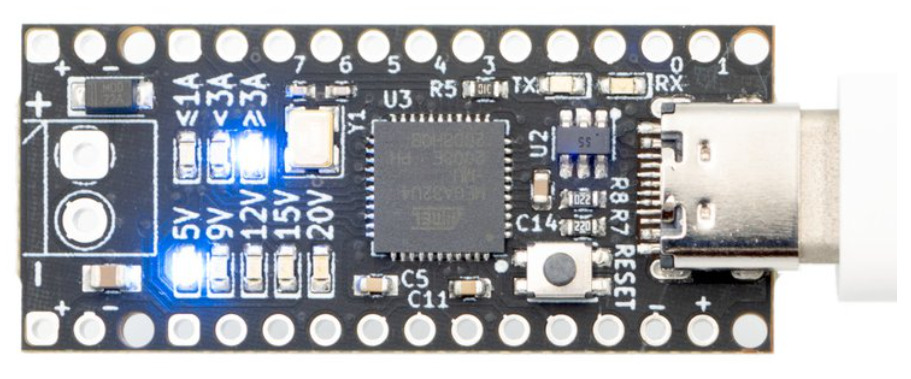 We have all been there. Everytime we start adding new peripherals, sensors and actuators to our projects, we eventually will reach a point where the 3.3 and 5 V voltages from the microcontroller (when they are available) are not enough, either because we require more current than what the MCU pins can deliver, or we have different voltage requirements. A good example of this are motors and high power LED's. But, if a microcontroller can't deliver, then something else will. But what if the solution was already there, with your MCU and enabled you to have greater control over these voltages? Well, with the help of some USB Type-C magic and the new Arduino MCUs, you can!
The PD Micro is an innocent-looking Arduino at first, friendly enough for you to place it into a breadboard and start tinkering. But when you get to the nitty-gritty, you are going to find much more, something rather unique on this type of board. Through the use of a 30 V P-channel  MOSFET load switch controlled by an Arduino MCU and a library developed by Ryan Ma, you can safely enjoy USB Type-C's promising USB PD (Power Delivery), which allows you to negotiate power of up to 100 W. The PD Micro adds some extra protection to your circuitry by only delivering the power required is ready and meets the target voltage and current levels. A really cool thing about it is that you can get away with not using another board. As you have already an Arduino at your disposal, all you might need for your project is already there.
Regarding specifications, you have at your disposal:
ATmega32U4 MCU, clocked at 16 MHz (Arduino Pro Micro)
I / O: 9x 10-bit ADC pins, 12x Digital I / O's, 5x GND pins, 3x VBUS pins (USB Power Delivery) and 1x 5V pin
Power: USB PD grants negotiable 5 V, 9 V, 12 V, 15 V or 20 V at a maximum of 5 A (100 W at 20 V)
PD status LED's: Tx / Rx activity, 5x for Power Delivery voltage level and 5x for current level
DC-DC converter for efficient 5 V 0.5 A output
Size: 1.6 x 0.7 inches (plus 0.3 inches for the power connector pins)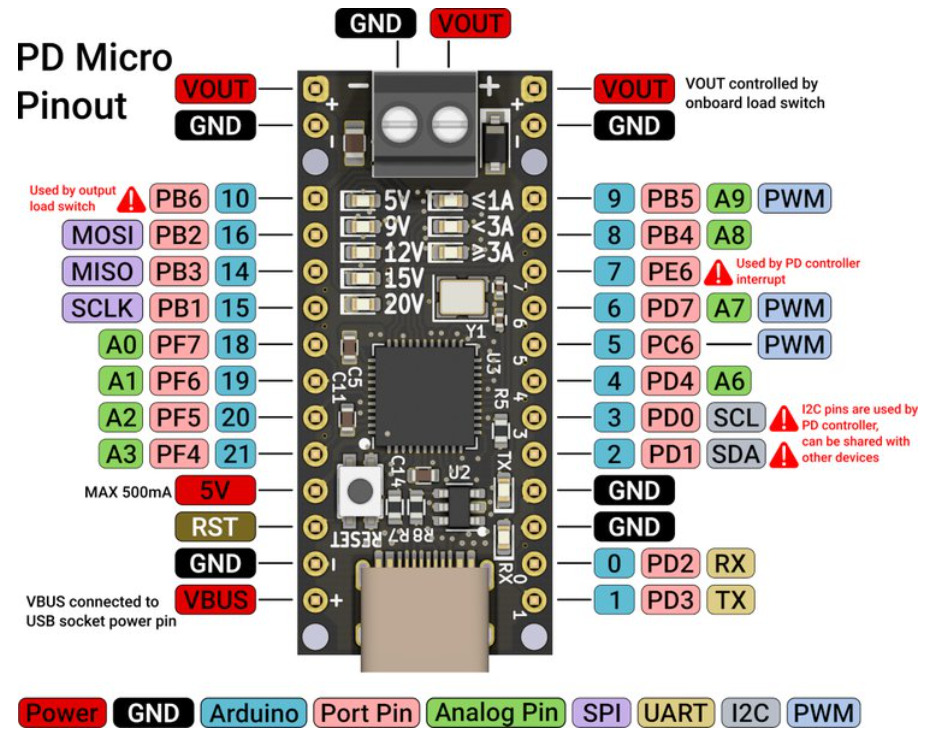 When it comes to the control of USB Power Delivery, this device has the unique feature of allowing you to control it with an Arduino. There are other boards that do this job, but I doubt you will find something nearly as convenient to use and with all the functionalities this one has. Lastly, this is still a CrowdSupply project, which already smashed its goal, while there are still some days left. You can get the cheapest kit, consisting of a PD Micro and the necessary headers and terminals for it at $28, with free US shipping.
PD Micro CrowdSupply link: https://www.crowdsupply.com/ryan-ma/pd-micro
Join 97,426 other subscribers

Archives