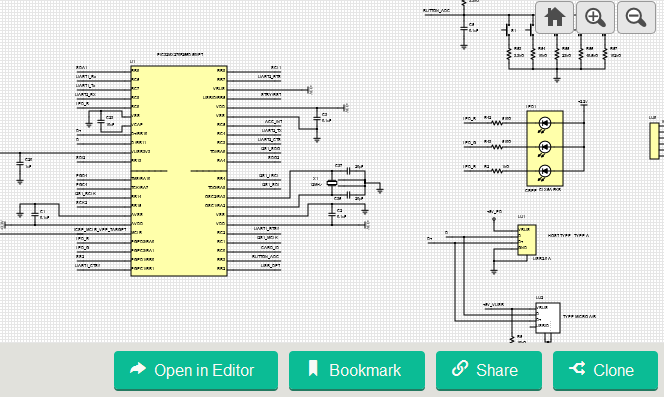 PIC32 Bluetooth Starter Kit; DM320018
The DM320018 PIC32 bluetooth starter kit comes with demonstration code that allows it to communicate with smart devices that are bluetooth enabled. It features the PIC32MX270F256D MCU for central processing and the FLC-BTM805 dual-mode Bluetooth HCI module. The kit also contains Cree high output multi-color LED, three standard single color LEDs for display, five push buttons for user defined inputs, integrated 3-axis accelerometer and temperature sensor for applications intended by the user.
The development board in this starter kit has the PIC32MX270F256D microcontroller as its main component. All peripherals found in this development board are attached in the PIC32MX270F256D microcontroller. One of the peripherals is the low cost FLC-BTM805 bluetooth HCI module which allows devices to transmit or receive data from the microcontroller. The bluetooth module supports BT2.1 and later that has an HCI interface. It also supports Enhanced Data Rate (EDR) and can communicate with a data rate up to 3Mbps. Other peripherals just like the switches, LEDs, 3D accelerometer, temperature sensor, etc. are used for application development purposes.
The development board can run in three modes; host mode, device mode, and debugging mode. To operate in host mode, connect the device to the Type-A connector, port J1. To switch into device mode, connect the board to the host through port J2. The starter kit includes a PIC24FJ256GB106 USB microcontroller for debugging over USB. To select this mode, connect the starter kit to port J7. The board in this starter kit can be powered by connecting USB power to port J7 or apply VBUS (+5V) power to the micro-B USB connector found in the board.
PIC32 Bluetooth Starter Kit; DM320018 – [Link]
Join 97,426 other subscribers

Archives