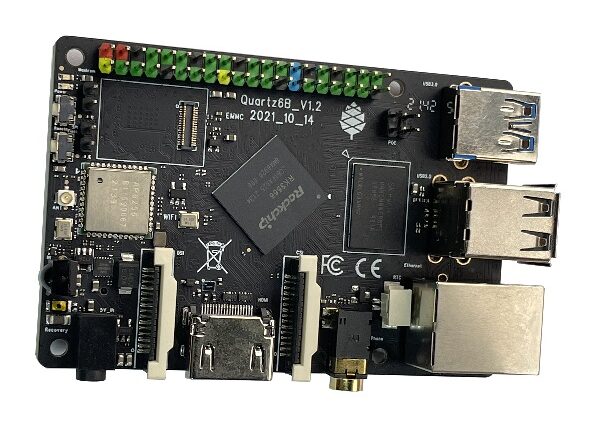 Pine64's Quartz64 Model B keeps it cool without any heatsink onboard
A Hong Kong-based electronic embedded design company, Pine Store Limited (also referred to as Pine64 or PINE64), has released yet another single-board computer with a quad-core 64-bit Arm processor core– QUARTZ64 Model-B. The initial model was released in June 2021, while the latest addition comes in May 2022, powered by the Rockchip RK3566 system-on-chip with a MALI G-52 graphics processing unit. The high-performance single-board computer is designed to deliver seamless video streaming benefiting from a single 4K display at 60 frames per second.
The Rockchip RK3566 SoC is a mid-range system-on-chip that is designed to target AIoT applications leveraging the Arm Cortex-A55 processor core. The RK3566 SoC is an upgraded version of the original RK3288 with a 64-bit CPU and up-to-date GPU with some modern peripherals, such as USB3.0. The chip is fabricated using 22nm process technology allowing the SoC to speed up to a clock frequency of 2.0GHz. The powerful multimedia decode and encode capability gives the single-board computer the flexibility to support various decoding formats, including 4K60p H.264, H.265, and VP9.
Specifications of Pine64 Quartz64 Model B SBC
SoC: Rockchip RK3566 featuring 64-bit quad-core Arm Cortex-A55 processor cores with a clock frequency of 2GHz.
Performance: The CPU performance is up to 0.8TOPS for the neural network acceleration engine.
GPU: MALI G-52 graphics unit
Memory: 4GB LPDDR4 RAM
Storage: USB port, microSD card slot and eMMC module from 16GB to 128GB
Wireless connectivity: Wi-Fi 802.11a/b/g/n/ac and Bluetooth 5.0
Display interface: MIPI-DSI interface supporting up to 4K 60 frames per second digital video port
Camera interface: MIPI-CSI interface
Human interface: Infrared remote control receiver
Sound: 3.5mm stereo audio jack with mic input
Expansion: Gigabit ethernet with PoE expansion, 1x USB3.0, 1x USB2.0, miniPCIe slot
GPIOs: 40 pins
Serial communication: SPI, I2C, UART
Power: 5V/3A DC jack power supply
Dimensions: 85x56x18.8 mm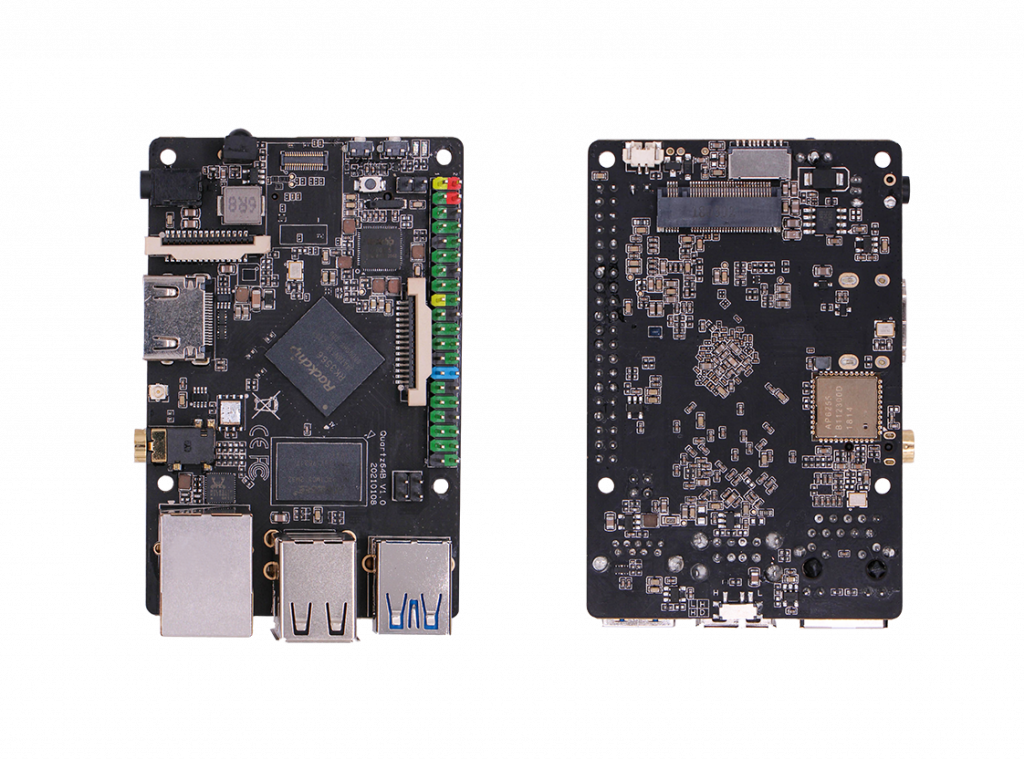 The onboard module that provides wireless connectivity to the Pine64 Quartz64 model B single-board computer is the AzureWave's AW-CM256SM module. The hardware supports Wi-Fi IEEE802.11a/b/g/n/ac and Bluetooth 5.0 to introduce a highly integrated wireless local area network solution that lets users enjoy the digital content through advanced wireless technology. The module enables a high-performance, cost-effective, low-power, compact solution that fits onto the SDIO and UART combo stamp module. The AW-CM256SM module uses Direct Sequence Spread Spectrum (DSSS), Orthogonal Frequency Division Multiplexing (OFDM), BPSK, QPSK, CCK and QAM baseband modulation technologies.
If you are interested in purchasing the Pine64 Quartz64 Model B for 4GB LPDDR4 memory, the single-board computer is priced at $59.99 on the official product page. There is also a detailed Wiki page provided by the manufacturer for both of the models of Pine64 Quartz64.
Join 97,426 other subscribers

Archives