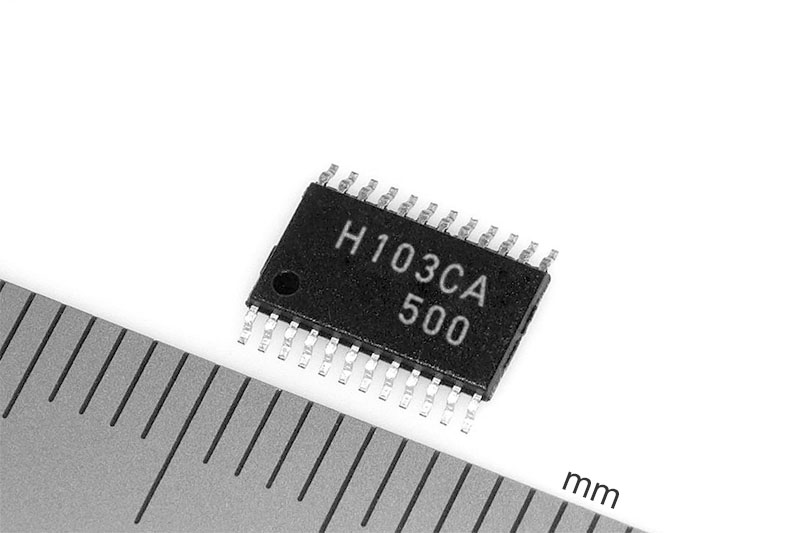 R5651 Series, Protection IC for 3-to-5-cell Li-ion Batteries
Battery protective functions are getting more important to ensure the safety of applications using Li-ion batteries such as power tools, cleaners, electrically assisted bikes, e-bikes, drones, storage batteries, etc.
The new multi-cell battery protection IC has many features helping users simplify their manufacturing process. First, it reduces heat generation at large current by using a low-resistance SENSE resistor, making thermal design of a board easy. Second, separating the charge and discharge paths enables using a battery pack with low impedance. Third, thanks to the high-voltage cell monitor pins, there are no constraints on connection orders. Fourth, although the IC is designed for three-to-five-cell battery packs, it can also correspond to battery packs including six or more cells by connecting two or more ICs in cascade. The simple cascading structure contributes to reducing external components.
Additionally, the IC adopts the small TSSOP-24 package.
The R5651 series will strengthen your products' competitive edge by achieving high accuracy and low power consumption.
Features
Industry-leading High-accuracy Overcharge Detection (OVP)

Overcharge detection voltage range: 3.60 V to 4.50 V, Accuracy: ±25 mV
Industry-leading High-accuracy Overdischarge Detection (UVP)

Overdischarge detection voltage range: 2.0 V to 3.2 V, Accuracy: ±50 mV
Highest Level of Low Voltage and High Accuracy We Ever Achieved by Lowering Resistance of Current Sense Resistor

Discharge overcurrent detection voltage accuracy: 10 mV to 30 mV, ±3 mV
Charge overcurrent detection voltage accuracy: -8 mV to -30 mV, ±3 mV

Temperature Protection: Industry-leading High Accuracy of ±3°C

Charge Low (TDCL) setting: -5 / -3 / 0 °C, Accuracy: ±3°C
Charge High (TDCH) setting: 45 / 50 / 55 / 60 °C, Accuracy: ±3°C
Discharge High (TDDH) setting: 65 / 70 / 75 °C, Accuracy: ±3°C

High-voltage Cell Monitor Pins

Contributes to simplifying circuit connection by removing connection order
Cascade Connection
Can correspond to six- or more-cell batteries by connecting two in cascade.

Package

Adopts TSSOP-24 (7.8 × 6.4 × 0.9 mm), a small package with leads. Features high durability and is resistible to vibrations generated from power tools.
Typical Application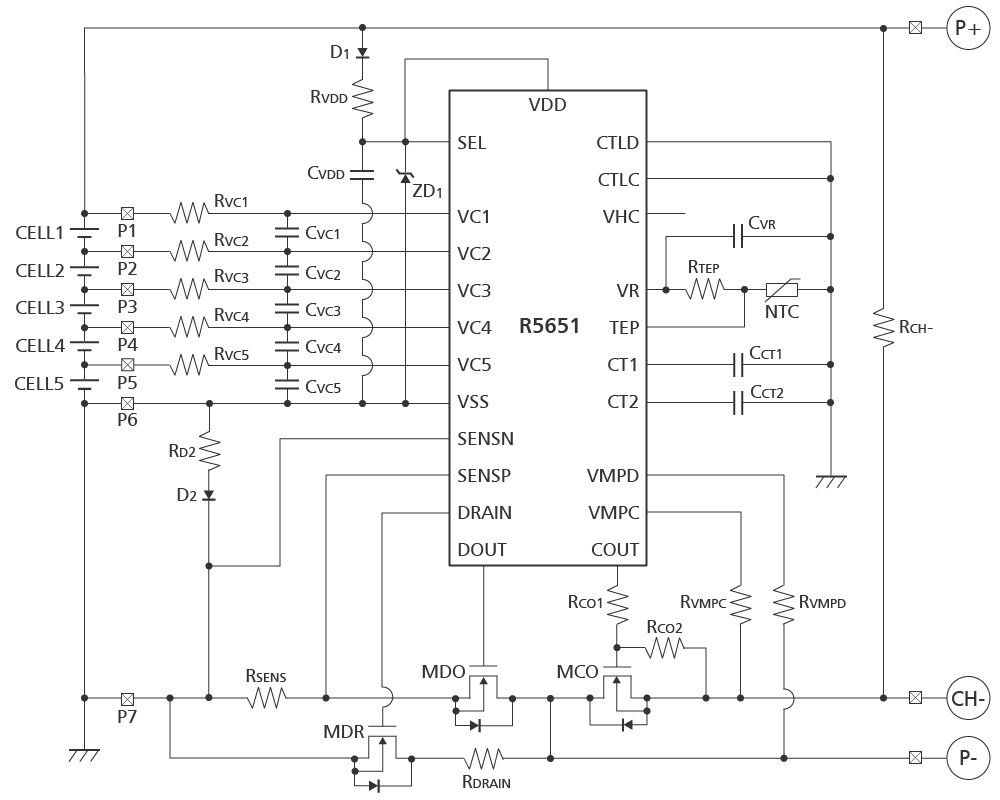 more information: https://www.nisshinbo-microdevices.co.jp/en/products/lithium-ion-battery-protection/spec/?product=r5651
Join 97,426 other subscribers

Archives