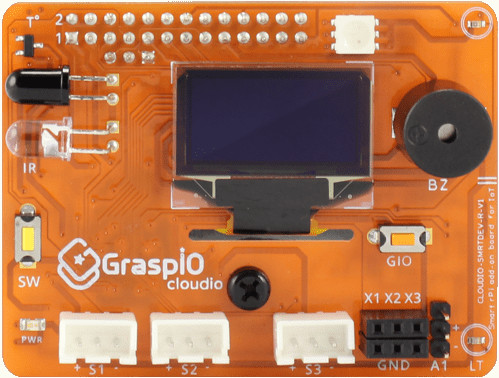 Raspberry Pi Plus Cloudio – A Personal IoT Computer with Drag and Drop Programming
Everybody loves the
Raspberry
(at least the makers does) and has seen several applications from being blasted to space or powering a self-driving car. Raspberry Pi in its natural state is an ideal platform for IoT development mostly due to its connectivity interfaces like the Bluetooth, WiFi, and Ethernet but no significant development has been done in this space apart from some pretty hacks in the last years.
GraspIO
in partnership with
Farnell Element14
distributor has released the
GraspIO Cloudio
, a Raspberry Pi add-on board with Drag and Drop programming interface for full suite IoT applications development.
Cloudio
 offers the ability to do drag and drop programming instead of the conventional text-based python programming and is supported on iOS and Android devices. So with just an Android phone, iPhone or iPad, you can start programming and controlling your raspberry pi cloudio based applications. Cloudio incorporates Voice Assistant Capabilities, Internet of Things cloud service, sensor monitoring and dashboard, custom notifications, and even provides off the shelf support with the beautiful
IFTTT
("If This Then That") platform. With the integration of IFTTT, you can easily automate some actions like for examples – if an email is received then send sensor reading or feed the fish for a while, another interesting case is – if a weather forecast states there is a likelihood of rain then closes the cage. Cloudio also provides support for upload program to multi-board at once, a perfect option if you will be managing a large number of boards.
At the heart of the Cloudio board is the Atmel 8-bit AVR Atmega32U4 controller and comes in a portable size that makes it compatible with Raspberry Pi 1/2/3/Zero and ZeroW. It comes with a 0.96″ OLED Screen, a display that can be used for displaying real-time sensor values, custom messages and even supports emojis. The board includes proximity, light and temperature sensors and an extra 3 ADX ports for interfacing with external sensors. The board consists of a proximity, light, and temperature sensors plus 3x ADC interfaces for connecting other sensors such as humidity and motion. With the Cloudio, you will never run out of 5V ports as it comes with three digital 5V output ports. Cloudio does not require any external power supply unit and gets its power from the underlying Raspberry Pi. Other features of the board are a mini 5V servo motor port, a buzzer, RGB LED and tactile switch.
According to Steve Carr, the Global Head of Marketing at Premier Farnell and Farnell element14, he says –
"The versatility of GraspIO Cloudio along with its ease of use will make it popular with makers and innovators in a wide range of application environments. Cloudio, when combined with a Raspberry Pi, is a Full Stack IoT platform meaning that you can programme IoT devices simply and quickly with drag and drop programming on a mobile app. The combination of built-in hardware facilities and access to innovative application software will make Cloudio a valuable addition to the range of tools available to developers of projects involving voice, motion, imaging and cloud interaction."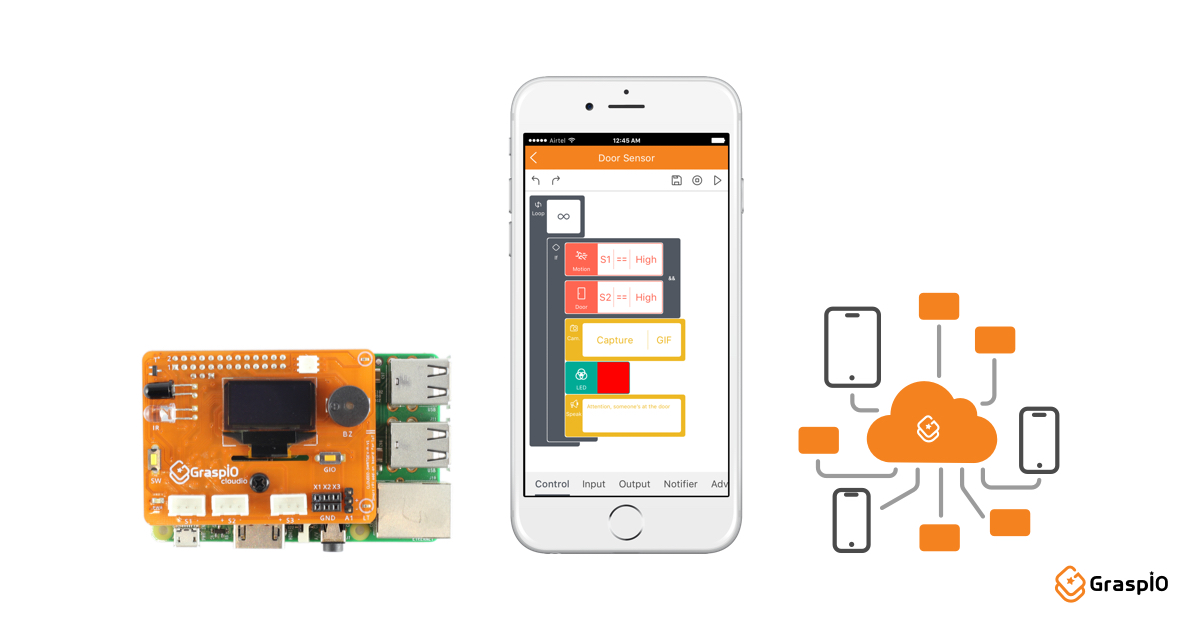 Cloudio lets you build and create your own voice assistants using the inbuilt speech recognition feature to control it from your smartphone. It comes with an unlimited cloud service from GraspIO to connect, program, monitor, and manage Cloudio from your mobile device. It is preloaded with 50,000 free Cloud Calls and which a daily 100 non-cumulative calls will be credited to the user's account for life. Cloudio drag and drop based approach to IoT development is undoubtedly going to help limit the barriers in commencing IoT development.
The GraspIO Cloudio Raspberry Pi add-on board is now available to purchase, priced at $40 and is exclusively manufactured and distributed by Premier Farnell UK Limited and other companies that are members of Premier Farnell Group. You can buy the Cloudio Raspberry Pi add-on board here.