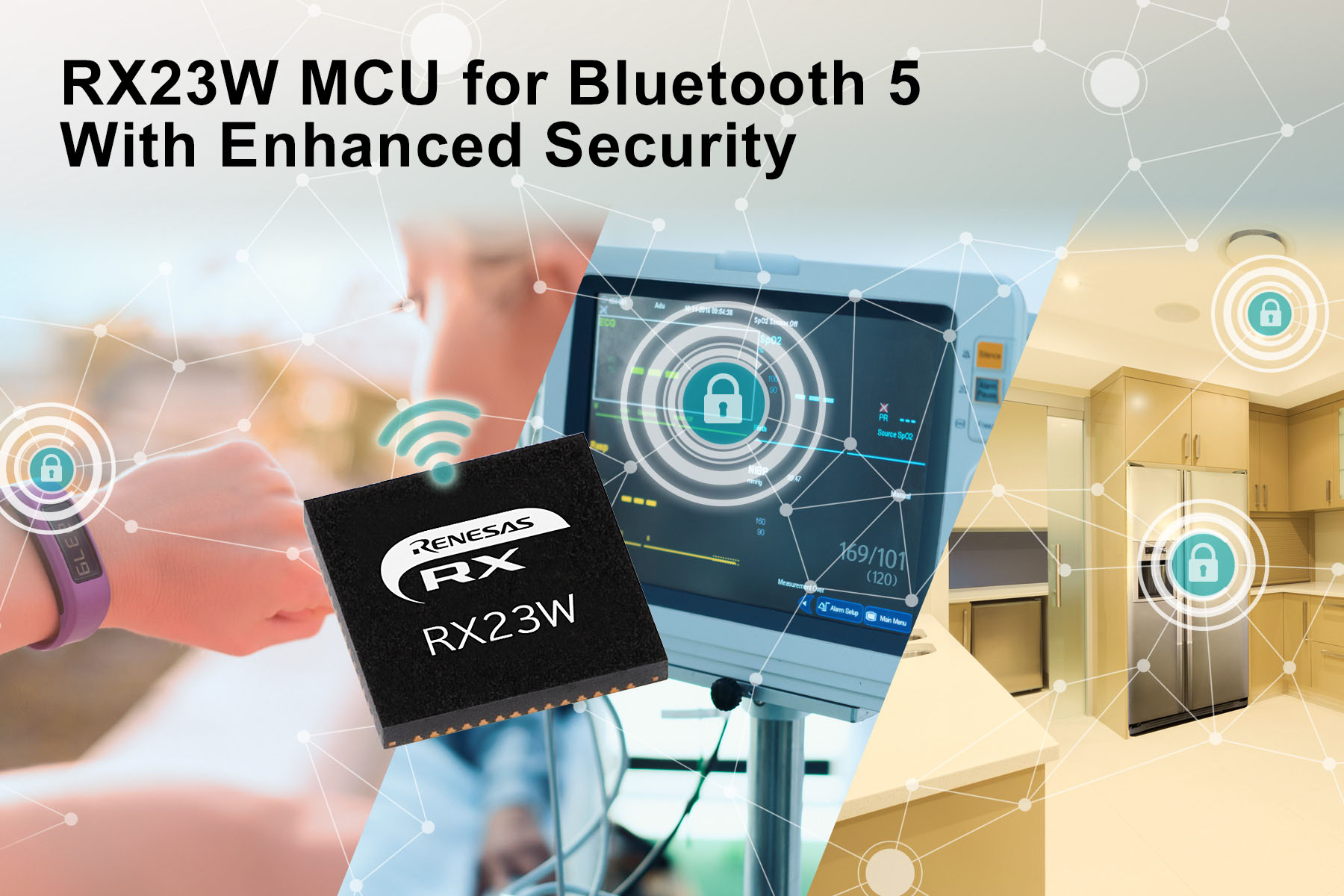 Renesas releases RX23W module with Bluetooth for system control and wireless communication on IoT devices
Renesas Electronics today introduced the RX23W Module with full Bluetooth® 5.0 Low Energy support for system control and wireless communication on IoT endpoint devices. Featuring the RX23W 32-bit RX MCU supporting fully integrated Bluetooth Low Energy communication, the new RX23W module is equipped with an antenna, oscillator and custom-matched circuit. The new module is certified under Radio Law for multiple countries, including Japan and the United States, and is Bluetooth SIG certified. This eliminates the need for additional RF design work, tuning, or specialized RF knowledge, allowing customers to use the module as it is, shortening new product development time. The very small 6.1 mm x 9.5 mm, 83-pin LGA package makes it possible to design more compact devices with fewer external components, reducing the bill of materials (BOM) cost. This improves the development efficiency of IoT endpoint devices such as home appliance, healthcare and sports and fitness equipment.
Features
RXv2 core 54MHz operation (4.33 CoreMark/MHz)1.8V to 3.6V operation
Operating temperature -40°C to 85°C
Program Flash up to 512KB, SRAM up to 64KB
Communications

Bluetooth Low Energy (one channel)

Built-in Bluetooth 5.0-compliant RF transceiver and link layer
Supports LE 1M PHY, LE 2M PHY, LE Coded PHY (125kbps, 500kbps), LE Advertising Extensions
Built-in Bluetooth dedicated AES-CCM (128-bit) encryption circuit

USB 2.0 Host/Function/OTG (one channel)

Full speed (12Mbps), low speed (1.5Mbps), isochronous transfer
BC (battery charger) support

CAN (one channel)

ISO11898-1 compliant CAN, up to 1Mbps transfer

SD Host I/F (on channel)

SD memory/SDIO 1- or 4-bit SD bus support
Capacitive Touch Sensing

Self-capacitive method: Up to 12 keys supported in a 1-terminal 1-key configuration
Mutual capacitive method: Supports up to 36 keys in a 12-terminal matrix configuration

Enhanced analog

Enhanced analog: 12-bit A/D converter (14 channels), 12-bit D/A converter (2 channels)

Trusted Secure IP Lite (AES/TRNG)
Module package size

6.1 × 9.1 mm, 0.5mm pitch (83-pin LGA)
The RX23W MCU incorporated in the new module supports full Bluetooth 5.0 Low Energy communication support including long-range and 2 Mbps data throughput. It delivers excellent communication characteristics, with reception sensitivity level of −105 dBm at 125 kbps. Built around Renesas' RXv2 CPU core, the RX23W MCU provides outstanding computing performance, operating at a maximum clock frequency of 54 MHz together with outstanding power efficiency, making it ideally suited for system control. The RX23W also incorporates Renesas' exclusive security function, the Trusted Secure IP (TSIP), that provides robust protection against threats to IoT devices such as eavesdropping, tampering, and viruses. In addition, the RX23W MCU has a rich set of peripheral functions that is indispensable to IoT devices, including touch key, USB, and CAN functions.
"As development cycles for IoT devices become shorter, the development burden increases," said Sakae Ito, Vice President of IoT Platform Business Division at Renesas. "I am delighted that, as we approach the ten-year mark, a wide range of customers have adopted our RX MCUs. We are pleased we can now announce the release of our first Bluetooth communication module based on the Renesas RX MCU, thereby helping to make the development process more efficient."
The RX23W Module is available at the reference price of US$6.60 per 10,000-unit quantities, and mass production and shipping have already begun. A target board for evaluation is also available at a reference price of US$50 per unit, and it is available starting today.
For more information on the Renesas RX23W Module, visit: www.renesas.com/rx23w-module
Subscribe to Blog via Email
Join 97,456 other subscribers
Archives