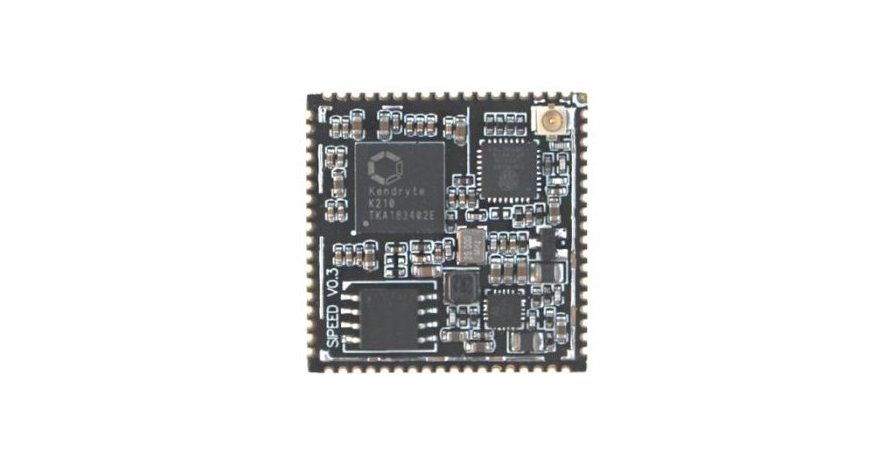 Grove HAT for Raspberry Pi Features A New RISC-V-Based AI Chip
New Grove AI HAT for Edge Computing is released from SeedStudio
Seeed Studio announced a Grove HAT for Raspberry Pi based on the Sipeed RISC-V MAix. This follows after Sipeed launched their 64-bit RISC-V MAix module, crowdfunding a series of boards on Indiegogo at the end of last year. The MAix module is based on Kendryte's K210 processor, which features two 64-bit RISC-V CPU cores, each core with a built-in independent FPU, and 8Mb of SRAM. It is further equipped with an onboard neural network processor (KPU) for enhancing machine vision applications at up to 60fps for QVGA and 30fps for VGA. Also, there is an audio processor (APU) which supports up to 8 microphones at sampling rates up to 192KHz, with Fast Fourier Transform (FFT) hardware acceleration.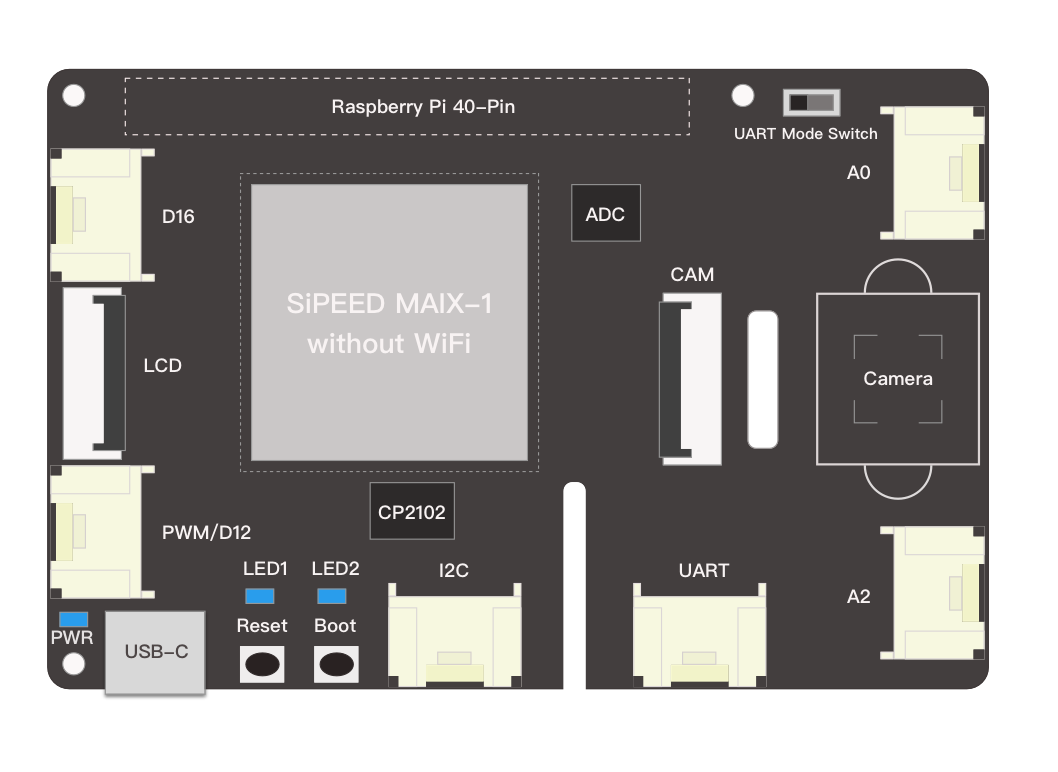 The Grove HAT has two versions that will be released. One is based on the Sipeed MAix-I with Wi-Fi, and the other version is without networking. Both boards can be utilized as a Raspberry Pi HAT, or function autonomously. The HAT is designed to offer an onboard 12-bit ADC, a display interface, a camera interface, and six Grove connectors—2×digital, 1×I2C, 1×UART, and 2×analog. Power option for the HAT will be through a USB-C connector. The HAT will utilize the Espressif ESP8285 to provide Wi-Fi support for the wireless version of the HAT.
Seeed Studio is coming up with "the basic layout" for the upcoming HAT but wants to ask the community what features they would like to see before production will progress. Seeed Studio says
Check out the basic layout we have so far and let us know what features you would like to see and have the chance of making it to the final product. If your idea makes it to mass production, we will send you a free sample with your name customized onto the board! These products are designed for you and the rest of the community, so it only makes sense for us to listen to what you want for your next AI project.
If you have any bright idea about what should be featured on the board, you should get in touch with Seeed Studio, and if they like your idea, you might get yourself a free board with your name customized on it.
Visit Seeed Studio product page to get more information on the Sipeed MAix-I HAT.
Update 06/05/2019 – Seeedstudio has revealed specifications and photos of the board and it's now on pre-order.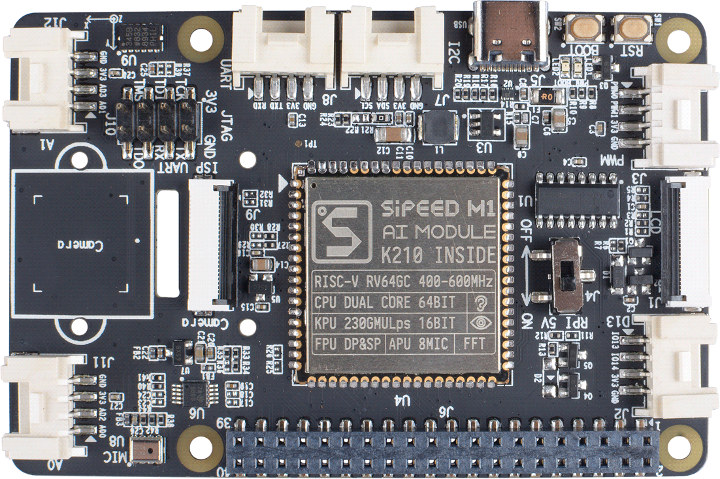 Grove AI HAT specifications:
AI Module – Sipeed "MAIX" M1 with Kendryte K210 dual core RISC-V processor @ 600 MHz, KPU Convolutional Neural Network (CNN) hardware accelerator, APU audio hardware accelerator, 8 MB general purpose SRAM including 5.9MB usable as AI SRAM memory
Camera I/F – DVP camera support; two mounting locations (top and bottom of the board)
Display I/F – Supports for Sipeed 2.4″ QVGA LCD display
Audio – Built-in microphone
USB – 1x USB 2.0 Device type C for power and programming
Expansion

40-pin Raspberry Pi connector with  I2C/UART/SPI/I2S/PWM/GPIO.
6x Grove connectors: 2x analog, 1x UART, 1x I2C, 1x PWM, 1x digital

Debugging – 8-pin UART/JTAG header
Misc – Boot & reset buttons, boot (user programmable) & power LEDs,  switch for RPi 5V, on-board 3-axis accelerometer
Power Supply – 5V via USB type-C port, or Vin pin on Raspberry Pi header
Dimensions – 83 x 55 mm (4x Raspberry Pi HAT mounting holes)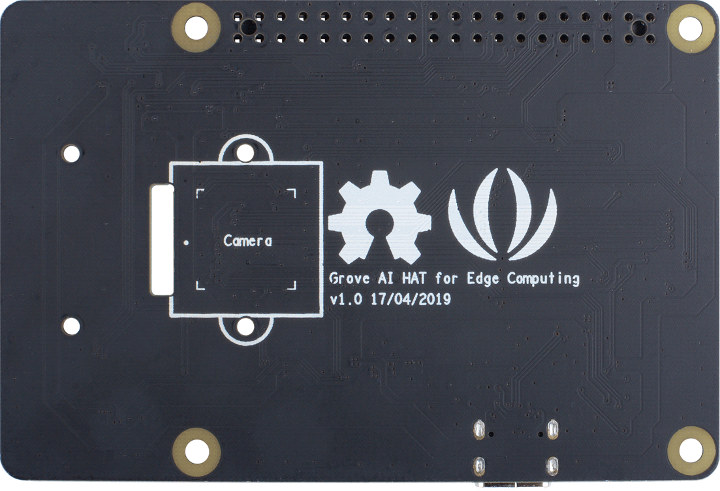 Pre-order price is $24.50 after which it will be $28.50, and shipping is scheduled for mid-June. Seeed Studio is also planning to release a kit with the camera and an LCD as found in the company's Sipeed MAIX BiT kit.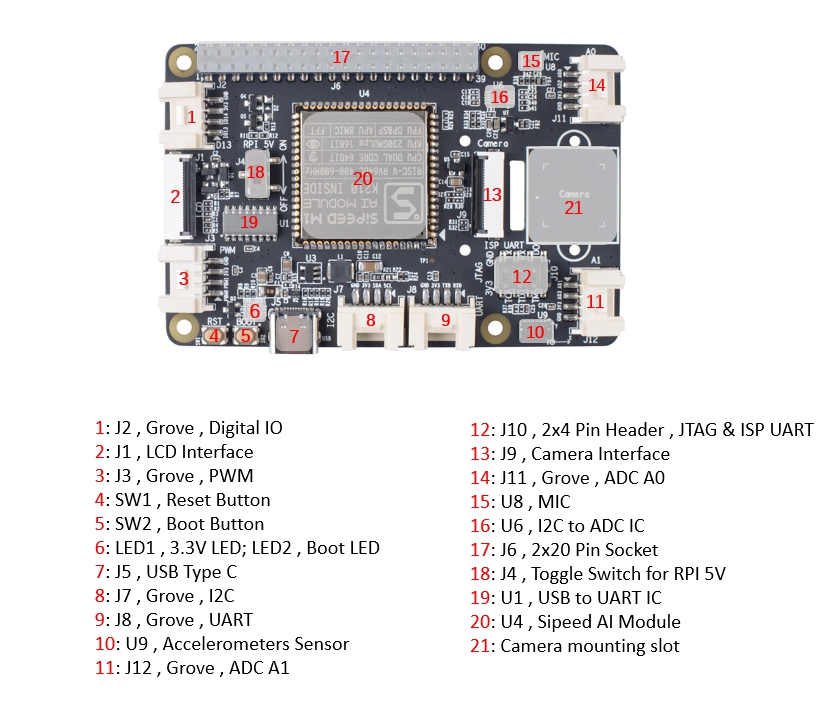 (UPDATE 20/05/2019) more information and tutorials can be found on wiki.seeedstudio.com
Join 97,426 other subscribers

Archives